All-Natural DIY Cold and Flu Remedies to Help Kick Your Sick to the Curb
Take healing into your own hands with these easy home cures
As if COVID-19 weren't enough to worry about, cold and flu season is on its way, too. We're spending more time indoors, breathing a lot of recycled air, staying up too late, stressing out—this all takes its toll on our health. But that doesn't mean we can't take healing into our own hands. Here, some of our go-to DIY cold and flu remedies will have you on the mend in no time.
Please note, though, that an ounce of prevention is worth a pound of cure. Stick with the mask-wearing and hand-washing regimes we've all gotten used to. What's good for preventing COVID-19 is good for stopping you from catching colds and the flu, too. There is no cure for COVID-19, though. If you think you may have been exposed to this virus, please seek medical attention.
Spicy Soup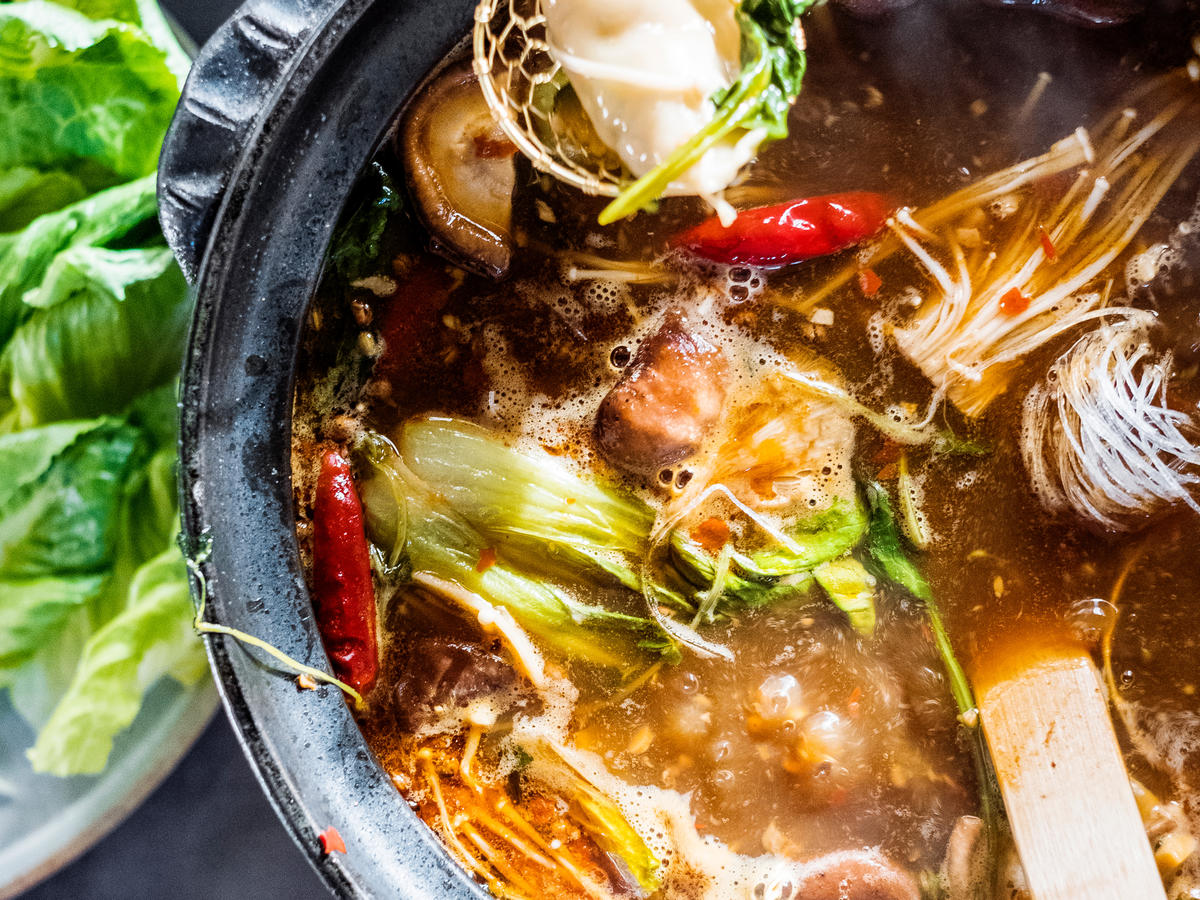 Every time I start to feel that telltale tickle in my throat, my first line of defense is to make myself a big bowl of spicy soup like kimchi stew or Sichuan fish soup. Chile, garlic, and ginger are the holy trinity for killing the funk; I'm back in action just a day or two later. Spicy food clears the sinuses and helps breaks up the mucus in your lungs, and the warm, salty broth is ideal for soothing a sore throat while providing your with much-needed hydration. We love a good, numb-spicy hot pot (it's a great way to get in some vitamin-rich veggies, too), but if you can't handle the heat, try warm miso soup—you'll also get gut-healthy probiotics while you sip.
Hot Toddy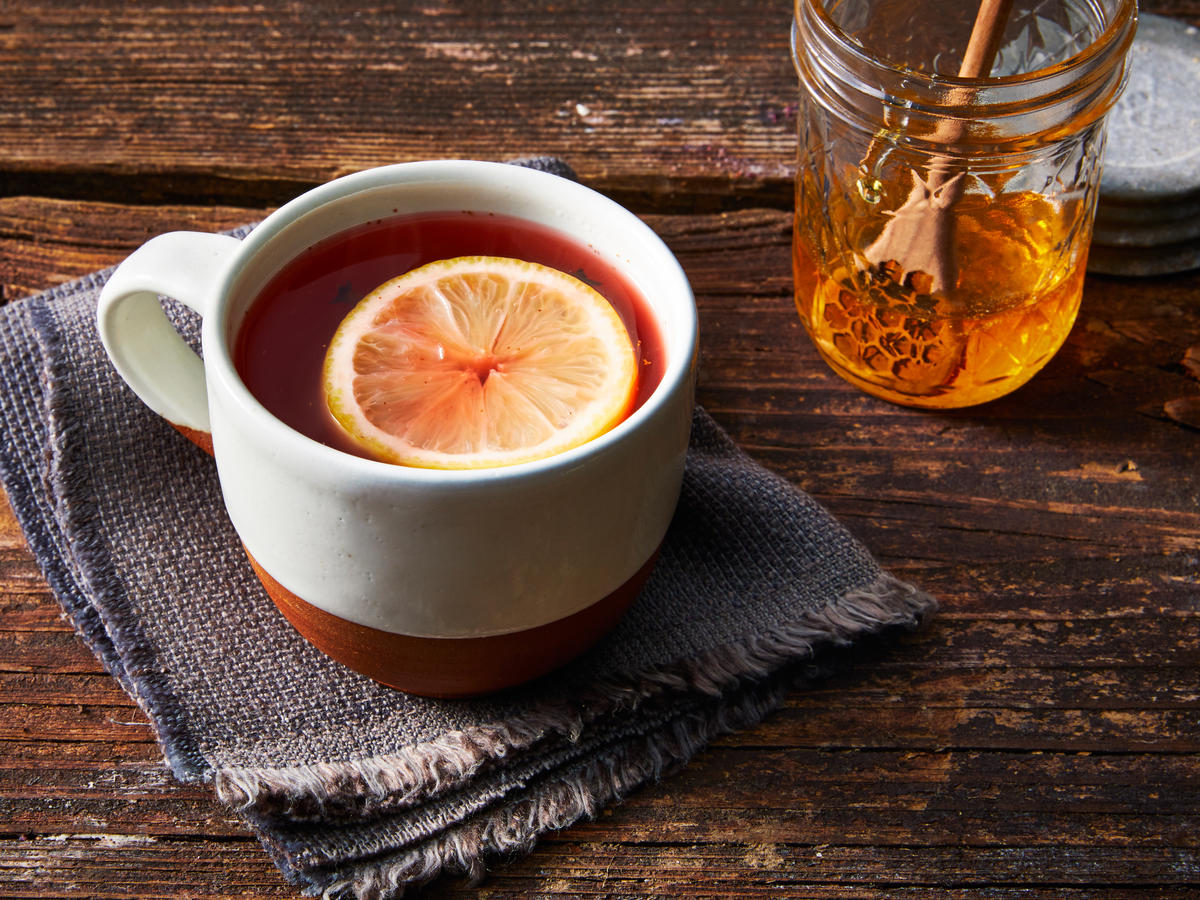 Photo via Time Inc. Food Studios
Sure, having a hot tipple will help you feel better pretty immediately, but it turns out this 18th-century folk remedy might actually help you get better, too. Whiskey, hot water, lemon juice, and honey works in much the same way as any other cough syrup, but tastes way better. Add spices like cinnamon, star anise, a slice of ginger, and a dried chile and settle in for some real healing (just don't go too nuts on the whiskey—it's dehydrating). Need a recipe? Our cranberry toddy is the DIY cold and flu remedy you've been waiting for.
Herbal Tea Blends
Photo by Heather Arndt Anderson
You don't have to be a full-on hedgewitch to make your own herbal remedies, but it certainly helps to have a garden full of herbs. The tea blend from our story on DIY herbal products is caffeine-free and includes chamomile, lavender, rose petals, and lemon balm—all traditionally used to promote sleep and calm headaches.
Elderberry Cordial
We shouted out elderberries as a wellness trend to watch for 2019, but this shrub has been an indispensable member of the healer's arsenal for millennia and should be part of your DIY cold and flu remedy repertoire, too. Unless you have access to an elderberry bush, it'll probably be somewhat difficult to source fresh elderberries; that said, the small, shrubby tree grows all over the West, so locating one to pick from shouldn't be too hard. Depending on your elevation, berries are ripe from August to October, or you can buy them dried year-round. To make a throat-soothing elderberry cordial, simmer 2 cups dried elderberries in 3 cups water with 1 cup honey for a half hour, then turn off the heat and let it sit for an hour. Strain, then stir in a cup of vodka (optional, but it improves shelf stability). Drink the syrup from a cordial glass or shot glass as needed for throat-soothing, or add it to hot toddies and spiced cider for everyday wellness.
Aromatic Oil Blends
Photo by serezniy / Getty Images
While I'm not exactly a proponent of essential oils as a substitute for medical care, I do find some oils to have a soothing enough scent to be worthwhile. Make a blend of eucalyptus, camphor, peppermint, rosemary, and lavender essential oil to add to baths or oil diffusers, or just rub on your neck and chest. It can act as a natural cough suppressant and improve breathing when you're congested, as well as relieving sore muscles from flu like grandpa's old-timey liniment. Plus it smells nice!
---
Read the 2021 Harvest Issue Right Here
Get one year of Sunset—and all kinds of bonuses—for just $24.95. Subscribe now!
Keep Reading: