From Glacial Lakes to Beaches Where Time Stands Still, Here's Where We Dream of Going
Photo courtesy of Hawaii Tourism Authority (HTA)/Tor Johnson
We're feeling that wanderlust just as keenly as you are. We're not quite ready to hop on planes yet, but until we are, here is Best of the West, Dream Vacation edition.
A Literary Journey
About 90 percent of my travel over the last year has been the armchair variety, in the form of diving deep into the Instagram accounts of my favorite vacation rental sites and interior designers. I love plotting potential getaways on Boutique Homes  or Indagare Travel, and catching glimpses of dream houses around the world posted by House of Honey and Beata Heuman. One of my very favorite accounts is that of Disc Interiors and the company's co-founders David John Dick and Krista Schrock. Their first book, Portraits of Home ($60, Rizzoli) is out April 6th, and available for pre-order now. Spoiler alert: I co-wrote the book with them, and in the process, I took a series of mini day-cations when I visited the sophisticated and serene houses they designed in Los Angeles that are featured in the book. Buy a copy and keep it on your coffee table for browsing, when a 15-minute holiday is better than no holiday at all. —Christine Lennon, home and design editor
A Quick and Quiet Trip to Sayulita
The first time I went to Sayulita I was eleven. My mom moved with haste to load us into a rental car so we could see the coastal town an hour outside of Puerto Vallarta and make it back to our port to continue our seven-day Mexican cruise. The town was beautiful, with stone streets, stray dogs with just enough manners to not steal the food off your plate but request a pet before you go on with your day, warm water beaches, and virgin cocktails available at every turn. The food was beyond delicious, the surfers looked straight out of the J-14 magazine I had been reading on the ship, and I knew this would forever be one of my happy places. 
I went back in 2019 for my 22nd birthday and stayed at a yoga retreat villa a few minutes away from the town square. I partook in 7am and 3pm yoga classes, watched the sun rise over the infinity edge pool, and dozed off during sunset massages. Horses were ridden on the beach, drinks were clinked and sipped (this time non-virgin ones). My tan was even, and my mind reset. So basically, my dream vacation involves spending a cell-service-less week at a private villa in Sayulita; this one pictured with an indoor/outdoor kitchen is so dreamy I can already picture myself chopping farmers-market fruit looking out at the ocean. While I have expensive visions of Italian escapes, and Parisian townhouses, the $100/night stays in Sayulita are what appear in my dreams before I wake up to sip another hot coffee and enter an early-morning Zoom meeting. —Magdalena O'Neal, assistant editor
My Compass Points North
Will we ever be allowed back in Canada? A logical outlook would suggest we will, but this extensive border closure has been especially tough for fans of the great North to endure. 
A re-opened border would, for me, extend a long-awaited invitation to places like Jasper National Park and the mountain ranges that sit a safe distance from the touristy, Instagram-fueled hordes that flock to Banff.  
The Canadian Rockies are, without a doubt, one of my favorite places on Earth. A combination of soaring peaks, rushing rivers, glacial lakes, and wildlife makes it hard, at times, to decipher whether you've slipped into an alternate reality of living in a postcard. And yet, its majestic sights are matched only by the friendliness of its people. 
While the 2020 trip I had planned, like everything else in life, was postponed, my return to Alberta will be swift once policies loosen. I'll be there with bells on (the bear-deterring kind). —J.D. Simkins, staff writer
Aloha, Middle Age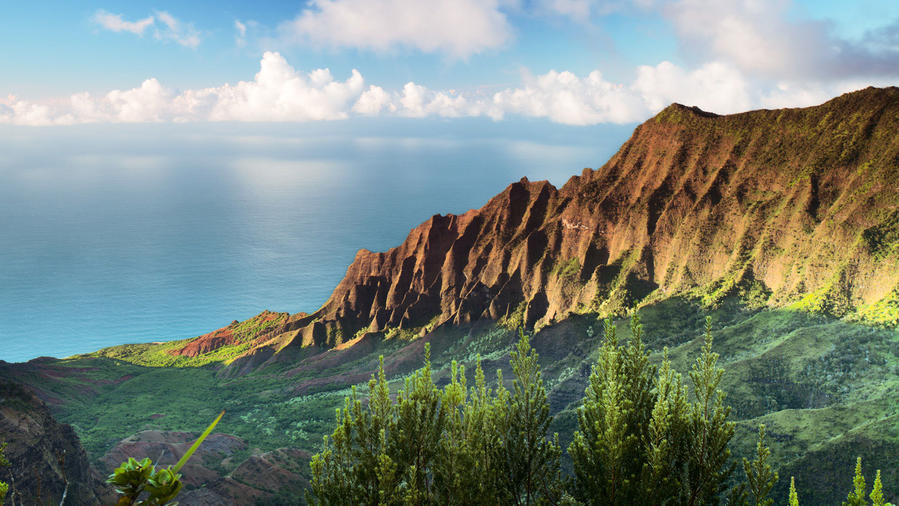 I had one of those gulp-inducing birthdays in 2020, you know, the kind traditionally observed with a kind-of-a-big-deal event or trip. And I had just the thing picked out: a retreat to Kauai, which, having stood in as a playground for actual dinosaurs during the filming of Jurassic Park, might have been the only place on Earth where a fossil like me could have felt young again. COVID-19, of course, did its party-pooping thing (to me and literally every other person on the planet) and I had to postpone the trip. But it will happen. Someday soon, when I'm all vaccinated, and Hawaii is welcoming tourists again, I'll finally find myself looking out at the eternal ocean with an umbrella drink in hand, and I'll pretend that this whole last year didn't happen. (Especially that scary birthday part.) —Nicole Clausing, digital producer
To Heli with It
A helicopter tour has always been on my bucket list but this one stands out against most. Located in Southwest British Columbia, Compass Heli Tours offers a variety of excursions for the adventure seeker. Their Glacier Kayaking Experience is a once-in-a-lifetime opportunity I hope to get my hands on one day. Helicoptering into a remote location and kayaking through pristine blue glacier rivers created out of the melting snow sounds like it is straight out of a movie. The adventure is seasonal so you'll have to plan your trip from late May to early October. The tour is not officially listed on their website but will be available soon along with other tours such as ice caving and heli-skiing. –Teaghan Skulszki, editorial intern
A Private (and Mobile) Cabana
I've been dreaming about the way I'll travel. More than the where for my next getaway. Mostly because there is zero shortage of stunning 'scapes here in Southern California. And still much to see. Trip goals? Adventure to multiple spots while avoiding the I'm-losing-valuable-time-here cycle of packing and unpacking. Solution?  A mobile hotel. Especially one that doesn't force you to forsake boutique hotel niceties. Cabana's camper vans include spacious bathrooms with toilets and bamboo-floored showers. You'll be comfily crashing on your memory foam queen bed in no time after daily explorations. If you want to be found, there is WiFi and even a SmartTV if you're traveling during insert-favorite-sport-here season. The van drives like a large SUV, no hookups required, which gives you more options when it comes to where you can overnight. Booking is simple on their mobile app. You just walk up to your van and unlock it with your phone.  
Cabana is operating out of Seattle and L.A. currently and can provide concierge services to create your ideal trip. They are also offering Mother's Day packages out of those cities, including a Lake Chelan excursion and Temecula Winery Experience, respectively. Their overnight guide is a great place to start if you want to DIY plan.  
Lastly, a very special announcement here: For van life lovers who put wedding plans on hold last year, Cabana is offering an all-inclusive elopement giveaway. The deadline is April 6!  —Christine Bobbish, photo editor
Cuatro Cuatros
I've been wanting to visit Valle de Guadalupe ever since I took a trip to Morelia, Mexico for a food festival a couple of years back and had the pleasure of tasting a few Mexican wines. I promised myself I'd make it down soon for a real wine tasting experience, and then, well, life happened. So I'm super eager to plan a trip to the region and I've got my eye on Cuatro Cuatros, which is tucked into a vineyard in the Ensenada area. It's made up of a handful of stylish, but cozy-looking glamping tents (we're talking king-size beds, AC, and private bathrooms), an outdoor bar, and incredible views. —Jasmin Perez, digital director
---
Read the 2021 Harvest Issue Right Here
Get one year of Sunset—and all kinds of bonuses—for just $24.95. Subscribe now!
Keep Reading: