Eco-Friendly Kitchen Countertops
Five green solutions for kitchen countertops, from recycled glass, aluminum, and paper to end-grain bamboo.
Recycled Glass Kitchen Countertops
What it is: Colorful recycled glass mixed into a cement, concrete, or resin base. Kitchen countertops can be integrally colored or stained for more variation and color coordination with cabinetry or painted surfaces. Note: As with all counter materials, labor and installation can cost extra and vary by region.
What makes it green: Diverts used glass from the waste stream. The cement in some counters is mixed with fly ash, a waste product of coal-burning that would otherwise end up in landfills; this also reduces greenhouse gas-producing cement manufacturing.
Cost and contact info: It's pricey. EnviroGlas Products, Plano, TX; Vetrazzo, Richmond, CA.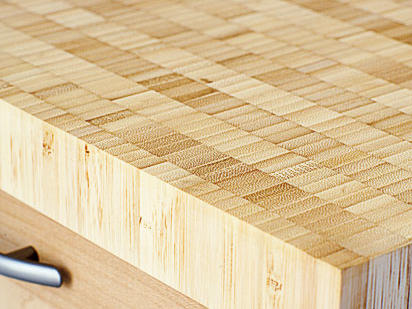 End-Grain Bamboo Kitchen Counters
What it is: Chopping blocks made of slender rectangles of end-grain bamboo glued into panels (usually 1½ inches thick). Available in natural or brown.
What makes it green: Bamboo is a great substitute for wood because its fast growth makes it more renewable. Low-off-gassing glues don't harm indoor air quality. Can be cut with standard woodworking tools.
Cost and contact info: Midrange cost compared with natural or manufactured stone products. Smith & Fong, South San Francisco, CA; Teragren, Bainbridge Island, WA.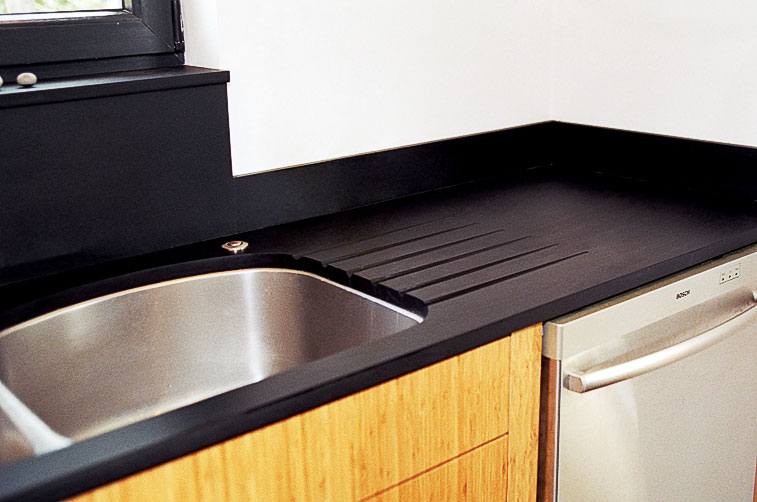 Recycled Paper Kitchen Countertops 
What it is: Recycled paper in a resin base. Available in thicknesses ranging from ¼ inch to 2 inches; integrally colored in many hues. Heat- and stain-resistant with honed-surface look.
What makes it green: Uses post-consumer recycled paper certified by the Forest Stewardship Council, and non-petroleum, formaldehyde-free resins, some made from cashew nut shell liquid. Can be cut and shaped with standard woodworking tools.
Cost and contact info: Low- to midrange cost and easy-to-work-with characteristics make it ideal for the budget-conscious home craftsman. PaperStone, Hoquiam, WA.
Sustainable Wood Kitchen Countertops
What it is: Butcher-block counters, some from reclaimed or recycled lumber, others from handsome but lesser-known tree species that have been sustainably harvested. Butcher blocks can be made from slender lengths or end-grain blocks.
What makes it green: Using reclaimed wood reduces need for harvesting new trees. Recycled old-growth lumber often has tighter grain and better quality. Underutilized species (such as Pacific madrone) expand the range of grain and color choices and offer high-quality lumber from managed forests.
Cost and contact info: Medium to high cost compared to traditional butcher blocks. Add cost of shipping. Windfall Lumber, Olympia, WA.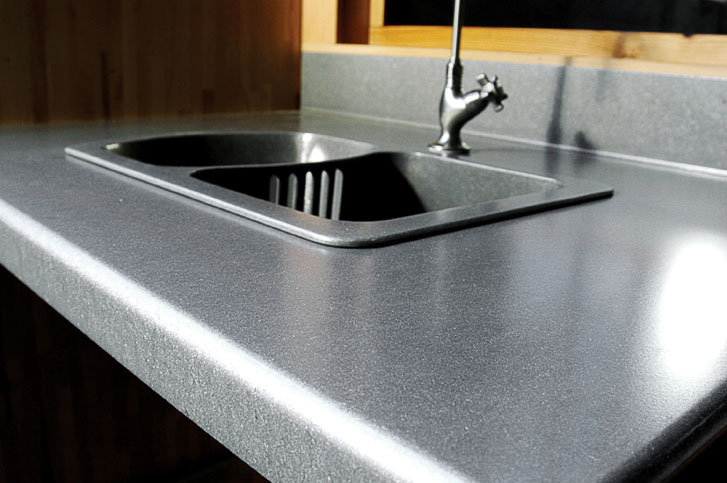 Recycled Aluminum Kitchen Countertops
What it is: Eleek, in Portland, uses 50 to 90 percent recycled aluminum to make countertop-depth pieces up to 3 feet wide with built-in front lip and backsplash, and to make tiles. Renewed Materials makes Alkemi, a solid-surface material containing postindustrial scrap aluminum in polymeric resin.
What makes it green: Eleek's products, which also include sinks, light fixtures, and hardware, are all made with recycled metals that can also be recycled at the end of their useful life. Metal products are finished with reusable abrasives and recirculated water. Clear-coat finish is food-safe and nontoxic.
Cost and contact info: High cost makes it comparable to upper-end granite. Eleek, Portland; Renewed Materials, Cabin John, MD.
---
Read Our 2021 Harvest Issue Right Here!
Keep Reading: