Soothing Lotions and Creams for Gardeners Who Hate Wearing Gloves
Photo by agrobacter / Getty Images
A handful of our favorites, because when it comes to skin care, sometimes it's easier to ask forgiveness than permission
I've been a fairly serious gardener for more than a quarter century and have never enjoyed wearing gardening gloves during any of that time. Sure, I own several pairs, but I, without fail, forget to put them away before the rainy season begins and in the spring I find that they've decomposed right in the spot I've left them. I only wear gloves (more like thick leather gauntlets) when I have brutal jobs like pruning my Pyracantha or yanking blackberries. So while I can't recommend my favorite cute gloves to keep your hands protected, I have TONS of experience with hand care products, to mend everything from sun spots to cracked cuticles. These are a few of the hand creams I've tried and liked over the years. 
For Farmer-Types Who Like to Smell Nice
Photo by Dima Belokoni / Getty Images
If you do heavier farm work like shoveling yards of compost or mucking out a chicken coop, sometimes you need some really heavy-duty hand cream that goes beyond a thick lotion. But that doesn't mean you have to go without a nice scent! Burt's Bees hand products — especially the Almond & Milk Hand Cream, Cuticle Repair, and 100% Natural Hand Salve—are up there with Bag Balm in terms of deep conditioning, but I much prefer the way they smell over the industrial/antiseptic odor of lanolin and petroleum jelly-based Bag Balm. The Almond & Milk Hand Cream leaves a residue that feels kind of powdery to me, but it's not greasy, and it does smell nice. The Cuticle Cream smells like lemon icebox cookies! 
Crabtree & Evelyn's Hydrating Hand Therapy is another hard-hitter that smells like a dream (I love Rosewater & Pink Peppercorn and the Gardeners scents). You've got to trust a product that was created by the English — they take gardening very seriously! Their hand cream is non-greasy, heals cracked skin, and adds that layer of "invisible glove" protection that glove-hating gardeners need. 
For Farmer-Types With Sensitive Noses
Photo by Mike Harrington / Getty Images
I get moderate eczema on my hands in the summer (a combo of extra hand washing, tomato leaf resins, and the acids from processing and canning all the fruit coming out of my garden really triggers it for me), and besides prescription topical steroids, CeraVe Moisturizing Cream is the only thing that soothes the blistering, peeling, and cracking; in fact, it's recommended by the National Eczema Association. It's also unscented, which is a nice break for sensitive noses or when I don't want my hand cream to clash with my perfume. I like how quickly it absorbs, and it even stays put when I need to give my hands a cursory rinse (like if I get a little berry juice on them and don't need the full soap-and-scrub job). 
Another really good unscented hand cream comes to us from the makers of Gorilla Glue, of all people. O'Keeffe's Working Hands cream is as effective at softening hands as their glue is at adhering two objects to one another! (That is to say, very effective.) It's a bit thicker and drier than CeraVe, and gives hands a bit of sticky grip, helpful for holding onto a hand tool or pushing a mower. 
Neutrogena Norwegian Formula is another unscented and hard-working salve-type cream that's worked well for me; it creates a moisture barrier that especially helps wounds (like scratches from thorns or chicken wire) heal. It's a little on the thick and greasy side, though, so I like it best for nighttime treatments—slather it on before bed and cover with gloves or even socks to lock in the moisture. (This is also great on feet, for gardeners who don't like to wear shoes.)  
For Gardeners Who Love the Smell of a Clean House
Photo by Alexander Ruiz / Getty Images
I know it sounds kind of Stepford-y, but I really love the smell of some of my cleaning products. Like, enough to want to wear the scents on my skin. J.R. Watkins' Grapefruit, Aloe & Green Tea, Lavender, and Lemon are all clean-smelling and evocative of a freshly scrubbed house, and they make silky hand creams and cuticle treatments that smell every bit as clean and pleasant as their dish soaps and laundry detergents.
Mrs. Meyer's Clean Day hand creams smell just as wonderful as her cleaning products do. The hand creams only come in two scents—Basil and Lavender—but those just happen to be two of my favorites (my other favorites, Radish and Rosemary, aren't available in hand cream). 
Though they don't make a hand cream (yet!). one of my absolute favorite fragrance companies, Demeter, makes a body lotion scented with their Clean Windows perfume. It really does smell like freshly washed windows, in case you literally want to smell like a clean house. (I'm not kidding, it smells just like Windex minus the ammonia.)
For Gardeners Who Really Need a Spa Day 
ImageSource / Getty Images
Aveda Hand Relief moisturizing cream is light enough for frequent application and smells just like stepping into one of the Aveda day spas. It's the ideal hand cream for gardeners who can't make it to the spa, and smells like the outdoors for those days when you can't make it out the garden; it has that bougie-botanicals scent (something sort of lightly citrusy, woodsy, and herbal) that I absolutely love. 
If you can't make it into Bliss' New York day spa to the stars, their Lemon & Sage Hand Cream is widely available online and in Target and drug stores. It's really thick and luxurious, and it's non-greasy so it soaks in quickly. It smells citrusy without being cloying, and blends nicely with the sage. 
For Francophile Gardeners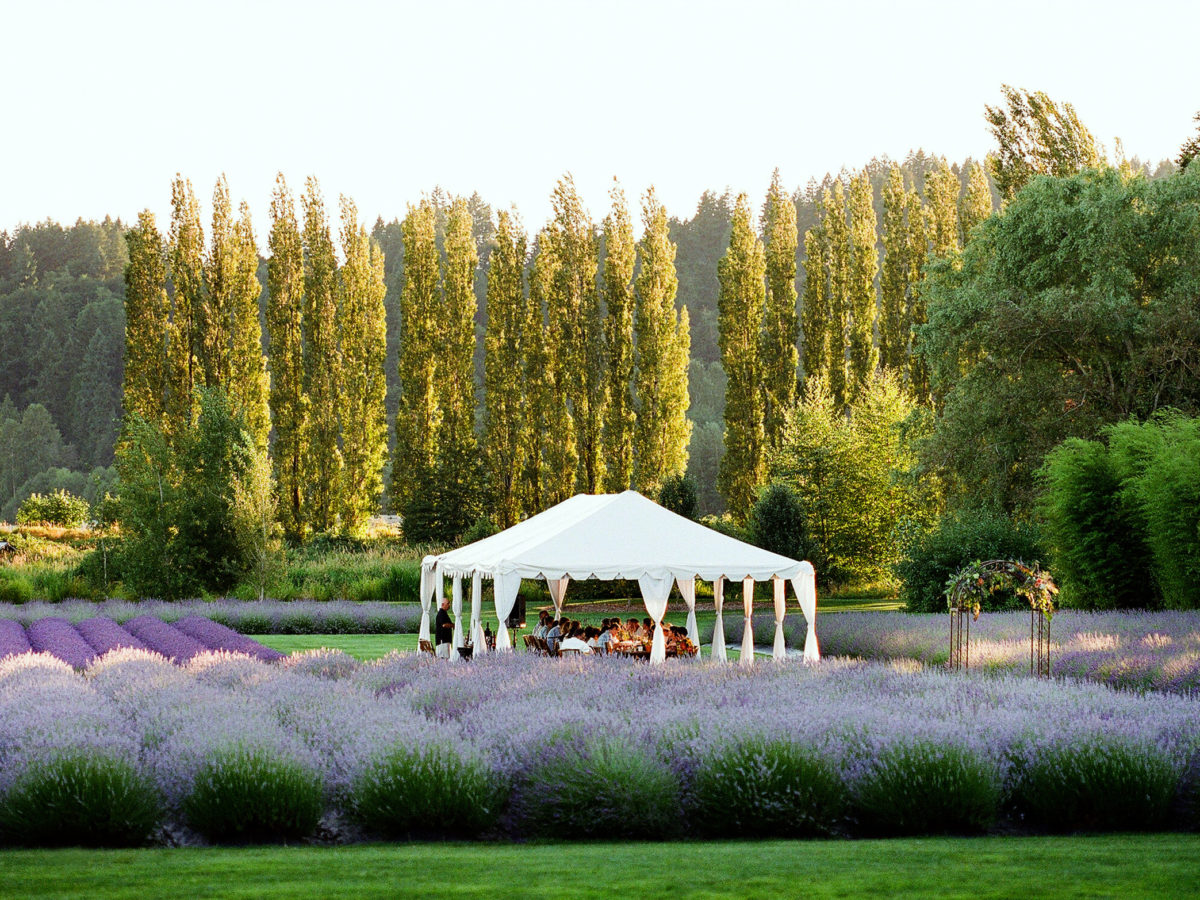 Courtesy of Woodinville Lavender Fields
My Francophile friend Nico swears by L'Occitane's Shea Butter Hand Cream; she isn't a gardener but owns and runs a very busy flower shop and her hands take pretty much the same beating mine do. (She and I also both inherited our hands from the "sturdy Welsh stock" sides of our respective families and our hands need all the help they can get.) Gardeners who crave that Provençal garden life can go with L'Occitane or La Chatelaine. Both include 20% shea butter, are made in France, make my hands feel like a freshly manicured femme, and make me smell like I spent the day in le jardin. L'Occitane's cream has that baby-fresh scent that's evocative of softness, while La Chatelain's gardenia-scented hand cream somehow manages to smell exquisitely of white flowers without smelling old-ladyish. 
For Gardeners Who Also Hate Wearing Sunscreen (or Forget To)
Photo by Layla Bird / Getty Images
The hands are the first place that show aging, which is yet another reason to always wear sunscreen. But so many of us melanin-challenged folks skip the hands when applying it! Eucerin has built-in SPF and is very affordable, but if you often forget to wear sunscreen like I do, there are a few helpful damage-reversal hand creams for gardeners who eschew gloves and sunscreen. Ahava's Time to Smooth Age Perfecting Hand Cream contains a blend of botanicals (both land and sea) and Dead Sea minerals that smooths out skin tone, helping to reduce those blotches that I keep telling myself are just freckles, and not age spots. It also contains sunscreen, to help prevent the problem in the first place.
Tula has stopped making their hand creams, but their anti-aging face products are wonderful if you're also a gardener who hates wearing sunscreen. Their Multi-Spectrum Overnight Skin Rescue Treatment feels so light going on, but leaves my face still feeling soft and protected in the morning. It smells really nice, too—really clean, with a very faint fruit scent. After I apply it to my face, I just smear whatever's left on my fingertips to the back of my hands.  
Keep Reading: