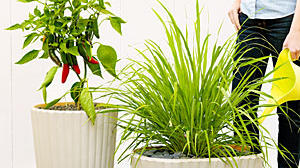 Photo by Jeffery Cross; written by Johanna Silver
What to do in your Northwest garden in September
Plant
Try trailing pansies; they do a better job filling in than clumping varieties, so you end up needing fewer plants container. Flowers of the new WonderFall series come in a wide range of standard colors, plus yellow and red. Available at garden centers everywhere.
Cyclamineus hybrid daffodils are among the first plants to bloom in spring, and do better than most daffodils in moist, partially shaded locations. Try Narcissus 'February Gold' (yellow), 'Jack Snipe' (yellow and white), and 'Jetfire' (yellow and orange).
For fall flowers in part shade, set out Chinese anemones; try one of the pink knee-high Pretty Lady series from Blooms of Bressingham: Pretty Lady Diana has single pink flowers; Emily is a light-pink double. Hardy to −30°.
Start shopping for trees and shrubs with bright fall leaves and berries. Early maples are already coloring up, and snowberries and mountain ash are fruiting heavily.
Fall is a great time to plant a lawn; scratch seed into amended soil with a rake, and water every three days or so until fall rains take over.
Plant pots for fall color. Choose from asters, crimson flag, dahlias, mum, pansies, and sweet alyssum) and use high-fired, glazed containers instead of standard terra cotta, which often breaks apart in winter freeze-thaw cycles.
Set out transplants of calendula, flowering cabbage and kale, pansies, and violas now for color in fall and winter.
Get groundcovers, perennials, shrubs, trees, and vines into the ground this fall so they'll have all winter to become established and ready for strong growth next spring and summer.
Maintain
Regular hoeing can keep a garden bed weed-free in just minutes per week, and prevent hours of hand weeding later.
Hellebores thrive if you put one handful of lime around each plant this month. Water well.
Improve your soil by sowing now with cover crops like Austrian field peas, crimson clover, and vetch. Hardy to about 10°, these plants minimize erosion during harsh winter weather. In spring, till them into the soil to boost its organic content before planting. Territorial Seed Company sells bulk seed of several cover crops.
Harvest
Pick ripe fruits and vegetables daily. It prevents rot and, in berry crops and beans, keeps plants flowering and producing.
Protect
In Alaska and mountain zones, spread 3 inches of organic mulch around permanent plants to minimize winter freeze damage and erosion.
Control fungus gnats. Those tiny, dark insects that flit around houseplants are fungus gnats. To discourage them from laying eggs in potting soil, cover the surface with a thin layer of sand or gravel.
Keep Reading: