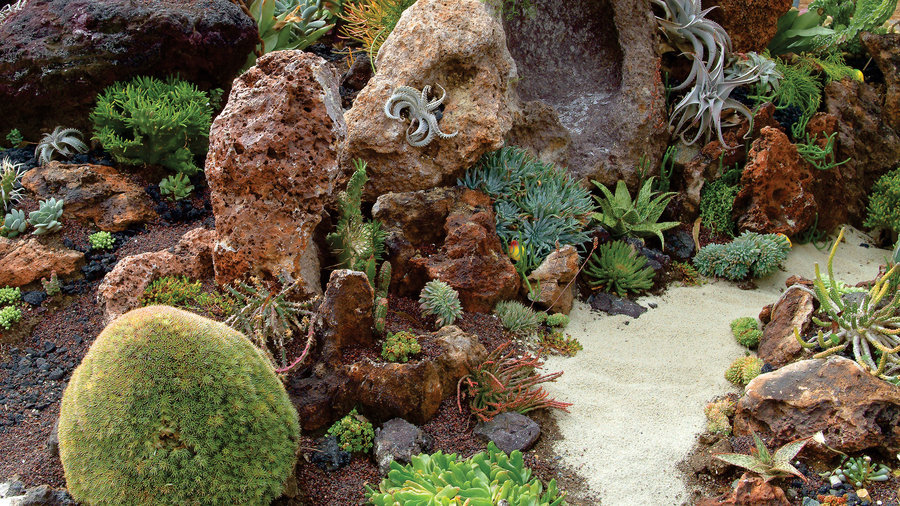 Re-create the look of an ocean reef with succulent plants
Imagine diving into the cool waters of a cove somewhere along the Pacific Coast, then peering through your diver's mask at the undersea life shimmering in the depths. What might you see? Perhaps a scene that looks much like the planting at Quail Botanical Gardens in Encinitas, California.
Created by Jeff Moore, a surfer, snorkeler, and owner of Solana Succulents nursery, the planting makes use of shapely succulents that mimic marine plants and creatures. For his seascapes, Moore uses small agaves, aloes, and groundcover succulents. Some are easy to find, but others ― like crested cactus, which grows into convoluted mounds resembling brain coral ― aren't.
To plant your own succulent seascape, start by stacking lava rock to suggest a canyon. Fill crevices with fast-draining cactus mix, tuck plants amid the rocks, and mulch with pea gravel. Complete your sea cove by paving its sunlit shallows with white sand.
Many of the tender succulents Moore used in this garden won't tolerate temperature extremes or prolonged periods of rain, so they're best suited to mild, coastal areas of Southern California. But you can achieve a similar subsea effect in other areas by experimenting with hardier succulents. Or use small specimens to create a seascape in a large, shallow bowl that can be set on a patio or tabletop.
Moore has also created undersea succulent-scapes for Sea World, the San Diego County Fair, and the Philadelphia Flower Show. His garden at Quail Botanical Garden, which he created with help from landscaper Bill Teague, is his most recent.
 Next: Succulents that look like sea creatures
Succulents that look like sea creatures
Star fish, sea urchins, and branching coral have their counterparts in the plant world. Dyckia marnier-lapostollei, for example, resembles a starfish, with its pointed, downward-curving leaves. Small globular cactus, and succulents that look like they're rippling in a current, are the best choices for seascapes. Pair them with shapely boulders. Other succulents that mimic undersea creatures:
• Columnar, crenellated Euphorbia polygona appears ready to snap up a passing fish, as does another sea-urchin look-alike, the Medusa head plant (E. flanaganii).
• When grown in clusters, baseball plant (E. obesa) suggests a sponge colony.
• The slender golden-orange branches of E. tirucalli ('Sticks on Fire'), ressemble coral tentacles.
• Slender, tubular leaves of Dudleya make a convincing sea anemone.
• The frilled edges of a hybrid Echeveria recall a jellyfish's undulating umbrella.
• Blue crested Myrtillocactus geometrizans is a coral look-alike.
INFO: Quail Botanical Gardens (9-5 daily; closed Jul 4; $8; 230 Quail Gardens Dr., Encinitas, CA; www.qbgardens.com or 760/436-3060) The succulent seascape is adjacent to the parking lot, on the southwest side of the property, between the administrative offices and Children's Garden.
Two gardens smaller but similar to the undersea planting at Quail Botanical Gardens are at Sea World (500 Sea World Drive, San Diego) near the sky ride entrance and the Sea Lion and Otter stadium. Hours vary seasonally. More info: 800/257-4268; www.seaworld.com.
Next: Succulent sources
 
SOURCES:
Solana Succulents (closed Mon; 355 N. U.S. 101, Solana Beach, CA; www.solanasucculents.com or 858/259-4568).
The Dry Garden in Oakland (closed Mon; 6556 Shattuck Ave.; 510/547-3564).
Mail order and walk-in:
Arid Lands Greenhouses in Tucson (open Sat, by appointment Sun―Fri; 3560 W. Bilby Rd.; www.aridlands.comor 520/883-9404).
California Cactus Center in Pasadena, CA (216 S. Rosemead Blvd.; www.cactuscenter.com or 626/795-2788).
Mail-order nurseries that offer an excellent selection of succulents:
Squaw Mountain Gardens, Estacada, OR; 503/637-3585; www.squawmountaingardens.com
Yucca-Do Nursery, Hempstead, TX; 979/826-4580; www.yuccado.com
Mail-order sources of rare and collectible succulents:
Grigsby Cactus Gardens, Vista, CA; 760/727-1323; www.cactus-mall.com/grigsby/
Huntington Botanical Gardens International Succulent Introductions: www.cactus-mall.com/isi/
More:  Propagate succulents