3 Strategies for Replacing Your Lawn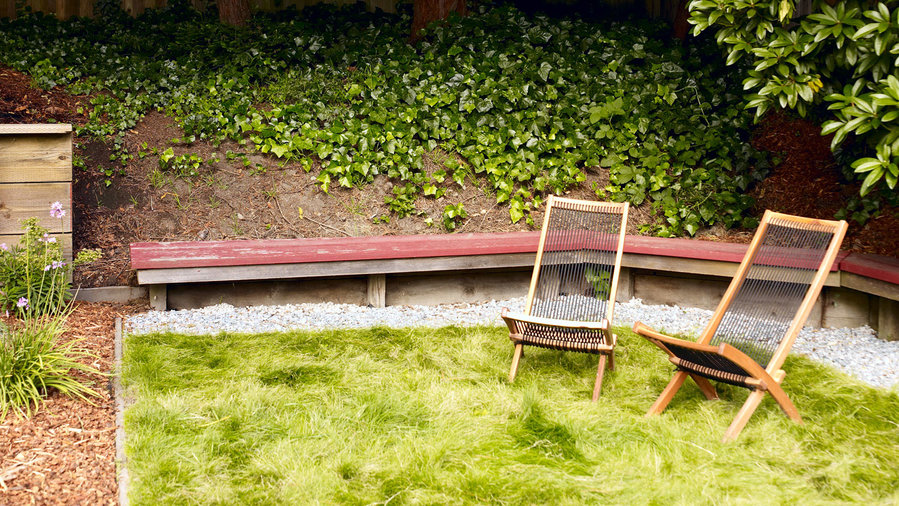 Ready to lose your traditional thirsty turf-grass lawn? Here are three ways to go
SHRINK IT
To transform a lawn into a garden bed without the hassles of stripping sod, simply smother it under layers of newspaper and a load of manure in fall. Then let the grass decompose naturally all winter. The underlying grass should disappear, roots and all. Come spring, you can plant directly through the rotted manure without having to till it or other amendments into the soil (tilling can encourage weed seeds to germinate). Note: This technique works well on cool-season grasses such as bent and fescue, but not Bermuda, St. Augustine, or zoysia.
Here's how to do it:
With a hose, outline the shape of your new lawn-free garden bed. Use a sharp spade to dig a 2-inch-deep, V-shaped groove around the outlined area.
Finish digging the groove around the outlined area. Remove the sod from the groove; toss it back on the part of the lawn you plan to smother.
Cover the smother area with four to six layers of newspaper, tuck the edges into the groove, then spread a 6-inch layer of manure over the newspaper. 
After the grass beneath has decomposed (in two to four months), plant through the manure.
REPLANT IT
You can get the look of lawn without the water waste by growing a better grass.
Western native grass. For a casual meadow effect, choose the right grass for your area. In normal years, these grasses can live on rainfall alone in their native ranges. And compared to traditional lawns, these grasses require much less maintenance and mowing. Northern California and the Northwest: Fine fescue and hair grass (Deschampsia). Southern California: Fine fescue or spring-planted 'UC Verde' buffalo grass (along the coast). Desert: Fine fescue, spring-planted buffalo grass, or blue grama. Rocky Mountain: Buffalo grass or blue grama. Buy these grasses as plugs (a flat of 70 is enough to cover 30 square feet).
Deep-rooted grass blends. Some grass blends need less water than traditional turf. Eco-Lawn (from wildflowerfarm.com), for example, is a blend of seven fescues; it tolerates drought better than traditional turf because its roots grow deeper. It takes sun or shade, and you don't need to mow it—just let it grow for a wavy, meadow effect. Start overseeding your existing lawn now, and continue once a year for 3 to 4 years to get the full effect.
FAKE IT
Yes, fake grass is controversial—easy to love or hate, to tout for its water savings and easy maintenance or dismiss as an environmental nuisance. Still, it's an option for homeowners who crave a swath of green. You can buy fake grass that's putting-green short or late-summer long, dark green or light green. No watering needed—ever. Here are pros and cons:
Traditional lawn: Kentucky bluegrass, fescue, Bermuda grass 
Water use. 

The amount of water needed to keep our lawns green has seriously impacted Western water supplies, contributing to mandatory water reductions in drought-stricken areas. 

Loungability. Hard to beat. There are few things that feel better under bare feet than fresh, cool grass. 
Environmental concerns. Gas-powered push mowers produce 11 times more air pollution per hour than a car, though push-reel mowers are blame-free. Pesticide and herbicide runoff seriously affects plant and animal life in waterways. 
Upkeep. As any lawn owner will tell you, maintaining a lush carpet of green takes a lot of time and attention.
Synthetic lawn
Water use. 

This is the best part: Synthetic lawns require no water except an occasional blast of water from the hose to clean them. 

Loungability. Looks good but some have a distinctive plastic crinkle sound. Unlike the real stuff, it can get hot in the sun. 
Environmental concerns. Made from petrochemical plastics. They're nonbiodegradable, provide no air-clearing photosynthesis, and some environmentalists are concerned they leach heavy metals from "tire crumb" substrates into soil. 
Upkeep. None to speak of, except for pulling it up and disposing of it if you decide to try something else. 
Native grasses: Buffalo grass, hair grass, etc. 
Water use. 

Once established, locally adapted types should thrive on the area's average rainfall. During especially dry years, they may need some watering. 

Loungability. Many native grasses tend to grow in clumps. They are tough enough to withstand some foot traffic but aren't as picnic-friendly as traditional lawns. 
Environmental concerns. None.
Upkeep. Require very little maintenance and no fertilizers once they're established. 
Drought-tolerant grass blends: Eco-Lawn, for example (wildflowerfarm.com) 
Water use. 

Little irrigation required, once the grass is established. 

Loungability. When mown, they have the look and feel of a "real" lawn. You can also go au naturel for a meadow effect. 
Environmental concerns. None—but only if you forgo mowing and let the grasses grow as a meadow. 
Upkeep. Practically none if you leave them unmown.
Keep Reading: