Thanksgiving Comfort Food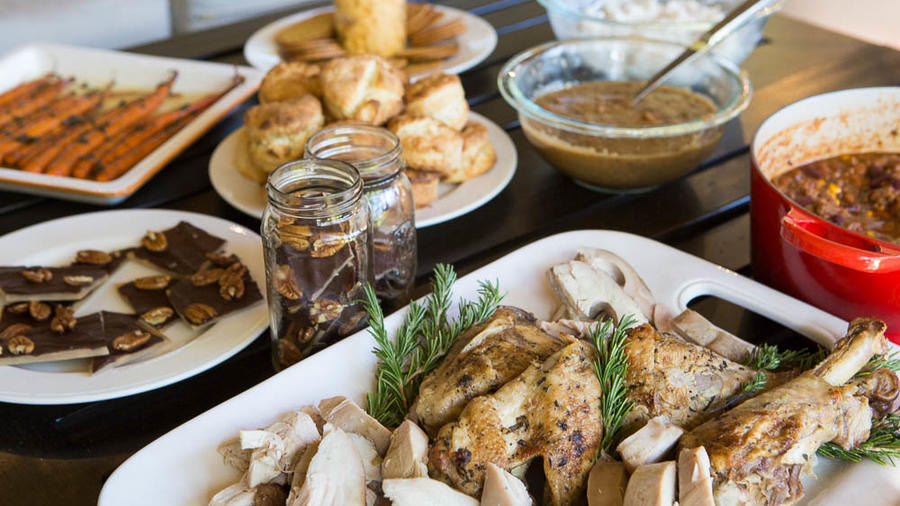 As we approach our December office moves—to Oakland's Jack London Square and to Sonoma's Cornerstone—the Sunset staff has been reminiscing about Menlo Park memories. One of our favorite spots on campus is an unassuming hallway ledge we call The Crossroads. When we have harvested backyard fruit or baked scratch cookies, we share the bounty with our colleagues here.
A year ago, in this spirit of sharing, we kicked off the Sunset Cookbook Club. Every so often, a group of Sunset staffers chooses one or more inspiring cookbooks by Western authors and we…cook the books! Each of us makes one recipe, and then shares his or her results here on Westphoria.
This month, we chose Heartlandia: Heritage Recipes from The Country Cat, by Portland chefs Adam and Jackie Sappington, owners of The Country Cat Dinner House & Bar. The Sappingtons are known for their big-hearted Midwestern ways with food, creating a neighborhood restaurant so unpretentious and warm that its fame has spread far beyond Portland. This book is just as generous, teeming with things like biscuits, gravy, skillet-fried chicken, and warm apple pie. However, there's nothing dated about the recipes. The late food writer Josh Ozersky put it well in the book's introduction: "…the Sappingtons are able, like few people in America, to escape the trap of time and bring the old cooking, uncorrupted and unstylized, into 2015."
Heartlandia offers lots of options for hearty, Thanskgiving-ish food, which is what our Cookbook Club is craving right now. And we like that the tone of the book is welcoming and friendly, just like the restaurant itself. Here's Ozersky again: "The book is called Heartlandia, but it isn't to some imaginary middle America that the name refers; to me at least, it's the open heart of the Sappingtons and the people around them, all bound in gravy and the milk of human kindness." Who wouldn't want to sit at their table—or at least recreate a little of it at home? Over the next week or so, we'll be doing just that.
---
A little recap of last month's Sunset Cookbook Club: We created dishes from plant to plate as we cooked our way through Heather Hardison's Homegrown.
Assistant Travel Editor Megan McCrea learned to toast nuts and operate a food processor to make homemade Pesto Sauce—and it was well worth it.
Associate Garden Editor (and green thumb extraordinaire) Lauren Dunec Hoang kicked up her Beet and Fennel Salad with basil straight from Sunset's Test Garden.
Pickle enthusiast Margo True, our Food Editor, pickled a peck of peppers, creating crunchy Refrigerator Pickles packed with sweet-tart flavors.
Senior Travel Editor Andrea Minarcek let fresh-from-the-tree figs shine in Figs with Gorgonzola and Honey.
Soup lover and Senior Copy Editor Trina Enriquez found that Curried Carrot Soup revealed layers of flavor—and that eating it felt like a big hug.
Senior Web Editor Jessica Mordo overcame her trepidation about baking to make a sensational Savory Summer Galette.
Enticed by the idea of "summer in a pan," Editorial Assistant Alexandra Deabler baked a brunch-worthy Blueberry Cake.
Associate Art Director Soni Obinger whipped up Raspberry Dark Chocolate Mousse so tasty that even her chocolate-averse husband loved it.
---
Come into our kitchens! Leave comments on our posts, or share notes and photos from your own kitchen on Facebook, Twitter (@SunsetMag), or Instagram (@SunsetMag) using #SunsetCookbookClub.
Looking for more ideas as you coordinate your own Turkey Day? Check out these great Thanksgiving menus.
Keep Reading: