5 easy Christmas cookie gift ideas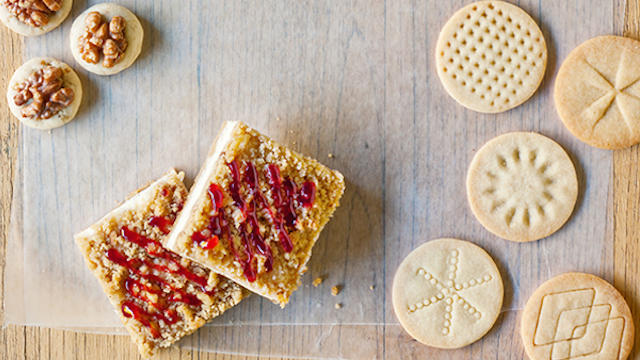 Christmas cookie recipes and decorating ideas to turn into Christmas gifts without too much effort
Bakers, start your ovens. The holiday baking season is nearly here. More than ever this year, I'm looking for easy Christmas cookie recipes and decorating ideas that I can turn into Christmas gifts without too much effort. If that sounds like you, check out these 5 easy Christmas cookie gift ideas from Sunset's archives.
1. Decorate cookies with nut halves
Show the cookie flavor—here walnut Mexican Wedding Cakes—with a nut pressed into the dough before baking.
2. Add a squiggle of jam to cheesecake bar cookies
Brighten Cheesecake Bars with seedless raspberry jam piped through a pastry bag.
3. Emboss sugar cookies with kitchen tools
No frosting required! Add texture to sugar cookies using cooking tools (clockwise from top): meat tenderizer, triangular can opener (use convex side), cannelé mold, diamond-shape cookie cutter, 5-hole zester.
4. Spell out a cookie greeting
Diane Gsell, a California food stylist, packages individual letter cookies in cellophane bags and suspends them from a string with colorful binder clips. Hand them out as party favors at your next holiday gathering. Cut Favorite Sugar Cookie Dough about 1/4 inch thick and bake until firm, then decorate.
5. Package colorful layered cookies in a simple silver tin
Peppermint Layer Cookies take a little more time to make than some cookies, but are worth it. Show them off in a simple, classy silver tin.
Keep Reading: