Where to go this weekend: S.F.'s Mid-Market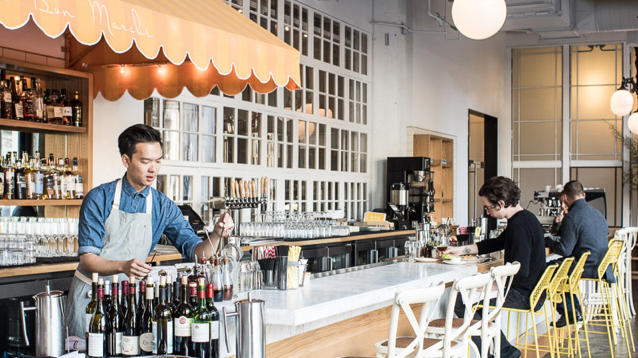 A renovated theater, new shops, and a slew of restaurants are bringing San Francisco's emergent high-tech corridor to center stage. Josh Sens picks the top spots in Mid-Market.
The comeback theaterMarket Street was once known as the Great White Way for the glow of theaters in the neighborhood, none beaming brighter than The Strand Theater. But over the years, as the blocks around it dimmed, so too did The Strand. Shut down by the city in 2003, the building remained dark until this past spring, when American Conservatory Theater put the final touches on a $34 million renovation. The space has been transformed into a performance venue, with a cafe in its lobby, and a 283-seat state-of-the-art theater that can be reconfigured into a cabaret. This month, the playbill features a comic musical called The Unfortunates.
Shave and a haircutA slate pool table, not a stack of Playboy, greets you as you enter Fellow Barber, where thementhol-scented pleasures of traditional male grooming play out in a setting of contemporary chic. The business is the brainchild of Sam Buffa, a former motorcycle racer who fell in love with throwback barbershops while speeding around Europe. The ambience and offerings balance past and present: Although your dad might not recognize the indie-rock soundtrack, he'd nod in approval at the in-house scissor skills, not to mention the hot towels with eucalyptus that the barbers use to prep you for your straight-edge shave.
Pedal powerAt rush hour, Zack Stender gazes from his storefront as swarms of cyclists blur by on Market Street. "It used to be you rode your bike to work if you had no other options," says the part-owner of Huckleberry Bicycles. "But nowadays, it's just cool." Huckleberry stocks high-performance racing bikes and candy-colored Lycra outfits, but the shop caters mostly to those who work cycling into their 9-to-5. Find elegant but sturdy models by Shinola, a Detroit-based builder of steel-framed two-wheelers, and fashionable apparel like sport coats and blue jeans with snug-fitting, reflective cuffs. "When you get to the office, you don't have to peel off a neon outfit," Stender says. "You're pretty much good to go."
The hungry kid's hangoutAny dreary thoughts about another lifeless food court make way for reality inside The Hall, a hip neighborhood gathering place to eat and drink. Once a billiard parlor, the weathered building with exposed wood-beam ceilings now clatters with the sounds of bustling street-food stalls. Their specialties span Moroccan sweet-potato salad to vegetarian pastrami to juicy tacos al pastor. Seating is communal, and so is the spirit of the space, as evidenced by The Hall's full calendar of live music events and the anyone-can-play ping-pong table on the sidewalk out front.
Tweets and eatsAside from roasts and braises, charcuterie and salads, and 52 craft beers on draft, the menu at Dirty Water, on the ground floor of the Market Square building housing Twitter, lists 114 wines by the glass—nearly one for every character in a full-blown tweet. In case you find that limiting, look across the lobby of these high-tech headquarters, which brims with culinary options. They include a coffee shop, a Malaysian street-food stand, and a Whole Foods–like market called, yes, The Market, which traffics in pizzas, artisanal pickles, and pretty much everything in between. Another anchor is Bon Marché Brasserie & Bar, a bistro that serves steak frites, soupe de poisson, and other Gallic standards, as well as cocktails with names (Je T'aime, Je T'aime) inspired by classic French films. Vive le choice!
Keep Reading: