Where to Go This Weekend: Hood River, OR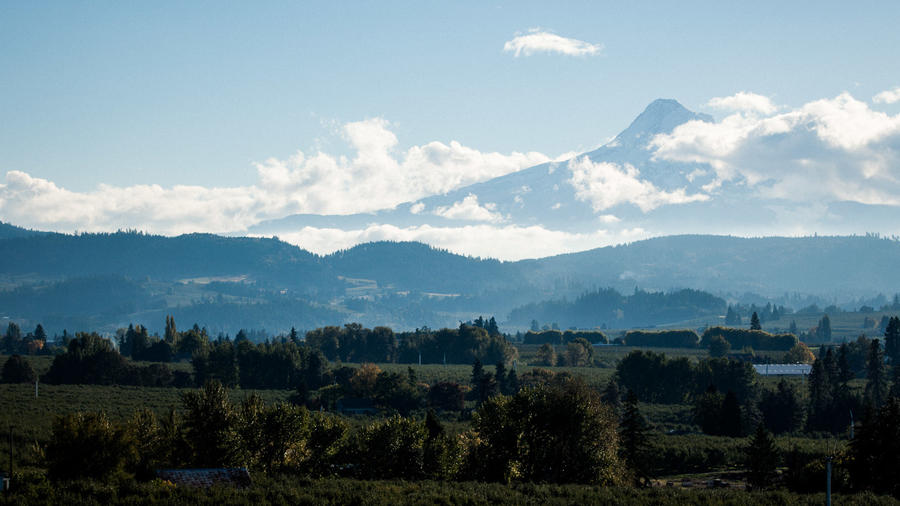 In May, this Columbia Gorge town hits its stride: The river begins to warm, breweries open their patios, and the new waterfront park fills with picnickers.
Portland is 64 miles southwest via I-84 and has the closest airport, making Hood River an easy weekend getaway for most Westerners.
Here, Portland-based writer Beth Collins shares her five favorite must-do's.
1. Water play Windsurfers helped put Hood River on the map in the 1980s, transforming it from a sleepy farm town into a bucket-list destination for adrenaline junkies. Kiteboarders caught on to the ideal wind conditions here in the early 2000s, followed by stand-up paddle-boarders about three years ago. On windy days, you can see all three sports in action—but don't be intimidated by the resident experts. There's a calmer section of water that's sheltered from high winds (and daredevil traffic) where Big Winds instructors teach novices the town's signature sports (207 Front St.). Dip your toe in with an intro lesson or sign on for a two-day clinic. For kids, the outfitter offers four-day windsurfing camps, grooming the next generation of world-class athletes. Rentals from $20, lessons from $49.
2. Water play, part II If you'd rather not shimmy into a wetsuit on your visit, no problem—thanks to two recent major developments, Hood River has plenty of low-key attractions as well. The first addition was Waterfront Park, a 5-acre green space with a swimming beach, playground, and picnic areas. An amphi-theater was added last summer and now hosts local bands. In June, Nichols Basin West Edge Trail will open, connecting 14,000 feet of waterfront with a paved walking and cycling trail.
3. Farm to pint Hood River is known as a beer town, and with five breweries in city limits and six more within a 20-minute drive, it earns the sudsy reputation. But it also has a fantastic wine, cider, and—as of last summer—spirits scene. The friendliest sipping experience is to be found at Marchesi Vineyards and Winery (3955 Belmont Dr.), where owner Franco Marchesi, a native of Piedmont, Italy, greets customers with a heartfelt "Ciao!" He pours bold reds and whites ($8 tasting), and the outdoor tables have views of Mt. Hood and rolling hills of vines. All those apple and pear orchards you see? The produce is put to good use at Fox-Tail Cider (2965 Ehrck Hill Dr.). Try the new Pyrus Perry, made from Comice and Bartlett pears, or the strawberry-rhubarb and blackberry ciders, due out this summer (tasting from $1.50). If your tastes run a little stiffer, head to Camp 1805 Distillery and Bar (501 Portway Ave.), where the rum and whiskey are distilled in-house ($5 tasting). Just opened last summer, the bar has a food menu with meat-heavy options like a pulled-pork sandwich—hearty enough to absorb those spirits. "People are taking notice of Hood River—and not just in the beer community," says Eric Boterro, Camp 1805's restaurant manager. "A lot of people came out here to play and then they found a way to stay."
4. Gorgeous views Hood River's prime location, tucked within the basalt walls of the Columbia River Gorge, means you get grab-your-camera moments every way you turn. The always-snowcapped peaks of Mt. Hood, to the south, and Mt. Adams, to the north, frame the town, and in spring, the surrounding orchards are in full bloom. Get a bird's-eye view of the beauty up at Panorama Point, a drive-to lookout (1212 Eastside Rd., just off State 35), then continue along the Fruit Loop, a 35-mile stretch of road dotted with fruit stands and lavender farms.
5. Downtown delights Oak Street, the town's main drag, encapsulates its active-chic aesthetic. Shops like Parts + Labour (311 Oak St.) focus on downtime attire—dresses, hoodies, and jeans from brands like Splendid, Sanctuary, and Maison Scotch. Down the road, at seasonal Mike's Ice Cream (504 Oak St.), adults kick back on Adirondack chairs, kids scurry up a ladder to the treehouse, and everyone indulges in housemade treats like huckleberry shakes.
Keep Reading: