Where to go this weekend: Gilbert, AZ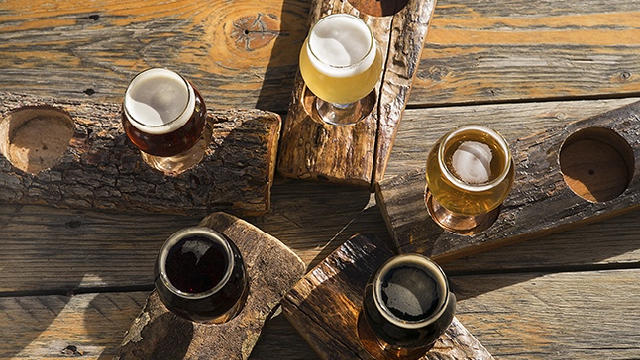 With a thriving farm-to-table culture, new foodie hot spots, and a top-notch brewery, this East Valley city balances bucolic and buzzy. Keridwen Cornelius shows us the best of Gilbert, AZ.
Free-range funGilbert may be one of America's fastest-growing cities—not to mention one of our favorite places to live—but the 1920s Hay Capital of the World still cultivates its farming roots. Go free-range at the organic Farm at Agritopia, the centerpiece of an agrarian-minded community. Roam the idyllic 18 acres on your own, or prearrange a tour to learn about ecological farming principles. Farm meets fork at Joe's Farm Grill, a diner that serves classic dishes seasoned with 21st-century touches: an Ari­zona beef burger topped with local pecan pesto, say, or a milkshake made with Agritopia-grown dates. Next door, perk up with a macchiato from the tractor shed turned coffeehouse. Wednesday evenings, families flock to a farmers' market with Agritopia produce, live music, and food-truck fare.
An important bird area (really!)The ponds at the Riparian Preserve at Water Ranch attract more than 200 species, from pelicans to black-necked stilts. On every third Saturday from October to May, experts lead bird-watching walks at this Audubon-designated Important Bird Area. Or you can grab a map at the entrance, turn left, and amble down Cattail Crawl, where green-winged teals flaunt their emerald feathers. Then duck down Desert Willow Way to spy snowy egrets slowly stilt walking.
A Tex-Mex queenOver the past five years, Gilbert's pastel-painted Mayberry-esque Heritage District has regained its gravitational pull, as a slew of valley chefs has opened outposts here, attracting diners with sunny patios. Lo-Lo's Chicken & Waffles slings Sheeda's Special, a tasty trifecta of breast, wing, and waffle, while Joyride Taco House hawks carne asada street tacos. At Postino Wine-Cafe, diners can pair a tipple with mix-and-match bruschetta. Slated to join the lineup this March is Nico, a casual Italian eatery featuring family recipes from James Beard–nominated chef Gio Osso of Scottsdale's Virtù. And new last May, Barrio Queen serves slow-roasted cochinita pibil and pomegranate guacamole.
A photo opIn the era of Instagram and selfie sticks, Art Intersection is giving exposure to older photographic traditions. This month, these four Heritage District galleries—which, along with the Arts Lab, share an airy building—celebrate Arizona Photography Month. You can attend a demo on photogravure, make your own lumen print, or stroll the exhibit on Scott Baxter, a photographer whose iconic shots of western ranchers and cowhands exude a quiet strength.
Beer from the beardedA few years ago, Jonathan Buford and his business partners were crafting ale in Buford's garage, barely dodging bankruptcy, white-knuckling a Kickstarter campaign to launch Gilbert's first brewery. Then, in 2014, RateBeer named their brewpub, Arizona Wilderness Brewing Co., best new brewery in the world. Suddenly, these irreverent brewers—whose tagline is "Handcrafted beers, facecrafted beards"—were gracing the pages of Esquire and collaborating with Jimmy Eat World and 2015 U.K. Brewer of the Year Beavertown Brewery. Buford and company will throw anything into their brew kettles, from watermelon to cactus, and they aren't afraid to challenge Pabst-weaned palates with a Belgian sour or an oak-aged saison. Choose a pint from their rotating tap list, or sample a flight of five beers, served in a tree trunk.
Keep Reading: