Where to go this weekend: Bigfork, MT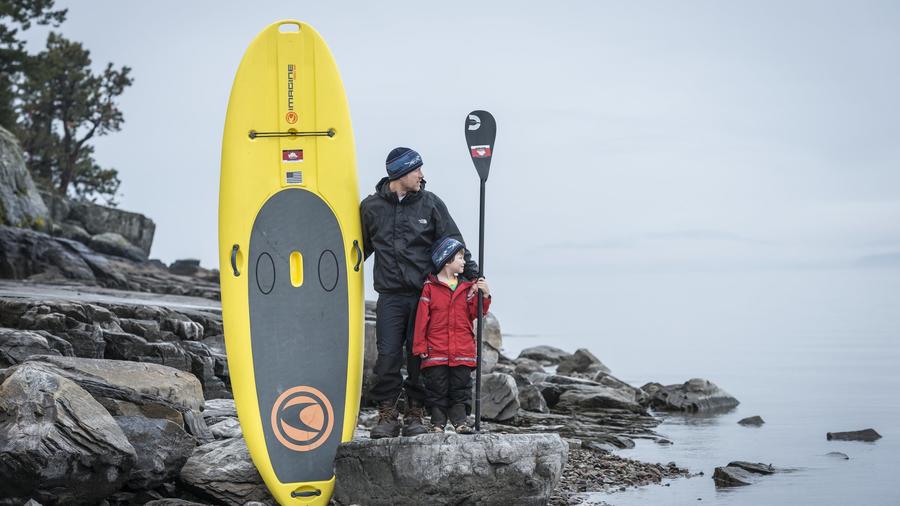 It's a stone's throw from both Glacier National Park and crystal-clear Flathead Lake, but this arts-meets-adventure town is far more than...
It's a stone's throw from both Glacier National Park and crystal-clear Flathead Lake, but this arts-meets-adventure town is far more than a mere jumping-off place.
Bigfork, Montana, is 101 miles north of Missoula via U.S. 93 and State 35—perfectly situated for a day trip for Montanans and most Westerners for a long-weekend getaway!
We dispatched writer Valerie Rains to scope out the scene. Here, her five picks for a perfect Bigfork visit.
1. Liquid courageBreathtaking bodies of water abound in these parts—the glittering, hike-in alpine lakes that dot Jewel Basin, and vast Flathead Lake with its patch-work of state parks along the shore—but the one that gets locals' hearts pounding is the Wild Mile, a frothy stretch of class IV rapids on the Swan River that's the staging ground for the annual Memorial Day weekend Bigfork Whitewater Festival (May 22–24). The town's longest-running event (first held in 1975) made an even bigger splash last year, adding raft races and stand-up paddleboard demos to the increasingly competitive kayaking contests (all reappear in this year's edition). Throughout the season, less-adventurous visitors can rent boats and boards from Base Camp Bigfork to take out on the calmer waters of the Upper Swan or a handful of area lakes (kayaks from $35/half-day). They'll deliver gear for free if the spirit strikes when you're already on location. "Bigfork has always been an art gallery town, but we have so much more right in our backyard—Glacier, the lake, all these great mountain-biking trails," notes Jonathan Meyer, co-organizer of the Bigfork Whitewater Festival. "The whole town comes alive in summer."
2. Equipment runs made easy"I hated seeing people lose a day driving to Kalispell every time they needed something," says Hilary Shepard, who started Bigfork Mountaineer (439 Osborn Ave.) with her husband, Levi, in 2012 to remedy the problem. Their one-stop shop for high-performance street clothes (stretch-flannel button-downs from Mountain Hardwear) and cheeky accessories (portable waterproof speakers and nightlights shaped like tiny dome tents) soon had company. Montana Adventure Sports (439 Electric Ave.), opened in the same month by Sarah and Renny Johnson, handles the hard-goods market—snowshoes, stand-up paddleboards, and mountain bikes—as well as doling out espresso shots from Fieldheads Coffee Company and restoring vintage cycles in the on-site mechanics shop.
3. Big brewsMontana's microbrew production is growing at a rate of 10 percent a year, and Bigfork's Flathead Lake Brewing Company (116 Holt Dr.) is a pleasing part of the trend. When the 10-year-old label cut the ribbon on its second Bigfork location this spring—in a converted bowling alley overlooking the lake—it not only became the first Montana brewery to attain gold LEED certification, but also boosted output from 1,000 to 10,000 barrels a year. The new spot incorporates a fireplace-equipped restaurant serving kicked-up pub grub (elk brats, fish and chips battered with fruity Galaxy Strong Pale Ale) and a growler-refilling station dispensing limited-release recipes like Sour Brown (aged in a raspberry brandy barrel) alongside year-round favorites like the citrusy Imperial IPA and creamy 369′ Stout, named for the deepest point in Flathead Lake.
4. Home-cooked mealsOutdoorsy towns thrive on hearty breakfasts—which may explain why newcomer Pocketstone Café (444 Electric Ave.) opted to take a page (or 10) from old-school diners' encyclopedic menus: The friendly spot serves up a seemingly endless array of down-home dishes from 6 to 3 daily. Choose an eye-opening pile of blueberry yogurt pancakes or huevos Montana with fresh pico de gallo, or lunchier fare like a hybrid beef-and-pork barbecue sandwich dubbed the Roast Beast. Leaving hungry is borderline impossible.
5. Frames and feastsYou can barely skip a rock in this town without hitting an artists' co-op, gallery, or curated artisan shop. And that artistic inclination extends even to the walls of the black-leather-banquette-lined steak joint Grille 459 (475 Electric Ave.), where photographs of Seeley Lake by Montana-based Juan de Santa Anna set the scene for feasts of organic Black Angus rib-eye from Washington's Misty Isle Farms and grilled salmon with huckleberry beurre blanc.
Keep Reading: