The West celebrates same-sex marriage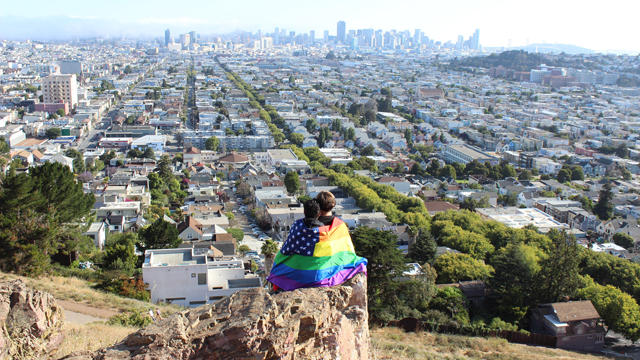 "No union is more profound than marriage, for it embodies the highest ideals of love, fidelity, devotion, sacrifice and family. In forming a marital union, two people become something greater than once they were."
"No union is more profound than marriage, for it embodies the highest ideals of love, fidelity, devotion, sacrifice and family. In forming a marital union, two people become something greater than once they were."
That's what Supreme Court justice Anthony Kennedy wrote in today's historic decision that made same-sex marriage legal throughout the United States.
The decision has special resonance here in the West. Kennedy, a Sacramento native, taught at the University of the Pacific's law school before serving on the San Francisco–based Ninth Circuit Court of Appeals and being elevated to the Supreme Court. And while Western states weren't the very first to attempt to legalize gay marriage, our region proved to be more hospitable to the idea than any other. In fact, even before today's opinion, every state west of the Rockies allowed same-sex marriage.
Maybe that's why so many people here were so happy this morning. In Boulder, Colorado, two county clerks recalled gay marriage's long road to acceptance. One, Clela Rorex, recalled trying to issue same-sex marriage licenses decades ago and having them ruled invalid. Now she and current clerk Hilliary Hall are celebrating being able to issue valid licenses to gay couples.
In Seattle, Mayor Ed Murray, who led the effort for marriage equality during his time in the Washington State Senate, celebrated the news—which he said he learned while riding a stationary bike in his basement Friday morning. "I never imagined this day. I never imagined myself as an elected official," said Murray, whose husband, Michael Shiosaki, stood next to him.
Throughout California, residents noting state's key role in the fight for marriage equality, praised the ruling:
Lorri L. Jean, chief executive of the Los Angeles LGBT center, said that she and her wife married during the brief window in 2008 when gay marriage was legal in California, before the passage of Proposition 8, the state's gay marriage ban. The couple has been "together more than 23 years and legal for seven and now we're legal nationwide," Jean said. After reading the decision, Jean called her 91-year-old mother, who lives in an assisted living facility in a "small, rural Mormon town in Idaho." Her mom hadn't seen the news yet and when Jean called, her mom said, "Did it come down yet? Did it come down?" Jean said, "We won!"
Robin Tyler and Diane Olson, two of California's first marriage plaintiffs, also reacted happily to today's ruling.
And in Los Angeles, Star Trek veteran and social media sensation George Takei reached back to his Starship Enterprise days to express his feelings. "Let the celebrations begin, and may the happy couples live long and prosper together. #‎LoveWins #‎OneFamily."
Keep Reading: