A Slot Canyon Adventure in Zion National Park
Surreal vistas, heart-racing climbs, and one dreamy base camp. Zion is anything but ordinary
As I scramble up slickrock, where hundreds of thousands of years ago running water formed an impossibly narrow groove, the nerves kick in. Palms begin to sweat, and my breath quickens as I go over a checklist, questioning what business I have climbing slot canyons in Utah's greater Zion National Park. After all, we're not far from 127 Hours territory, right? Will my trail runners keep me from slipping? Are my quads, which haven't seen so much as a yoga mat in nine months, strong enough to hold me steady? Or am I still the same gangly kid who once tripped on her palazzo pants in fifth grade and broke an arm in the driveway?
It's a kind of gently simmering anxiety I haven't felt in years, or at least not since I was right out of college and learned how to turn off my fight-or-flight brain while bouldering in Colorado's Estes Park or jumping off a mountain in Aspen with nothing but a paraglide on my back. Back then, I embraced the spirit of trying anything once, but now in my mid-30s, there's less to prove.
"Fear is a healthy thing," says my canyoneering guide, Griffin Rasmussen, after he clips me into two series of rope. One is meant for me to hang onto and slowly let out until I meet the ground 70 feet below. The other is in case I have a meltdown and my baby-faced, long-haired keeper has to belay me to safety. "The biggest challenge is overcoming everything your body is telling you, that you'll die if you go over the edge. Take all that energy and focus it. You've got this." Thanks for the confidence, guy, but if the shrinking space between my shoulders and ears are any indication, I'm not sure I do.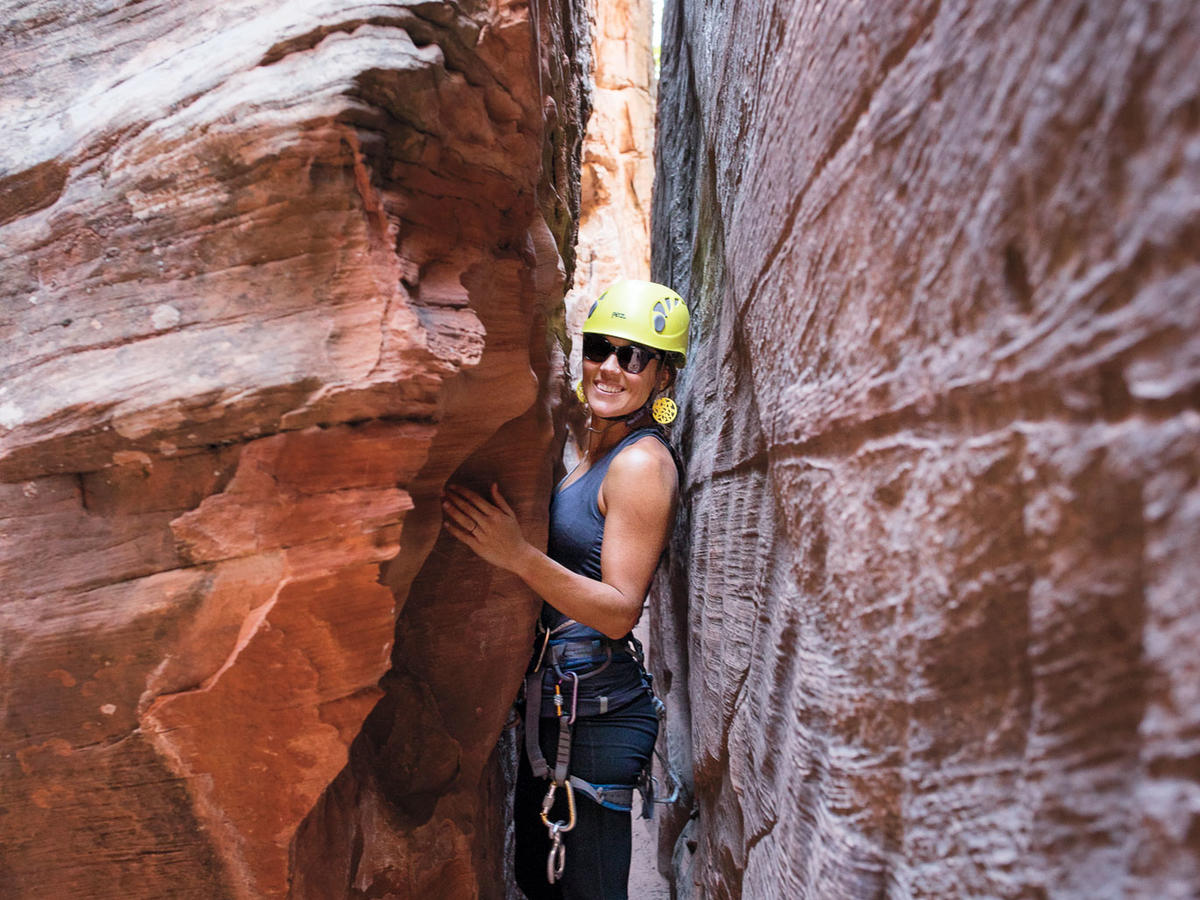 OF ALL THE NATIONAL PARKS, Zion has always intimidated me most. Its 229-square miles cover a Flintstones-esque metropolis of mesas and rock formations. Many of the hikes come with steep drop-offs and precarious switchbacks. Meanwhile, the river that cuts into the park and its surrounding public lands often swells during monsoon season's flash floods. Add to that high elevation (as much as 8,726 feet) and temperatures that can stay well into the 90s during fall in some parts, and there's plenty to make you think Zion is only for cargo-clad backcountry adventurers. But it's also one of the most spectacular parks, thanks to big green splashes of cottonwood trees, golden grasslands, camel-colored sand dunes, and cliffs that seem to change from blue to yellow to bright orange as the sun crosses the sky.