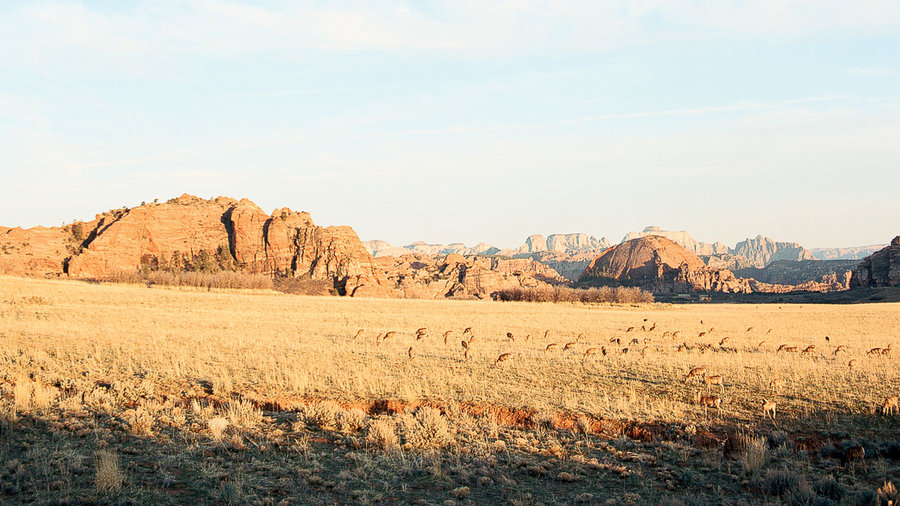 Explore Zion Canyon, take a scenic drive, and discover Kolob Canyon during your ultimate Zion adventure
DAY ONE
Stop at Zion Canyon Visitor Center. Essential first stop for maps, advice, and guided hikes and other activities.
Explore Zion Canyon. The narrow, high-walled canyon carved by the Virgin River forms the heart of the park. The 6.6 mile-long Zion Canyon Scenic Drive heads up the canyon from the park visitor center to Temple of Sinawava; along the way you get magnificent looks at Zion's grandly named geographical formations, including The Great White Throne, the Court of the Patriarchs and, at the road's end, The Temple of Sinawava.
From April into November the only way to drive through the canyon is on one of the park service's shuttle buses; these run regularly throughout the day. If you want to forget your car completely, you can leave it in Springdale and catch the Springdale shuttle to the park visitor center then catch the Zion Canyon shuttle bus.
Take a hike. Zion Canyon is starting point for Zion's most popular hikes, including the easy Riverside Walk and Weeping Rock trails, and the more demanding Angels Landing and The Narrows Trail (see Zion Hikes); throughout summer you can tackle many of these trails on ranger-led hikes. You can also explore the canyon on horseback; visit canyonrides.com.
DAY TWO
Drive the Zion-Mt. Carmel Highway. As spectacular as the road into Zion Canyon, the 10-mile route between Springdale and Zion's eastern boundary gives you broad views of Zion's gorgeous geology; highlights include Checkerboard Mesa and Canyon Overlook.
Take a class. The Zion Canyon Field Institute conducts a variety of one-day and multiday workshops covering subjects such as photography and geology. For information on Summer 2009 workshops, visit zionpark.org.
Get artistic. Zion's carved and colorful cliffs and canyons have inspired artists and photographers for more than a century, which is one reason this part of Utah has a concentration of good galleries. In Springdale, visit the Worthington Gallery (789 Zion Park Blvd; 800-626-9973) and the David Pettit Gallery (975 S. Zion Park Blvd.; 435-772-0533). East of the park, in Mt. Carmel, the hand-built cabin of famed Western artist Maynard Dixon is open for tours from May to November (from $10; reservations required; 435-648-2653); their annual Maynard Dixon County Festival runs in August for information visit thunderbirdfoundation.com).
DAY THREE
See Kolob Canyon. From Springdale, take Utah Highway 9 west to 1-15 and turn north. In about 50 miles you'll reach the Kolob Canyon Visitor Center. You get a good introduction to the country on the park service's two-hour Discover Kolob hikes. Or drive east on your own along Kolob Canyon Road. If you feel like hiking, the 5-mile round-trip Taylor Creek trail is a good bet; for an easy stroll try the walk to the Timber Creek Overlook (see Zion hikes).