Experience Flagstaff's Fall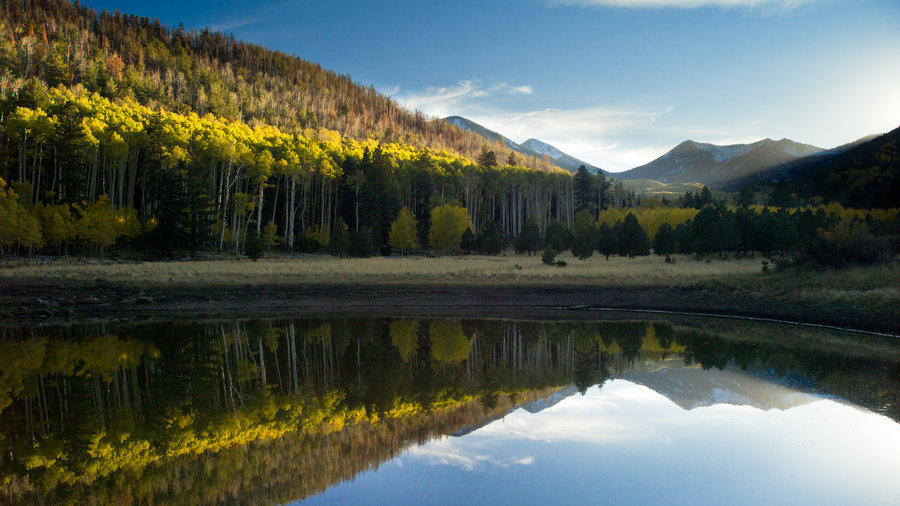 Sunshine, great dining, and golden leaves: "Flag" is Arizona's capital of autumn
Mountain air makes you smarter announce the signs advertising Northern Arizona University.
Hype or not, it's true that, come September, when the air in Flagstaff is crisp as a Winesap and the skies are the dictionary definition of blue, the return of 18,000 NAU students gives "Flag"―the local nickname—a Red Bull–swigging, outdoorsy zing.
One beneficiary of that zing is Flagstaff's historic downtown, which, aided by some smart redevelopment, has climbed from dowdy to vibrant.
Along San Francisco Street and Aspen Avenue rise superb early-1900s buildings, the best of which were constructed using the local Moencopi sandstone that glows port-wine red in the sunlight. They've been joined by some good new projects, notably the outdoor plaza, Heritage Square, which hosts weekend concerts this month.
Local art, local flavor. Downtown is compact enough that you can stroll around making your own discoveries, but there are a couple of stops you shouldn't miss.
Flagstaff's proximity to Navajo and Hopi lands makes it a center for Native American art galleries like Jonathan Day's Indian Arts. Day, who spent childhood summers on the Hopi reservation, specializes in traditional Hopi katsina dolls, commonly called "kachinas"―"what the Hopi use every day as opposed to what they make for the Anglo art market," he says. Along with the katsinas (priced from $30 to $250), he offers fine Navajo and Hopi baskets and blankets.
Across the street from Day's shop rises a true Flag landmark: the Hotel Monte Vista, topped by a neon sign that at night casts a flickering glow over half of downtown. Built in the era of the bellhop and cigarette girl, it now draws goateed university students and arty European tourists. They play pool in the lobby bar and start or end romantic relationships in the hotel's lounge, then head to Rendezvous, which serves cappuccinos during the day and switches to martinis after dark.
If you want something more substantial than coffee or gin, Flagstaff holds an increasingly sophisticated roster of restaurants. Pasto Cucina Italiana on Aspen Avenue is good for Italian, and Josephine's Modern American Bistro has a relaxing bungalow setting. But Flag's best restaurant occupies a brick carriage house two blocks north of downtown. Chef Laura Chamberlin and partners Paul and Laura Moir opened Brix Restaurant and Wine Bar a little more than a year ago. Chamberlin uses local ingredients, like goat cheese from Black Mesa Ranch in Snowflake, for seasonally inspired menus, and pairs them with Paul Moir's ambitious wine list.
Downtown's charms notwithstanding, to experience Flagstaff fall at its most exhilarating, you need to head out of town. Few cities have so much good hiking so close at hand.
The best of the trails may be the 2-mile hike from Lockett Meadow into the Inner Basin of the San Francisco Peaks. Time it right―the second week of September is usually good―and you'll experience some of the finest fall color in your life.
A wide, mostly flat road carries you into a seemingly endless grove of aspens whose quavering leaves glow like liquid sunlight. Above the trees rise the peaks, and above them, that insanely blue Flagstaff sky. Mountain air makes you smarter?
Yeah―you're smart enough to be here.
GETTING THERE
Flagstaff is about 140 miles north of Phoenix via I-17. For more information, contact the Flagstaff Visitor Center (928/774-9541).
WHAT TO DO
Lockett Meadow to Inner Basin Trail Take U.S. 89 15 miles north from Flagstaff; turn west at Forest Rd. 420. After ½ mile, turn right on Forest Rd. 552 and follow signs to Lockett Meadow, about 4 miles. From the meadow, hike 1.6 miles to the watershed cabin, then continue straight for 0.3 mile to the Inner Basin. Peaks Ranger Station: closed Sat–Sun; 5075 N. U.S. 89; 928/526-0866.
Heritage Square Summer concert series: 2–4 Sep 1–2 and 8–9; Aspen Ave. between San Francisco and Leroux Streets.
Jonathan Day's Indian Arts 21 N. San Francisco St.; 928/779-6099.
WHERE TO EAT AND DRINK
Brix Restaurant and Wine Bar $$$; closed Sun; 413 N. San Francisco St.; 928/213-1021.
Josephine's Modern American Bistro $$$; 503 N. Humphreys St.; 928/779-3400.
Pasto Cucina Italiana $$$; closed Mon; 19 E. Aspen Ave.; 928/779-1937.
Rendezvous In the Hotel Monte Vista, 100 N. San Francisco St.; 928/779-6971.
WHERE TO STAY
England House Bed & Breakfast A 1902 home turned into a comfortable inn. INFO: 4 rooms from $125; 877/214-7350.
The Inn at 410 Deservedly popular, with 9 luxurious rooms. INFO: From $165; 800/774-2008.