Sawtooth Mountains: The Hidden Rockies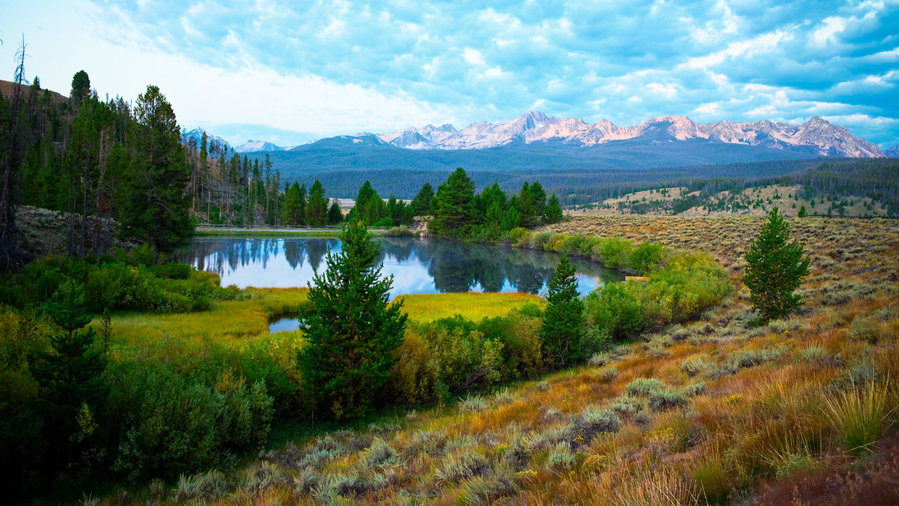 The Idaho Sawtooths are as pretty as any national park—minus the crowds. Here's where to go and what to do
By Rachel Levin
I am in Lemonade Heaven. Rocking in a wooden chair, on a wide front porch lit by the late-afternoon sun, pointed at a picture-perfect row of 10,000-foot granite peaks.
Oh, if Norman Rockwell could see me now, he'd bail on the Berkshires and hightail it out West to the Idaho Rockies. To the Sawtooth National Recreation Area. To the dusty gateway "town" of Stanley (population 100). And up a long gravel drive to Idaho Rocky Mountain Ranch, where the fresh-squeezed lemonade—which I pour from the spout of a big oak barrel, and mix, whenever I feel like it, with iced tea from the equally cold barrel beside it—tastes particularly good. Like, I'm addicted good.
Things to do in the Sawtooth Mountains
I didn't intend to come to the Sawtooths to lounge around all day. I mean, this is an alpine lake–studded, river-running, lupine-covered adventureland—presided over by snow-caked spires that rival the Grand Tetons.
Imagine, a national park–level wilderness without national park–level crowds. No bus tours. No traffic. No entrance fees. Just pure, unadulterated—and drop-to-my-knees gorgeous—land inhabited by more cows than people and waiting to be tackled. The hiking trails are calling. The hot springs are steaming. The trout, I'm told, are biting. And the mountain bikes, lined up to my right, are ready to be ridden. Still, I'm finding the pull of this porch too hard to resist.
Especially when my husband, Josh, walks up with two of those bikes. "Let's go!" he says, beaming about the fact that you can access the best mountain biking trail in the West, the Fisher Creek Loop, from our backyard. I hike up mountains, I run marathons, but I don't mountain bike. I don't even banana-seat bike. He knows this. I reluctantly follow him (on foot) to the meadow behind the lodge. And then, maybe it's the friendly-looking wildflowers or the puff of bright-white clouds in the big blue sky or the meditative silence broken only by muted moos, but suddenly, in Sawtooth fairyland, anything is possible.
Helmet firmly on head, I hop on. "Wait, is this single-track?" I ask, before the pedals make one rotation. I realize it must be, because this tire-thin dirt path is no easy fire road. Molehills literally become mountains. A branch across the trail becomes a downed redwood. A grassy bank becomes a full-on cliff drop. White knuckles are an understatement. I'm afraid to switch gears—so I don't. I'm as wobbly as a just-born calf and I have an itch on my ear that I don't dare scratch.
"There's no way in hell that I'm crossing that ocean of a creek!" I yell to my husband. "Look where you want to go, not where you don't want to go," he instructs from up ahead.
Good advice, except I can't follow it. Grass whips my legs; I veer into the sagebrush and brake, hard, and slam against the seat. Ow. An eternity—or 7 miles—later, we reach the tail end of the trail (not the famed Fisher Creek, mind you, just, uh, a path that links to it). I'm riding a ridge. Balancing in the breeze. Josh looks back. "You're loving it!" he exclaims. Surprising myself, I realize I sort of am.
When we get back to the lodge, I walk right up to the porch. I bypass the barrel of lemonade and reclaim my rocking chair. The craggy peaks of the Sawtooths look prettier than ever. I kick up my feet and order a nice cold beer.
Next: Plan your Sawtooth adventure
Getting to the Sawtooths: With dusty streets and not a single stoplight, you'll likely drive right through the teeny town of Stanley, at the intersection of super-scenic Statehighways 21 and 75. It's one hour from Sun Valley and three from the Boise Airport. More info on the Sawtooth National Recreation Area: www.fs.fed.us/r4/sawtooth
Where to stay: I know I keep raving about the porch at Idaho Rocky Mountain Ranch (open Jun 11–Sep 12; rooms and cabins, $294–$488; rates include all meals, evening hors d'oeuvres, hot springs pool, horseback riding, fishing, and mountain biking). But really, I love everything about this historic, meticulously renovated lodge, 9 miles from town. A stay in one of the 17 TV/Wi-Fi/phone-free cabins has turned me into a wannabe annual guest.
For a summer camp-y, lakefront scene, try Redfish Lake Lodge (open May 28–Oct 3; rooms and cabins, $70–$500; two-night weekend minimum; offers boat rentals, lake shuttles, dining). The 6 rooms at the Meadow Creek Inn & Spa (open May 7–Oct 9) fill fast. Why? Through June 27, $99 per person buys one night, a massage, and a beer or glass of wine. Additional night's stay from $85.
Adventure time in the Sawtooths
Hiking: "This is kinda crowded for the Sawtooths," says a local who shows me to "Shangri-La" (or, as the map says, Saddleback Lakes). Seriously? We see four people on this leg-busting 7-mile hike, accessed by a boat shuttle across Redfish Lake.
Less strenuous is the 10-mile Sawtooth Lake Trail, the area's most popular … yet on a summer Saturday, it's empty! So at the first lake, I jump in. Family fun? Try Fourth of July/Washington Lakes. On this 4-miler, we bring our babe in a backpack. Sawtooth National Recreation Area: www.fs.fed.us/r4/sawtooth
Fly-fishing: I'm standing thigh-high in the Salmon River, learning how to cast with longtime guide Julie Meissner. There's an art to it, she says, as I swat my line against the bank. "It's not in the wrist," Meissner explains. "It's in your arm. Like flicking water off a paintbrush." At first, nothing. Before long, Was that a bite? I picture a big trout and can't wait to squat with my catch for a triumphant photo. Nope; I lift too fast, too high. But eventually, I land my first fish! Just an 8-inch rainbow—but I'm hooked. $325 half-day for two; reservations required; silver-creek.com or 800/732-5687.
Rafting: The drive downriver to Sunbeam Village—to White Otter Outdoor Adventures' base—is so beautiful, I consider skipping the raft trip and continuing on State 75 to Sun Valley. But then I remember I'm on the upper main fork of the Salmon River: prime rafting territory. Owner Doug Fenn runs a good operation, and not just because his mother-in-law bakes a killer zucchini-raisin bread. We ride the class III–IV rapids and pull up to a 10-foot boulder called Jump Rock—and do just that. $75 half-day; $85 full day, including lunch; 877/788-5005.
Soaking: Most of the Sawtooths' natural hot springs can be tricky to find—the best kind, in my mind. On the way back from rafting, steam rises off the side of State 75, just like the river guide said it would. Sunbeam Hot Springs is a cluster of rock pools of varying temps; the best "hot spot" is occupied by a couple who say they soak here daily, so I find another.
Two miles south of Lower Stanley is Elkhorn Hot Springs, aka "Boat Box," an old redwood tub tucked in the river. Back at Idaho Rocky Mountain Ranch, the naturally fed hot springs pool is (sorry) guests-only. More info on area hot springs: 208/774-3411.
Eating: Stanley Baking Company ($; open May 14–Oct 17; 208/774-6573) does scones, and sandwiches too, till 2.
For supper, I refuse to skip the local, seasonal spread at IRMR (dinner $50 for nonguests; reservations required; 208/774-3544). One night, it was a surf-and-turf barbecue on the lawn, followed by to-die-for chocolate–peanut butter pie, served fireside inside.
Next: 4 more hidden ranges worth exploring
4 more hidden ranges
Who you calling B-list? Other Rockies' ranges worth the trip:
1. Gallatin Range, MT Yellowstone's much less famous neighbor, the Gallatin National Forest, has more than 2,000 miles of hiking trails in its six mountain ranges—including the Gallatin—and the snow is just starting to melt in its highest peaks.
Where to stay: The luxurious Rainbow Ranch Lodge (from $295, including breakfast). After your hike, return for an indulgent dinner. –Anna Nordberg
2. San Juan Mountains, CO The Front Range gets the glory (and the crowds), but 350 miles southwest of Denver, the San Juans have plenty to brag about: 14,000-foot peaks, lakes galore, and little towns to explore.
Where to stay: In Durango, at the historic Rochester Hotel (from $169, including breakfast).–MacKenzie Geidt
3. Uinta Mountains, UT Utah's highest mountain range is not the one with ritzy ski resorts. The Uintas are an hour east, in a mostly roadless, stream-strewn area known for backpacking beneath its 13,000-foot peaks.
Where to stay: Campsites can usually be nabbed last-minute. You can also book a cabin at Bear River Lodge (from $79; two-night minimum). –Lisa Trottier
4. Wind River Range, WY The Grand Tetons hog the spotlight, but due east across Jackson Hole, the Wind River Range is just as wildly beautiful, and home to Wyoming's highest mountain (13,804-foot Gannett Peak).
Where to stay: The Brooks Lake Lodge (open Jun 18–Sep 15; $363 per person, including meals and activities; three-night minimum), in the Absaroka Range nearby. –Peter Fish