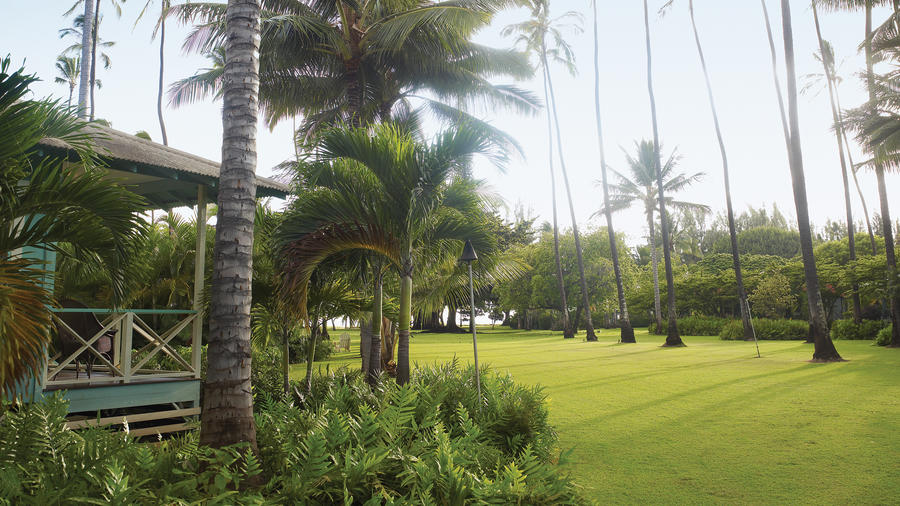 Cuddle up at one of our favorite retreats, from Kauai to Colorado
1. Waimea, HI
WAIMEA PLANTATION COTTAGES
Once you lay eyes on your cute little cottage that's been rescued from a shuttered sugarcane plantation, spruced up, and set here in a grassy coconut grove, your guidebook of Kauai's must-see sights doesn't stand a chance. Spend mornings drinking coffee on the porch before wandering under the banyan trees to a lonely hammock to collapse hip to hip, long-neglected novels in hand. At night, as a ceiling fan stirs over your quilted bed, the whooshing of the waves lulls you to sleep. 61 cottages with kitchens from $220; www.waimea-plantation.com or 800/992-4632.
—Lisa Trottier
2. San Diego, CA
CRYSTAL PIER HOTEL
Perched on a historic pier, these clapboard cottages are as close to the Pacific as you can get without having to hoist a jib. Lots of places tout their oceanfront setting, but these go one better: Try oceantop, with the sea lapping beneath your bed as fresh salt air pours through the windows. With kitchenettes and killer sunsets, Crystal Pier is a wonderful place to hole up on a winter's weekend. Just plan ahead; they fill up early. 24 cottages from $235; www.crystalpier.com or 800/748-5894.
—Matthew Jaffe
Photo by Sara Stevens; written by Nora Burba Trulsson
3. Greer, AZ
HIDDEN MEADOW RANCH
Six miles up a forest road, 10 miles to the nearest village, the seclusion and often-snowy setting make this super-luxe guest ranch in the White Mountains the ideal winter retreat. By day, sleigh-ride―deux, ride horseback through pines, or snowshoe. At night, dine on elk tenderloin in the candlelit lodge, then relax in the steamy hot tub under dizzying stars before bedding down by the crackling fire. 10 log cabins from $550, including meals, horseback riding, and other ranch activities; www.hiddenmeadow.com or 866/333-4080.
—Nora Burba Trulsson
4. Sonoma, CA
LES PETITES MAISONS
It's Provence-meets-California at these sunny new cottages a mile from Sonoma's town square. Each has snowy-soft beds, a mini kitchen, and the owner's line of sweet-smelling fig soaps. All the ingredients for a Wine Country romance are here, down to the firepits and deck chairs in your garden. Wake up to egg-and-cheese croissants from the adjacent Fig Pantry, then wine-taste the day away. 4 cottages from $125, including breakfast; www.thegirlandthefig.com or 707/933-0340.
—Abigail Peterson
5. Near Silver City, NM
CASITAS DE GILA GUESTHOUSES
A wide stream murmurs as the sun sets over the fringes of the vast Gila Wilderness. Bighorn sheep hopscotch the hillsides. An owl calls. The chill night air smells of piñon fires as the Milky Way shimmers. Strand yourselves in the velvety silence of the high desert's Casitas de Gila, a civilized, cliffside oasis, complete with an outdoor hot tub, kiva fireplaces, charcoal grills―even a 10-inch telescope to tilt toward the crystal-clear sky. 5 casitas from $145; www.casitasdegila.com or 877/923-4827.
—Gretchen Reynolds
6. Port Townsend, WA
CHEVY CHASE BEACH CABINS
If romance is fueled by candlelit dinners, long walks on the beach, and evenings by the fire, then Chevy Chase has the formula nailed. Dig clams out your front door and cook 'em up inside, or hit Uptown for dinner at the intimate Wild Coho. You can even walk hand in hand along the sand at Fort Worden State Park―where An Officer and a Gentleman was filmed. Then go back and watch it. 7 cabins from $95; www.chevychasebeachcabins.com or 360/385-1270.
—Jim McCausland
7. Yachats, OR
SHAMROCK LODGETTES
You and your mate will sleep oh-so-soundly (and within earshot of stormy waves) at Shamrock Lodgettes. Can't get much cuter than this updated 1950s beach resort, best known for its six original log cabins―each with knotty pine-wall bedrooms, kitchenettes, jetted tubs, wood or propane fireplaces, and views of the ocean or the Yachats River. The beach is just steps away, and farther downtown you'll find creamy clam chowder. 9 cabins from $99; www.shamrocklodgettes.com or 800/845-5028.
—Bonnie Henderson
8. Evergreen, CO
HIGHLAND HAVEN CREEKSIDE INN
Lovebirds flock to this elegant countrified inn, just 30 minutes west of Denver, for its private, woodsy location on rippling Bear Creek―and incredibly cozy cottages. Each boasts log beams, glowing gas fireplaces, and goose-down duvets. Hillside has its own bubbling hot tub, but we love Creekside, with its four-poster pine bed and hushed sounds of the rushing stream. Gourmet breakfast in an old log cabin included. 6 cottages from $210; www.highlandhaven.com or 303/674-3577.
—Lori L. Midson
9. Lake Tahoe, NV
SPOONER LAKE WILDERNESS CABINS
Stuff your backpacks with dinner and a bottle of wine, slap on your cross-country skis, and glide off into the silent pines to Spooner's snug and well-equipped, if rustic, log cabins. Be sure to pick your companion carefully: someone adept at building a fire in the woodstove, who looks good in the light of an oil lamp, and with whom you'll want to do nothing but talk and play board games into the night, before climbing into the sleeping loft to gaze at the silvery snowscape. Wake whenever, then wrap yourselves in wool blankets and sip tea on the porch before hitting the trails outside your front door. 2 cabins from $160; www.spoonerlake.com or 775/749-5349.
—L.T.
Photo by Thomas J. Story; written by Dale Conour
10. Elk, CA
GRIFFIN HOUSE INN
In an unspoiled tiny town on a quiet stretch of the Mendocino coast, you'll spot Griffin House―and its friendly, if somewhat worn, cottages. Set on a cliff's edge, looking out to sea, is our favorite: the recently renovated Kestrel. Bundle up and sink into the deck's weathered Adirondack chairs, and watch for gray whales. At dusk, sip (complimentary) wine and enjoy your private sunset. For dinner, saunter over to the inn's Bridget Dolan's Pub; in the morning, a light knock signals the arrival of breakfast. 7 cottages from $148; www.griffinhouseinn.com or 707/877-3422.
—Dale Conour
Keep Reading: