Sunsets, Seafood, and Killer Waves at the West's Best Surf Towns
Marco Petracci / Getty Images
Cool restaurants, beautiful beaches, and stellar competitions—these are the best surf towns for a day or weekend trip
For the Hip Glamazon: Waikiki Beach, HI
One of the world capitals of surfing, this renowned Honolulu neighborhood also offers unparalleled dining, shopping, and day excursions. But your vacation doesn't have to be go-go-go! Center it around being a beach bum and you won't have missed anything while you're bronzing, surfing, paddleboarding, and floating on your back like a sea otter in Waikiki's gentle ocean.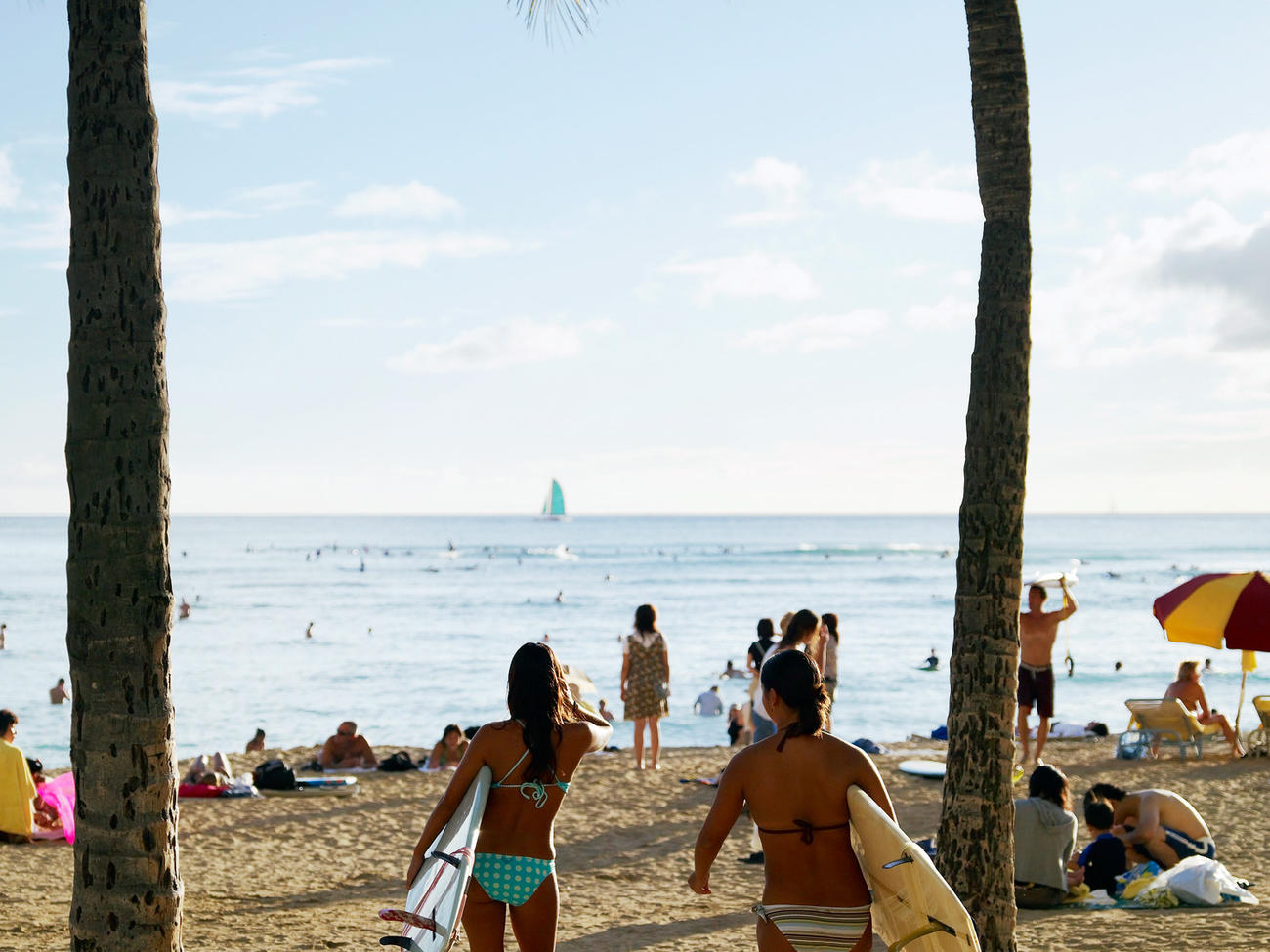 Surfing Pro Tip. Famous surfing pioneer Duke Kahanamoku cut his first waves at Waikiki, and you can too. Ty Gurney Surf School offers private and semi-private lessons with a max of two students per instructor, and tows all students out to waves so you can catch more of them. The Romantic Sunset Surf Package is perfect for honeymooners. Try surfing from an outrigger canoe if you want a unique experience. If you're craving a stronger break (or even just want to watch some top surfers), head up north to Sunset Beach and Banzai Pipeline, where the Vans Triple Crown brings pros every year.
Off-Board Activities. The question in Waikiki is really what not to do. Choose your adventure: work up a sweat hiking the advanced Mau'umae Trail, or instead take it easy at Diamond Head. Soak up your proximity to the Pacific Rim with Japanese mochi donuts at MoDo and udon at Marugame, or shop for diamonds at Bulgari. Take in a free hula performance at Kuhio Beach, or invest a couple hours at the Bishop Museum perusing the largest collection of Polynesian cultural artifacts. Nurse a Big Swell IPA at classic tourist fave Duke's Barefoot Bar or slide into a barstool at the hip Hideout bar, sipping on a lilikoi (a.k.a. passionfruit) version of the Pisco sour. Come fall, taste the work of dozens of chefs at Honolulu's Hawaii Food and Wine Festival. In the evening, hang your hat at The Surfjack, a boutique hotel with an Instagrammable "Wish You Were Here" pool, free bikes to ride to the beach just a few blocks away, and Ed Kenney's locally-sourcing late-night cafe, Mahina and Suns. If you get a moment, hail a Lyft out to Kaka'ako for a self-guided street art walking tour.
For the Nature Lover: Tofino, B.C.
This sleepy district of under 2,000 people on the west coast of Vancouver Island is also one of the best and most serene surf towns for relaxing and enjoying a glass of wine and some briny oysters on the dock. Clashes of the titans like the Rip Curl Pro Tofino, the O'Neill Coldwater Surf Classic, and the Queen of the Peak, as well as a variety of lively festivals like the Lantern Festival, the Clayoquot Oyster Festival, and the Tofino Food and Wine Festival, make this island district well worth visiting. Visitors can take breathtaking tours to see gray whales, humpback whales, black bears, blue herons, and harbor seals.
Surfing Pro Tip. At the Long Beach Lodge Surf Club Adventure Centre on Cox Bay Beach, you can take surf lessons, rent wetsuits and boards, or take a boat trip out to see otters and whales. Plunk down $20 and you get to use the hot pool, sauna, fitness room, and hot showers for the day. Surfing not your thing? Rent boogie boards, skimboards, soft boards, or stand-up paddleboards. Afterwards, grab a cappuccino at their coffee shop to warm up.
Off-Board Activities. During your visit, start your morning at Rhino Coffee House with a foamy cappuccino and the famous "Bro-Nut," a fried egg BLT on a savory donut, before heading to the breaks. In the waning dusk, sink your toes into the sand at beach restaurants like Shelter, where you can devour Cortes Island Thai-style mussels with smoked bacon, truffle fries, and crispy lemon and dill calamari while admiring the sunset. If you can't afford the haute plates at The Pointe at the Wickaninnish Inn, or just don't want to wash all the sand off your shins, beloved taco truck Tacofino proffers tuna tacos. Cap the evening with a Humpback Vodka cocktail at Wolf in the Fog. 
For the Low-Key Hippie: Santa Cruz, CA
Santa Cruz has long been the ultimate hippie university town, with its beautiful Santa Cruz mountain range and classic wooden boardwalk (as seen in Jordan Peele film Us) featuring the classic 70-foot-tall wooden rollercoaster, The Giant Dipper. However, with proximity to Silicon Valley, a techie influx has put a new spin on the town's old grooves. Still, a chill surfer vibe abides even at more upscale spots.
Surfing Pro Tip. A wide range of surfers, from kids to octogenarians, hit the waves in Santa Cruz. Head to Cowell's Beach, a friendly break where a beginner can get some time with one of the many surf schools, including Club Ed and Surf School Santa Cruz. More experienced riders can head up to Steamer Lane to catch bigger waves. Stay at the Dream Inn, a quintessential beach hotel with a pool and a seafood restaurant named after wetsuit inventor Jack O'Neill, where staff can offer advice and book lessons for you.
Off-Board Activities. Check out Bantam to nosh on the best pizza in town, including a nettle, oyster mushroom, chili, and fiscalini cheddar disc that will hit the spot after a morning of surfing. If more casual yet healthy vibes are your style, head east to Charlie Hong Kong, a counter-service spot doling out big bowls of pad Thai, peanut noodles, and veggies in black bean sauce that you can devour on the heated patio. Come early evening, roll over to Stockwell Cellars, an airy oak barrel tasting room on Fair Avenue near Highway 1, where you can sample the local Chardonnays and orange wines while also imbibing some live music from owner Eric Stockwell's handmade metal and wood tables and chairs. The next morning on your way out, stop by River Cafe, a female-owned spot pumping out good music and organic, locally-sourced eggs and panini in equal doses. From reggae on the speakers to a Sunday jazz brunch, you'll want to while away an hour here.
For the Beach Bum: Huntington Beach, CA
It's not called Surf City U.S.A. for nada. This town is, like most Orange County beaches, in the upper 60s year-round, making for that perfectly peachy, beachy life. It's about enjoying and not rushing at Huntington, where a long brunch line, no matter how exclusive, can't entice you as much as fish tacos on the beach or a bonfire with some s'mores. In HB, the modus operandi is: don't take your surfing too seriously; enjoy it with a zen attitude and the perfect wave will come to you when the time is right (and you've practiced enough!).
Surfing Pro Tip. Take a class at Banzai, a friendly local school that specializes in everything from beginners to experienced surfers looking to up their game. From corporate group lessons to summer surf camps for kids, Banzai is a friendly entree into Huntington's surfing scene. If you already know what you're doing, enjoy the classic breaks and the bigger waves in winter, including some hollow waves from time to time. It can be crowded right at the pier, so head to Sunset, Seal Beach, or Bolsa Chica if other surfers are harshing your mellow. 
Off-Board Activities. Cruise on over to the International Surfing Museum to learn about some historic "famers" or down to the pier for the annual Surfin' Sundays music series. Hit the Huntington Beach Bike Path on a regular or e-bike, or go retro on some rollerblades. Jog along the boardwalk at dawn or ride a few morning waves, then head to the surfer-owned Sugar Shack Cafe on Main Street to wolf down some mondo protein-packed breakfast specials and Peggi's raisin bread French toast while sitting shoulder to shoulder with other ravenous riders. Hop over to Bolsa Chica Ecological Reserve to see ospreys, ibises, and a host of other birds, and spend Tuesday evenings strolling the open-air street market and farmers market.
For the Luxury Yogi: Malibu, CA
Malibu is an inspiration for surfers around the world for good reason—it lives up to its name, Chumash for "the surf sounds loudly." From numerous surfing spots to plenty of boutiques and cafes, Malibu is a place where it's not unusual to see a model look-alike crossing the street barefoot with surfboard in hand. After the tragic Woolsey Fire in 2018, the city has rebounded vivaciously, with tourism making a strong comeback already in 2019. With a dozen stellar beaches in its domain, the town's resurgence was inevitable, but it's great to see Malibu as popular as it ever was.
Surfing Pro Tip. Take a private lesson or sign up for a more in-depth surf camp at Zuma Beach's Malibu Makos, where they know how to teach kids as well as adults. Head to Surfrider Beach, the first World Surfing Reserve, for a super long break and the chance to feel like a zen god of the sport.
Off-Board Activities. Start your morning with an açaí bowl at the Sunlife Organics at the Malibu Country Mart, a luxury shopping destination, before heading to your morning surf lesson. Learn about some surfing greats and see some classic wooden surfboards and surf fashion at the California Surf Museum. At the Malibu branch of Traveler Surf Club, you can find your inner yogi on the beachbefore the noon sun hits. After your time among the waves, sip a mojito under a heating lamp at Cafe Habana Malibu or sink into your California king four-poster bed at the Surfrider, where the rooftop bar always plays host to a beautiful crew of surfers, both locals and tourists. Before leaving in the morning, stop by Marmalade Cafe for some seven-grain and almond granola pancakes. 
For the Daytripper: Pacifica, CA
Sleepy little Pacifica, 12 square miles of fog-enshrouded trails, beach and town, is a mere 20 minutes south of San Francisco. Great coastal views, charming boutiques, driftwood signs, and an orchid garden add to the quaint charm of this former Ohlone Native American village and late 18th-century Spanish mission settlement. With its light drizzle in the mornings and its temperate Mediterranean climate, it's never too hot in Pacifica. A favored haunt of San Francisco surfers like Julie Cox, who established Travelers Surf Club & Coastal Outpost to give surfers a place to wash up, warm up and socialize, Pacifica is the perfect place to plan a relaxing day trip.
Surfing Pro Tip. Rent some gear at NorCal Surf Shop or take a lesson at Travelers, followed by a relaxing unwind in their cedar sauna. Afterwards? It might sound silly, but having the world's most beautiful Taco Bell, complete with a wraparound porch, right next to the beach? When you've climbed the crests of enough waves at popular Linda Mar Beach, you'll agree its surf shack service window is priceless. 
Off-Board Activities. Pull over for hearty grub like biscuits and gravy or bagels and lox at the sweetest coffee shop this side of the Mississippi, a snug little spot inside a train car called P-Town, or follow the crowd to kid-friendly Rockaway Beach restaurant Breakers for killer frittatas and pancakes with an ocean view.
For the Serious Surfer: Half Moon Bay, CA
Cruise 13 miles down Highway 1 from Pacifica to even smaller Half Moon Bay, the alluringly-named coastal town that lays claim to a deep agricultural history and a thriving artists' community. Set around a peaceful bay of the same name, the town has only 11,000 residents, which means more coastline and sunsets for you. 
Surfing Pro Tip. Go north for Mavericks, the name for three local legends: a surfers' beach, a surf shop owned by Jeff Clark, and a legendary surfing competition that's invitation-only. At just a couple days' notice, invitees are notified that the competition is going down, and rush to Half Moon Bay for the perfect forecast—that is, waves that can run 60 feet high. The Breakwater, a.k.a. The Jetty, is a man-made break that's also popular for surfing. Not quite a big wave surfer or ready to wax your own board? Hit up the friendly folks at Mavericks Surf Shop for lessons.
Off-Board Activities. For a true local experience, head to Pillar Point to take home fresh uni and crab, where fishermen write their catch on blackboards lining the dock. To hang with the surfers, belly up to the bar at Old Princeton Landing, where surfers of all stripes hang out after hitting breaks that happen only a few times every winter. And for a luxury experience, head to the Ritz-Carlton Half Moon Bay, where you can spa and golf to your heart's desire (their weekend brunch spread is legendary, too). If you've got extra time, lace up your hiking boots and drive up to Montara Mountain, where you can hike with your dog or mountain bike.
Keep Reading: