Communal dining in Seattle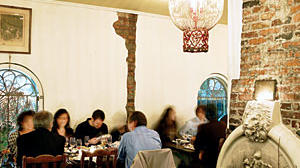 All of Seattle has gone mad for communal dining. An evening at the Corson Building, when a simple meal becomes a boisterous dinner party, makes it clear why
"CANNING IS THE NEW KNITTING," announces the woman next to me. Our conversation has meandered here after a mock sword fight over the last rabbit-liver pate toast and after a contest to determine who could make the best dolphin noises. We're definitely having fun.
It's my first time at the Corson Building, the anything-goes Georgetown eatery that sits at the legal intersection between a restaurant and an underground supper club. This is just one of the parade of restaurants following the trend begun three years ago by Matthew Dillon's Sitka & Spruce, which showed our city how much fun it can be to eat together. But unlike other spots where communal dining is all the rage (think Tavolata, Art of the Table, and Spinasse), the Corson Building doesn't do any individual tables or even multiple seatings.
Here, at Dillon's second restaurant, 32 of us are seated around three long tables. And that's not the only thing that's different. There's also the tiny detail that you don't get to decide what to eat. "If you take away things that diners find comfortable–a host, a menu, a private table–you promote a heightened awareness," says Dillon. Sure enough, each time co-owner Wylie Bush brings out a new course–tender braised pork belly with roasted cherries, or a rib roast fanned out over fresh, bright fava beans–we all clamor to see what will land in front of us. As plates go around, nods of agreement about how delicious everything looks blur the lines that distinguished separate parties at the beginning of the meal.
By the time dessert hits, my friend Sarah–the one who wasn't convinced eating dinner at a tableful of strangers was a good idea–is coaxing restaurant advice out of her neighbor. (And wait, is that twosome of former strangers on the bench outside exchanging phone numbers?)
As I sip my coffee, someone from the other end of our table asks if I came with the person across from me. Even though I didn't, really, I find myself nodding. "Yup. We're all here together."
INFO The Corson Building ($$$; check website for schedule; reservations required; 5609 Corson Ave. S.; thecorsonbuilding.com or 206/762-3330).