One Perfect Day in Lincoln City, OR: The Taft District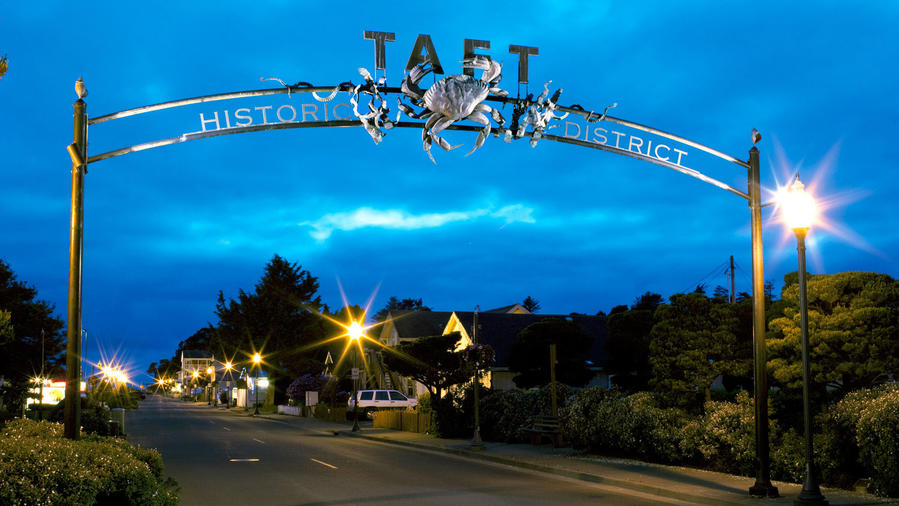 Get a blast from the past in this historic neighborhood
Why go now: This overlooked historic neighborhood fronting beatific Siletz Bay had its heyday in the '30s and '40s, but a gussied-up main street is reintroducing visitors to its slow summer charms.
Pedigree: In 1965, the town of Taft joined four other seaside burgs to become Lincoln City.
Dress code: Deck shoes, khakis, Ray-Bans, and a Frisbee-loving chocolate lab.
Main drag: S.W. 51st St., where wide promenades and hanging flower baskets make for great strolling.
Matriarch of 51st Street: Octogenarian Eleanor Kramer, of Eleanor's Undertow ($; 869 S.W. 51st; 541/996-3800), has been flipping burgers and trading gossip at this pink-sided, mermaid-topped Taft landmark for 32 years.
Mark your calendar: For Iris Pride, Lincoln City's gay-pride festival, which brings fire-eaters, acrobats, and buskers to S.W. 51st from September 16 through 18.
Overheard: "I thought Lincoln City started at the casino and ended at the outlet mall. Thank god we found Taft!"
Feel the local love: At Tiki's—a Polynesian-themed gift/ice cream/cocktail/sandwich shop with a pet macaw that calls out "I love you!" to passersby—you can get great fish tacos, hot dogs, or a mean mudslide with bourbon and Stumptown coffee. $; 1005 S.W. 51st St.; 541/996-4200.
Play in the surf: Grab a front-row seat on a driftwood log on the beach at Taft Waterfront Park (S.W. 51st St.) and watch the harbor seals tumble in the waves at the mouth of Siletz Bay. Better yet, rent a sea kayak (from $20/half-day; siletzmoorage.com) and join in the fun.
Glassblowing 101: Take a beginner's lesson at the Jennifer Sears Glass Art Studio, a city-owned glassblowing foundry. Your teacher, a resident artist, helps you shape a glob of molten glass into a delicate candy-colored balloon, fluted bowl, or paperweight that you can take home. From $65; jennifersearsglassart.com
Get to know the old Taft District: At the North Lincoln County Historical Museum, see the life-size diorama of Taft's Redhead Roundup beauty queens, a nod to the all-redhead pageant that drew thousands of visitors in the '30s. Or peek through the oil drum–size kaleidoscope from the Pixieland theme park, which closed in 1973. Free; 4907 S.W. U.S. 101; 541/996-6614.
A pie shop with character: At Captain Dan's Pirate Pastry Shop, owner Dan Draper wears a three-cornered hat and carries a cutlass, the better to carve thick slices of marionberry pie. Try it and see if his motto—"It takes a pirate to do pie right!"—holds up. 5070 S.E. U.S. 101; 541/996-4600.