Got $5 Million? You Could Own This Sustainable "Ghost Town" in the Mojave Desert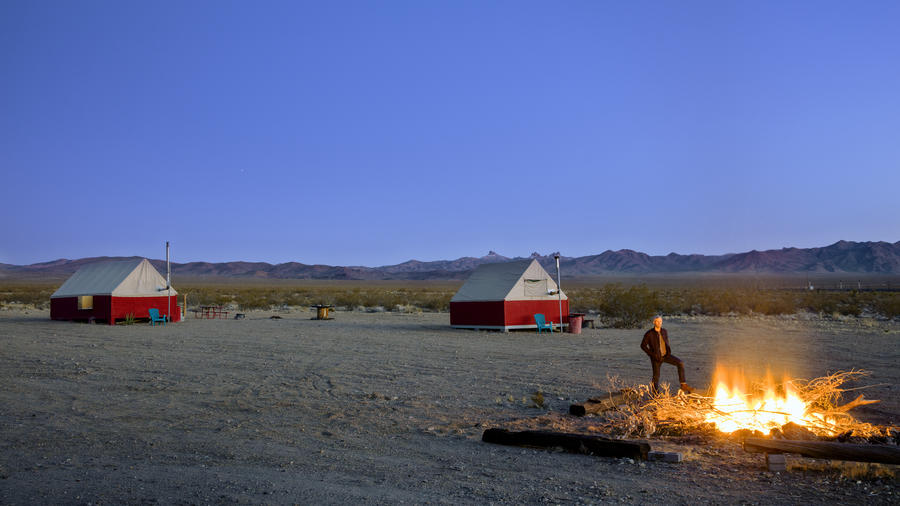 In the Mojave Desert town of Nipton, the spirit of Western frontier has transformed a forgotten outpost into a self-sustaining ecotopia where the dream lives on.
One rule of Nipton living is that you never try to outshout the train. The noise might not seem so deafening closer to civilization, but in this Mojave Desert town, 60 miles south of Las Vegas, silence holds dominion. On my first visit there last year, I sat for a long while and heard nothing at all—no car, no airplane, no leaf blower, no barking dog, not a single human voice. The vast wordless desert surrounded me in all directions.
I'd arrived on a weekday, my rental car pinged by a shower of pebbles and grit as I motored down Nipton Road, which runs between Interstate 15 and the town of Searchlight, Nevada. Nipton was the only stop for miles, its existence marked by a wagon-mounted sandwichboard that read:
WELCOME TO NIPTON, CA 
B&B HOTEL & ECO-CABIN
STORE RV PARK & CAMPING
RESTAURANT
© 2017 / DANIEL HENNESSY PHOTOGRAPHY, LLC
There were no people roaming the sidewalks because there were no sidewalks—or people, for that matter. A faded settlement of about 20 permanent residents, the town consisted of an assortment of structures, some solid and occupied, some as vacant and splintered as an Old West movie set. Gamers might know Nipton for its cameo in Xbox 360's Fallout: New Vegas, where it played a post-apocalyptic wasteland infested by giant mantises. But otherwise it was your typical drive-through desert community, fixed at the crossroads of Nowhere Special and Wherever You Were Going. There was one notable exception: Nipton, and everything in it, was for sale.
Two weeks earlier I'd telephoned the town's owner, an 83-year-old former gold miner named Gerald Freeman, known to everyone as Jerry. He purchased Nipton's 80 acres in 1984, then spent the next 30 years slowly turning it into a desert ecotopia, where he did everything from plant trees to convert to biofuel to erect an 80-kilowatt solar plant that pumps the town with nearly half its power.
A future buyer with enough cash and the right sense of mission would get the deed to the whole thing—a town, yes, but also Jerry's vision. "Nipton was where I realized my dream," he told me. But time was running out. When we spoke, he'd just spent four months in the hospital with congestive heart and renal failures, and he was still getting his nutrition from a feeding tube. He was looking for someone to continue his work. Before we hung up, he invited me to Nipton, to come see his sustainable community up close.
© 2017 / DANIEL HENNESSY PHOTOGRAPHY, LLC
And so there I was, standing outside the whitewashed adobe Hotel Nipton, gazing out at the knuckly brown mountains of the Ivanpah Range and imagining what it would be like to have your own little kingdom. Just as I was turning the thought over in my mind the first freight train came rumbling through, followed by a violent blast of horns and chiming bells. For 20 minutes the cacophony lasted. I wanted to remark on it, but it was too loud, and besides, there was no one around to hear me.
Jerry might own Nipton, but the day-to-day running of the place usually falls to Jim Eslinger. A former long-haul trucker with a drooping mustache and a bowie knife strapped to his hip, Eslinger serves as caretaker and hotelier of Hotel Nipton.
At the height of the season, the hotel receives a steady influx of desert ramblers and foreign tourists anxious for a whiff of the authentic Old West. But the day I was there, the only other visitors were a couple from Las Vegas on an overnight with their teenage niece. Eslinger made a bonfire behind the hotel. The blaze was huge, fed by an enormous tree stump and several sheets of plywood. Sparks flew up in great blizzards, hissing and crackling. The niece, already in her pajamas, watched it for a few minutes, then turned back inside in search of a Wi-Fi signal.
Eslinger had wandered through town eight years ago and never left. "I can't even imagine living in a city now," he said. "I'd rather put a bullet in my head and call it a day." His needs were meager, but when our conversation turned to the latest Powerball mania sweeping the nation, he confessed a longing for the winning ticket.
"I'd buy Nipton," he said flatly, throwing more combustibles on the fire. "And I wouldn't change a thing."
I was at the hotel lobby early the next morning, waiting for Jerry to arrive. These days, he and his wife, Roxanne Lang, spend most of their time in their home in Henderson, Nevada, about an hour away, because of his health. I thumbed through the scrapbooks stacked in the sitting area, each one stuffed with yellowed newspaper clippings: "Owner of historic Nipton thinking big." "Nipton developer has big plans." "Nipton is his personal fiefdom."
When Jerry arrived, he was pushing a wheeled walker, and despite obvious signs of declining health, he retained a quality of robust vitality. He wore a leather vest and sunglasses, and he had the same rough-hewn features of the man in the photographs from 30 years ago. He settled into a bentwood chair on the hotel's wraparound porch and attached an oxygen tube to his nose, so that his breath didn't run out before his thoughts did.
Jerry was born in Hollywood in 1933 to a Russian Jewish family. He graduated from Caltech with a degree in geology and eventually founded a mineral exploration company. After some success, he invested in several gold mines in the Ivanpah Valley, but already he was looking for his next project.
And there was Nipton, just down the road from his mines—and it was for sale. The way Jerry saw it, the tiny outpost had everything you needed to build a self-sustaining community, including access to the sweet waters of the Pleistocene- era lake below its surface. He bought it for $200,000.
At first, Jerry wasn't sure what he wanted to do with the town. He originally envisioned Nipton as an artists' colony, while his wife pitched the town as a movie location (a few films, including Breakdown, with Kurt Russell, were shot there). Neither idea bore much fruit. But soon the newly remodeled hotel filled up with desert pilgrims, and the trading post—stocked today with guidebooks, dry goods, and local crafts—brought in a steady income. Jerry tried to open a gas station but found it too expensive. He conceived a barbecue business, but that took too much time. So he constructed a greenhouse from which to sell potted poplars and Christmas trees, but there was little demand. Then, certain that a new gold rush was about to strike the Ivanpah Valley, he spent $50,000 building an assay house and convinced a mining company to locate its office there.
But the dream was larger than any one venture. It was as old as the West and as human as the first Homo sapiens who trekked across the Bab el Mandeb strait in search of a new home. It was the dream of starting over and of forging a new and simpler path. "We've got all the resources we need to do that," Jerry told me. "We've got the water, we've got the sunshine that gives us the power. We have the ability to grow things and to build structures from the natural materials around us."
"After considering Freeman's enthusiastic boosterism for a couple of hours, a listener comes away with one of two impressions," a reporter for the San Bernadino County Sun observed in 1986. "Either this guy has really done his homework and Nipton's development is a venture of genius. Or, he's gotten too much sun."
In 1991, Jerry struck gold once again. The Nipton Trading Post was granted approval to sell tickets for the California State Lottery, making it one of the closest retailers to Las Vegas. (Nevada has no state lottery.) For a while it was the highest-volume lottery-ticket retailer in California, and even today it remains one of Nipton's most important sources of income.
The previous afternoon I'd strolled into the trading post, where two Buddhist monks in saffron robes were filling out their tickets. One was tall and thick, the other as tiny as a 10-year-old. They didn't speak much English, so our conversation consisted mostly of the word "lucky," passed back and forth with various inflections. The big monk had recently won $1,700, which he used to purchase a new iPhone. He held the gadget out for me to admire: "Lucky!"
© 2017 / DANIEL HENNESSY PHOTOGRAPHY, LLC
Once the lotto took off, so too did Jerry's vision for a sustainable community. First he added a cluster of tented eco-cabins, outfitted with platform beds and wood-burning stoves. Popular with today's 30-something crowd, the cabins were based on a design by Frank Lloyd Wright. Then, in 2010, he assembled a solar plant, which produces 40 percent of the town's power. It sits on the outskirts behind a barbed wire fence, its rows of reflecting harvesters mirroring the sun as it moves across the sky.
Jerry's next step, he said, was to build a hydrogen system in order to store clean energy. He described a visit he recently had from Phil Hawes, the architect for the Biosphere 2 project, who spoke to him about using Nipton as a kind of hands-on sustainable-design classroom for San Francisco Institute of Architecture students. (When I spoke to Hawes, he sounded downright Jerryesque, conjuring visions of Nipton as a self-supporting Eco Village of 2,000 souls.)
But all of these notions depended on the right kind of buyer stepping forward. Someone who saw Nipton as Jerry did. Someone to keep the dream alive. "I'd like to move forward in the direction I'm going," Jerry said. "That heritage, that legacy, that thrust that began with the first settlers."
The setting sun had painted the desert pink. The mountains solidified into silhouettes, hoarding the evening shadows. It was time for Jerry to head back to Henderson. Eslinger walked him to his car.
"Thanks for taking care of Nipton," Jerry said, his eyes misty. Then he and Roxanne drove off toward the train tracks and disappeared over the horizon.
© 2017 / DANIEL HENNESSY PHOTOGRAPHY, LLC
A few months later, I called him at his home in Henderson. He'd come down with a bout of pneumonia not long after my visit, and his voice was faint, with long pauses as he gathered air into his lungs. While his dream buyer had yet to materialize, he had found new operators for the cafe and was hiring a property management company to help run Nipton. A few new residents had moved to town, and he was in talks with someone who wanted to install a solar observatory. He was heartened by these signs of interest, he said, his voice growing stronger. They told him he was on the right path, and he planned to stick around long enough to see where that path would lead. "We'll see what happens," he said. "Life has so many crazy twists and turns, you hardly know what's going to happen from one day to the next."
Then last October, I got an email from Roxanne. It was brief without being terse: Jerry had died in her arms a few days earlier. He was buried at a cemetery in the Mojave Desert. The town of Nipton is still for sale. 
Keep Reading: