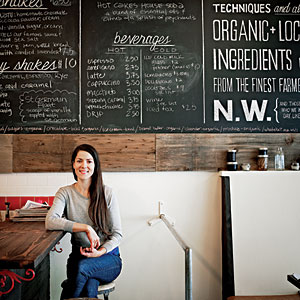 Photo by Thomas M. Barwick Inc.
Seattle, Washington
$$
The menu at sweets wizard Autumn Martin's Hot Cakes, the onetime pop-up known for its molten chocolate cakes served in mason jars, is like an ode to Willy Wonka: signature desserts, baked to order; grilled chocolate sandwiches; even boozy milkshakes like smoked chocolate with Scotch. Martin, a former Theo chocolatier, has created a Ballard dessert lounge that's as inviting as the treats–brick-lined walls, reclaimed wood, and a two-seat bar–with a savory menu to balance the blood sugar (we loved the grilled blue cheese with dates and prosciutto).
Address
5427 Ballard Ave. N.W.
Seattle, WA