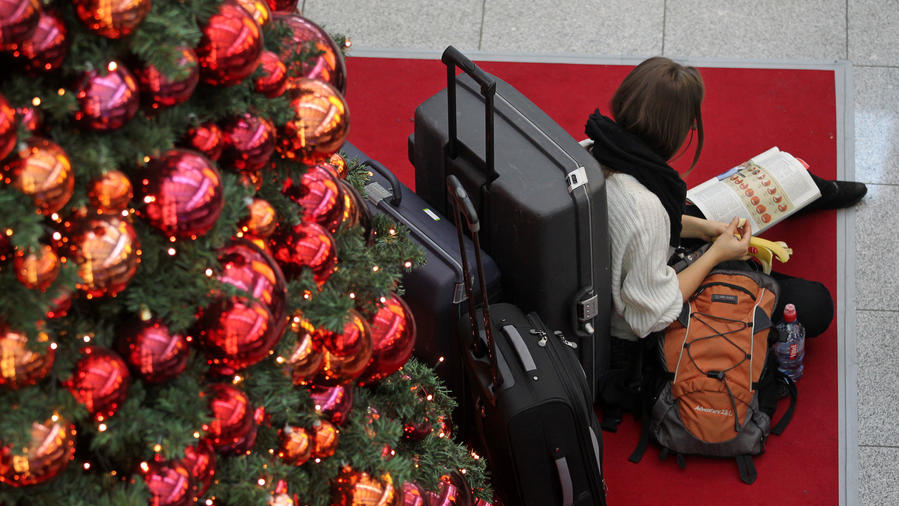 Even experts have to brave the crowds during the holidays. Try these tips from Travel + Leisure editors
Traveling during the holidays can be stressful—especially when you're hitting the road and the skies with a projected 48.7 million Americans, according to AAA.
But whether you're heading home for Thanksgiving dinner or stretching your snowbird wings and flying somewhere tropical, knowing how to navigate the crowds, plan, and pack everything from clothes to presents can make all the difference when it comes to traveling easy between Thanksgiving and the New Year.
Fortunately, Travel + Leisure's editors have a few clever tips for surviving the season with their holiday cheer fully intact. From investing in noise-canceling headphones to staying healthy on the road, consider this your full-proof guide to making it through every flight, drive, and train ride without breaking a sweat. 
Ship gifts
The TSA swears it's okay to bring your beautifully wrapped gifts through airport security, but I don't like taking any chances. And if you're thinking about bringing a fancy Wüsthof knife set for your in-laws, you should know TSA will absolutely confiscate it: wrapped or otherwise. To be safe, ship your gifts before you leave.  —Melanie Lieberman, Associate Digital Editor
Buy extra time (and space)
My crazy holiday schedule means I usually have to fly at the worst possible times—like the day before Thanksgiving, or right on Christmas Eve—so I'll take any help I can get to expedite the nightmarish airport process. An Even More Space ticketwith JetBlue gives me a taste of first-class privileges for as little as $15 each way: I get to skip to the front of those interminable security lines at more than 60 major airports (including my home base of JFK) plus I'm invited to board first, meaning priority access to limited overhead space. And the extra legroom is crucial for us tall travelers! —CB Owens, Copy & Research Editor
Stay ahead of colds
Traveling with a head cold (or any bug) is really the worst, so do what you can to avoid getting sick. I always travel with water, and pretty much stick to that or hot tea with lemon and honey in the airport and on planes. Other ways to combat the literal travel bug? Take an Airborne or drink some EmergenC, and pack oversized scarves to stay warm on the plane. I try to wash my hands as I pass through every airport (think of how crowded it is during holiday season!) and avoid touching my face (opt to use Chapstick, rather than the kind of lip balm you have to apply with your finger). Also, skip the in-flight cocktail and go for color-rich fruits and veggies (kale chips, blueberries, or citrus) for an extra vitamin boost. Your body will thank you! —Ellie Nan Storck, Digital Editorial Assistant
Make time for sleep
I fly long distances during the holidays, so I try to make sure that I get enough sleep while I'm on the plane—and can enjoy the destination once I get there. I used to avoid carrying a bulky neck pillow, but they've become essential. I'll also bring an eye mask to block out any cabin light. The final step: a glass of white wine. —Stephanie Wu, Senior Editor
Arrive really early
I tend to fly the day after Christmas (always in the a.m.) and in order to avoid ever missing a flight due to the snaking TSA security lines, I forgo an hour or two of sleep and get to the airport really early. That way you have more wiggle room in case there's either traffic or lines. You might be tired, but there are plenty of lounge chairs to curl up in and coffee shops to grab a double espresso when you're in the terminal. Definitely better than sleeping in and missing your flight home. —Kira Turnbull, Photo Assistant
Tap into free amenities
Airlines often have a handful of complimentary items for passengers—if you know to ask. These include everything from sanitizing wipes to help fight off germs to children's toys to keep tots occupied during long flights. On select Hawaiian Airlines flights, kids can score a ukulele, while plush toys and backpacks with games based on popular cartoons can be requested on Singapore Airlines trips. JetBlue even doles out unlimited juice and free snacks to children. —Talia Avakian, Digital Reporter
Book tickets in a private browser
There actually are last-minute savings to be found for those who still need to reserve a ride home for the holidays. To be sure you're looking at the lowest fare available, switch your browser settings to private or "incognito mode" before buying. If you've been checking on fare prices, sites have stored your cookies—and not the tasty, reindeer-shaped kind—and use them to raise fare prices incrementally because they know you're interested in that route. A quick Google of "private mode [your browser]" will explain how to go anonymous in a few short steps. —Richelle Szypulski, Editorial Operations Assistant
Keep Reading: