These New-Wave Whiskey Distilleries Are Bottling the Taste and Terroir of the West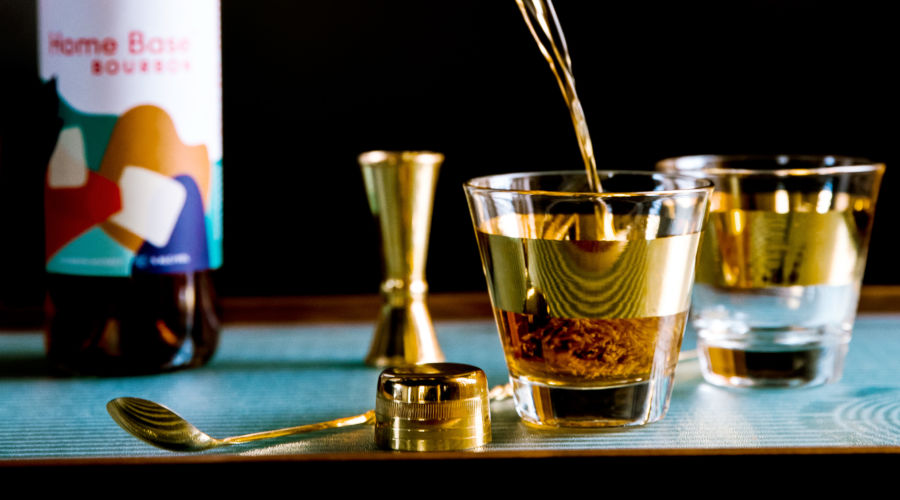 From Seattle to Colorado to the Bay Area, a new wave of whiskey distilleries is bringing cultural terroir to your glass.
Terroir runs deeper than just roots. The interplay between soil and society­—the cultural terroir—is what makes the West's food and wine scene so distinctive and rewarding. Over the past decade, a new wave of distilleries has emerged here, bringing both facets to the glass in ways more varied than ever. These new producers are born of the land, literally and figuratively—from the liquid in the glass to their distilleries tucked into the cities and countryside to the production methods melding Silicon Valley innovation with ancient tradition. The takeaway: A landscape dotted with destination drams and showcase tasting rooms that can anchor any adventure. Here, we distilled the best of the best to help you chart a course. Cheers!
The Pacific Northwest
Matt Hofmann drags his hand through a thick sheaf of heritage barley, the plump kernels straining their stalks with nutrients. It's harvest time here in the bucolic Skagit Valley, and the Master Distiller of Seattle-based Westland Distillery 70 miles to the south is surveying a bumper crop of experimental heritage grain that you might—if you're lucky—be able to taste in about a dozen years. "Most Scottish distillers say that barley doesn't matter," says Hofmann, who spent three years learning from Scotland's finest. "But that's okay, because we're not trying to replicate what they do. We're trying to make whiskey authentic and truthful to the Pacific Northwest."
Whiskey, on paper, is remarkably simple: Grains are steeped in hot water to turn starch into sugars, and the resulting porridge-like "mash" is combined with yeast and fermented into a beer, albeit one sans hops. That beer is then distilled, or boiled off, into the un-aged spirit called "new make." Into the barrel it goes—or into many barrels—to be bottled and/or blended at a later date. The whole process requires only four components—water, grain, yeast, and wood—but when you obsess over each and every one of those ingredients this slurry can become sublime.
Westland's specialty, American single malt, is at its core based on Scottish tradition, an elegant showcase of local agriculture that can be deceptively difficult to make well. The wrinkle: "We're influenced by what's around us," Hofmann explains, gesturing to the surrounding valley, one of the most bountiful in the Pacific Northwest. "The brewing, winemaking, the craftsmanship of the Pacific Northwest—they lead to new avenues of thoughts. There's so much more that can be done with those basic ingredients."
Back at his cavernous Seattle distillery, Hofmann walks visitors through the production space, starting at a station that wouldn't look out of place at a muesli breakfast buffet. Westland borrows from brewing a reliance on a varied "malt bill," including darker malts—think of a toasted cereal—often used to make beers such as porters and stouts. This gives the whiskey depth, a caramel complexity to the palate.
Unique among western distillers, a full 80 percent of the barley Westland uses comes from Eastern Washington State. They've even partnered with the Washington State University Bread Lab and local Skagit farmers to bring back certain strains of barley long ago forgotten—and to introduce new strains that would work in the area. 
In perhaps the most audacious embrace of local agriculture, Westland has applied a winemaker's keen eye for wood to its craft, introducing a relatively new variety of oak into the barrel-aging process in 2015. Called "Garryana," or "Garry oak" for short, the species Quercus garryana is a "manifestation of provenance," Hofmann says—one of many intellectual distillations he has at the ready. You might think it's the whiskey talking, but when your product takes years to develop there's an awful lot of time to ponder the big picture.
The Garry species only grows between Northern California and southern British Columbia and, so the story goes, was prized by Native Americans, who (perhaps apocryphally) hunted the deer attracted to its dropped acorns. Virtually all other whiskeys age in either American white oak or French oak. And whatever the backstory to the moss- draped Garry, the oak gives the whiskey a complexity, with clove, smoke, blackberry, and baking spices alighting with each sip. It is unmistakably of the land, of the culture, and of the distiller.
"I didn't have it all figured out when we sourced our first Garry oak casks in 2011," confides Hofmann. "And I still don't. I believe mastery of an exploratory discipline is impossible." The honest, committed road Westland is following not only reflects its roots, but also a deep respect for the terrain. "If we wanted an easy way we just would have sourced our whiskey and made bourbon like everyone else," says Hofmann. "But we're supposed to be making single malt. Barley grows here. Garryana grow here. We're lucky." And so is the West.
The Mountains
The satyr has stolen the show. See him gambol amid a crowd of high-rollers and Shakespearean understudies, as if this were Barbados, not a mountainside just past Park City, Utah. This is not a climate that calls for dressing up like a woodland nymph. Yet the enterprising attendee at High West's hilltop distillery has wrapped a set of vines around a pair of minimalist briefs to fete the late-November release of A Midwinter Night's Dram, one of the year's most anticipated whiskeys. He's one of hundreds thronging the distillery, many of them similarly attired. Some have even flown out on private planes just to score a case or two of the prized bottles.
Midwinter is a fireplace sipper, the result of aging the distillery's Rendezvous Rye in port barrels and French oak. Imagine imbibing a Christmas plum pudding—vanilla, dried fruit, cinnamon. The fact that very few barrels are produced each year makes this whiskey the equivalent of liquid gold. The raucous party thrown to celebrate it adds to its lore.
"From day one, High West was about tying great whiskey together with great food and experiences," explains Master Distiller Brendan Coyle, who helped launch the brand just more than a decade ago. "Costumes are definitely encouraged." Back in the valley, just off the Park City Mountain Resort run called "Quit 'N Time," sits the original High West location that helped foster the whiskey's almost immediate popularity. Ski in, have a drink, ski out, tell your friends. Repeat. The brand, as it were, has always been a large part of High West's growth strategy, and this outpost on the red-hot strip is a beacon to Sundance-goers and ski bunnies alike.
Courtesy of High West Distillery
High West's overnight (in whiskey years) success and rapid expansion are also largely the result of its production model. By definition, bourbon requires two years minimum to age; other whiskeys taste raw and unrefined until spending a similar period in wood. Instead of launching with a grain-to-glass "own make" philosophy like Westland, High West blends and finishes from sourced whiskeys produced in places such as Scotland, Indiana, and Kentucky.
"We're focused on transparency and authenticity," says Coyle. "We believe that you create a better, more balanced product when you have a whole variety of whiskey types to select from to create the flavor profile. We will continue to source whiskeys from around the world even as we bring our own to market."
In 2014, High West fired up its hilltop facility to ramp up distillation and aging of its own spirits, which it is now blending into the sourced liquids; the distillery hopes to release its first 100 percent own-make spirit this year. "Quality is what ultimately ties those two things together," Coyle says. "We want to be a great blender but also a great distiller as well."
Courtesy of Stranahan's Works
About 450 miles to the east, a rowdy crowd has gathered outside the Denver distillery Stranahan's for the release of the once-yearly single malt called Snowflake. Camp chairs and tents line the sidewalk; a carnival tent throbs with bluegrass, countering the whoosh of cars from nearby Interstate 25. Compared with the picturesque Park City confines of High West, this industrial park is hardly the kind of place you'd want to camp out in for six days to score a bottle or two—especially in December. But to many in line, like Russel Cowdin, who has held the first spot five times in 10 releases, the wait is more than a means to a dram. It's the main event—a chance to make new friends and hang out with other acquaintances they only see once a year.
Is the whiskey worth it? This batch is called Mount Elbert, named as they all are after one of Colorado's 14ers, or peaks higher than 14,000 feet. It just so happens that Elbert is the highest of all 58, and the simple recipe—100 percent malted barley, water from the Rockies—was finished this year in a series of casks previously holding bold wines like Syrah, Zinfandel, and port, and chocolate stout and rum. Master Distiller Rob Dietrich balances each blend expertly, ending with an always changing batch that keeps devotees coming back for more.
Just like High West's Shakespearean bacchanal, this motley crew and the manufactured scarcity could be dismissed as a gimmick—a marketing crutch. But that's a glass-half-empty kind of view to the so-called "Strana-fans" and their "Strana-fam." Much like the satyr, they're right where they want to be, raising a glass with their tribe, their people. The whiskey, then, becomes an object lesson, a reminder that for as long as we've had them, spirits have been meant to bring people together.
The Bay Area
Nowhere is the western whiskey boom more diverse than in the Bay Area, where dozens of distilleries have sprouted seemingly overnight. Pop into St. George Spirits just off the barracks-lined waterfront in Alameda, California, and you'll find Lance Winters, owner and a West Coast whiskey pioneer, ensconced in the belly of a yawning former naval hangar. Winters comes to life poring over the rows and rows of experiments piled high in his laboratory. The place looks one click shy of a movie set. Amid a replica of a shoe from director Wes Anderson's The Life Aquatic, gallons of a distilled mezcal not available to the public, and a jug of distilled tree-ripened guava sit stashes of liquid history dating back years.
"When we make whiskey, we're making a statement about who we are," says Winters, a three-time James Beard nominee for his work with St. George. He reaches for the 35th-anniversary whiskey he bottled in 2017, which contained some 18-year-old spirit—common in Scotland or Kentucky but ancient for a West Coast whiskey. "This is an act of self-expression, not a commodity," he says. "When I put a bottle on the table, I'm putting my heart on the table."
In 1996, Winters, a former nuclear engineer on the USS Enterprise who had been running a brew pub, walked into St. George with a bottle of garage-distilled whiskey aged on oak chips. Then-owner Jorg Rupf, a craft-spirits pioneer and eau-de-vie specialist, took a drag off the bottle and deemed it "inoffensive."
"For him, that was high praise," Winters deadpans.
Decades later, Winters continues to experiment. "I never want to make the same thing as someone else," he says. "Why bother?"
For a craft so steeped in tradition, very few of its practitioners, particularly around the Bay Area, seem to be sitting still. "The whole state of California is a product of the promise of people looking for amazing riches, trying new things," reasons Winters.
That pioneering spirit defines the craftsmanship behind the region's latest offerings. When Metallica decided to launch its own whiskey, which, by the way, is actually good, the band could have easily turned to an established mass-market producer like Jack Daniels. Instead, they partnered with late distiller Dave Pickerell. He pitched them on an out-there system of bombarding the finishing barrels with sound, each band member crafting playlists from the band's oeuvre. The vibration is designed to stimulate interaction between the liquid and the black brandy barrels Pickerell chose for finishing. "The minute he pitched us on that approach, we all were on board," says guitarist Kirk Hammett.
This kind of outside-the-box thinking is characteristic of upstart distillers, many of whom benefit from liberal laws and the entrepreneurial spirit of the Bay Area. Case in point: Home Base Spirits, a bid by two sisters to navigate their way into the boom from a warehouse in Berkeley. More than a decade ago, Ali Blatteis joined a whiskey club at her tech start-up, only to find the gender imbalance intimidating. So she started a whiskey club for women, unofficially dubbed the Rye or Die Chicks, which her sister Sam would join when visiting on trips from New York and after moving back to their native Oakland. Soon enough, the passion became an obsession—and then a profession—and by 2015 the sisters had filled their first barrels. They're now sold throughout the Bay Area.
"Even though we're in this center of innovation, we're the complete opposite of a tech company model," says Sam. "Our gross is too small." Distinct from the ground-up distilling of Westland or St. George, or the sourced bootstrapping of High West and Metallica's Blackened, the sisters are using what's called a "rectifier" license that allows them to distill using another company's stills one contract at a time. Call it Turo or WeWork for distilling equipment: The peer-to-peer sharing concept allows them to minimize their carbon footprint and support local businesses and farmers.
While the Blatteis sisters might eschew innovation for innovation's sake, it's not surprising that a fair amount of Bay Area distillers swipe right on the continuum of tradition and leading edge. At the annual Whisky Advocate WhiskyFest this past November in downtown San Francisco, a room of barrel-chested enthusiasts squeezes into hotel banquet chairs to sample beta drams of Glyph, a "molecular whiskey" from a start-up called Endless West. The ambitious effort is an inevitable outgrowth of the Bay Area tech scene, which engineered "impossible" meat, egg-free  "mayo," and has made driverless cars a reality. Endless West is aiming to engineer a top-flight, high-touch whiskey quickly using sourced flavor components and neutral-grain spirits, not a barrel in sight. "It might not be for everyone, and perhaps not even for everyone in this room," says cofounder and CEO Alec Lee, raising a glass of the amber liquid. "But it's what we're doing, and I hope you enjoy it."
Some attendees grumble, some draw deep drams into their mouths, ponder the flavors. A group in back talks over Lee, wondering aloud: Is this whiskey? Do we like it? Does it matter?
Most distillers are nothing if not cerebral when discussing their craft. But Lee speaks a different language entirely: aroma vectors, molecular chirality, tongue delivery. He speaks of pivoting, iterating, non-trivial obstacles.
Lee is a product of the culture, and so is his whiskey. The act of creating it is a form of self-expression; the act of consuming it the start of a conversation.
Can a spirit be conjured up if it's not born of the land, but purely the culture surrounding it?
If you enjoy it, does that even matter?
The Bay Area 
Whiskey Trail
Drink
Rye. A killer rare whiskey selection at (relatively) low cost. 688 Geary St., San Francisco; ryesf.com.
Buy
Epicurean Trader. 1908 Union St., San Francisco; theepicureantrader.com.
Cask. 101 Spear St. A4, San Francisco; casksf.com.
Healthy Spirits. Four locations in San Francisco; healthyspiritssf.com.
Eat
Ramen Shop. Real-deal ramen complemented by top-shelf whiskeys. 5812 College Ave., Oakland; ramenshop.com.
Visit 
Savage and Cooke Distilling. Prisoner winemaker Dave Phinney goes high-concept and high-proof. 1097 Nimitz Ave., Vallejo, CA; savageandcooke.com.
Sonoma Distilling Company. Try the original Sonoma Rye side by side with the Cherrywood Rye at their appointment-only tasting room. 5535 State Farm Dr., Rohnert Park, CA; sonomadistillingcompany.com.
St. George. "Baller" Whiskey originally for Oakland's Ramen Shop; 30th- and 35th-anniversary whiskeys. 2601 Monarch St., Alameda, CA; stgeorgespirits.com.
Keep Reading: