Flying Alaska Airlines Just Got Way Sweeter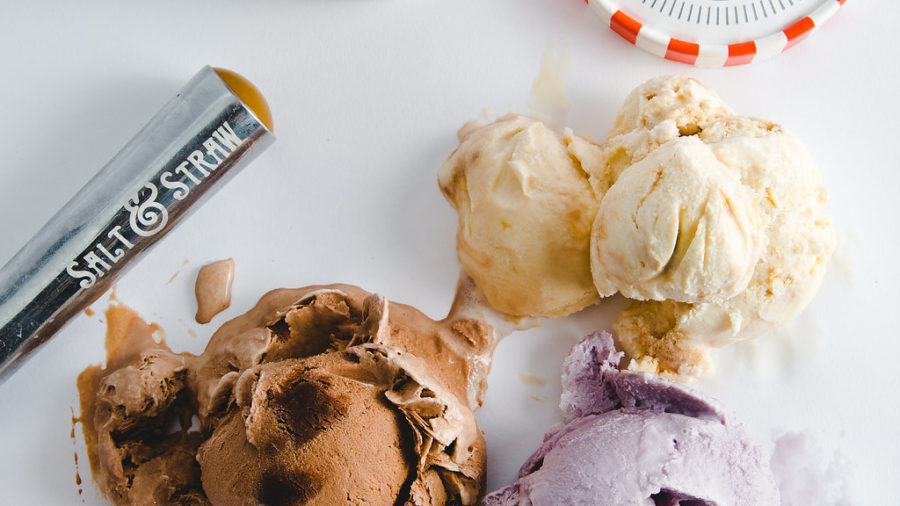 The airline is now serving cult favorite Salt & Straw ice cream and we can't wait to book our next flight.
Airlines across the board are upping the ante on their dining options, making "airplane food" more palatable, and in some cases, even gourmet. Blame our sweet tooth, but we're particularly excited about the latest addition to Alaska Airlines new in-flight dining menu.
As of this past weekend, the Seattle-based airline is serving Salt & Straw ice cream to passengers in first class, bringing the Portland ice creamery's handmade, small-batch flavors a mile high. The individually-packaged scoops are a part of the airline's newly-introduced premium lunch and dinner service on cross-country domestic flights.
Family-owned Salt & Straw is known for its inventive flavors, like this season's floral-inspired summer flavors, and the in-flight menu aims not to disappoint. As it turns out, our taste buds aren't as sharp above 30,000 miles, making sweet and salty flavors less perceptible. Taking this into account, Salt & Straw's team selected the flavors most apt for air travel, so you won't have to sacrifice taste with options like Sea Salt Caramel Ribbons and Meyer Lemon Custard with Blueberries, and more to come throughout the summer.
Keep Reading: