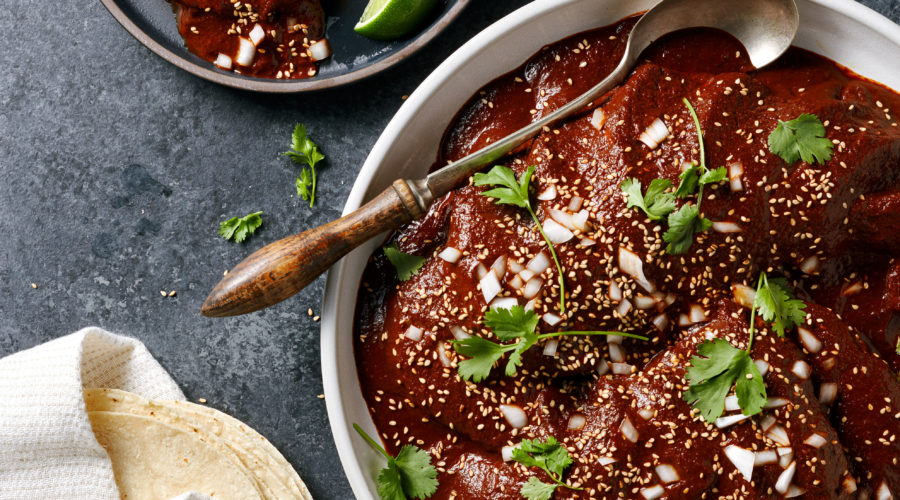 ¿Mole? ¡Olé! But that's not all you'll enjoy at L.A.'s newest wave of Mexican restaurants
Mole. One word, two syllables: mo-lay. The essence of Oaxacan food, mole is the ultimate sauce — the slow, perfect blending of complex flavorings. It's what establishes a Oaxacan cook's or restaurant's reputation.
These days, the reputation and quality of food from the Mexican state of Oaxaca (pronounced wa- ha-ca) is riding higher than ever, thanks to an influx of Oaxacans—including more than a few great cooks—to Los Angeles. Los Angeles Times figures put the Oaxacan population of the city as high as 250,000 people. Thankfully, that translates into a lot of mole for all of us.
Glorious food from a close community
Most of Los Angeles' Oaxacan immigrants arrived in the last 20 years, settling mainly in the Pico Union area and on the Westside around the Mar Vista neighborhood and Santa Monica. The community is tight-knit and distinctive. Many residents speak Zapotec and Mixtec as well as Spanish. Community groups sponsor annual fiestas and weekly basketball games — yes, basketball, which is more popular than soccer in the Sierra Juárez region of Oaxaca.
"We are one family, one circle," Fernando López Mateos says of the Oaxacan community in Los Angeles. And good food is an important part of that circle: along with owning El Oaxaqueño, a local community newspaper, López Mateos owns two downtown restaurants, both named Guelaguetza. Here the moles are made three times a week and served recalentado — made one day then served the next, so the flavors have the chance to mature to perfection.
Puebla, Mexico, may be known as the birthplace of mole, and chocolate may be the ingredient it's known for. But Oaxacans in L.A. have taken mole to new heights. López Mateos's restaurants serve six different moles, including mole negro, the best known, made from chocolate, chilies, raisins, and cinnamon; mole amarillo, yellow and spicy, made from guajillo chilies, cumin, and cloves; and mole estofado, made without chilies and instead employing almonds, olives, garlic, and tomatillos.
But Oaxacan cuisine does not involve mole alone. Handmade clayudas, the Oaxacan tortilla, are crisp, thin, platter-size corncakes cooked on a clay griddle. They resemble tostadas when ordered with toppings. At either Guelaguetza, you'll also want to try the memelas — thick corn tortillas spread with beans and cheese — and costilla de puerco enchilado, mild chili–marinated pork ribs.
Fruity Mexican drinks are another staple: horchata de tuna y nuez y melón is made from sweet rice, cactus fruit, and nut purée. Chilacayote is made with squash, cinnamon, and piloncillo, a type of brown sugar. As for more powerful concoctions, mescal is the Oaxacan liquor of choice. At Guelaguetza you can test yourself against the garra de tigre (tiger's claw), a margarita-like drink with mescal, lemon juice, and salt with chili. Or order mescal con gusano, straight mescal served in a shot glass on a small plate with a lime wedge, salt, and a dried worm. Either way, the combination of wonderful food and potent drinks may make you want to be a permanent member of the Oaxacan family circle.
Keep Reading: