How to Really Soak up Fall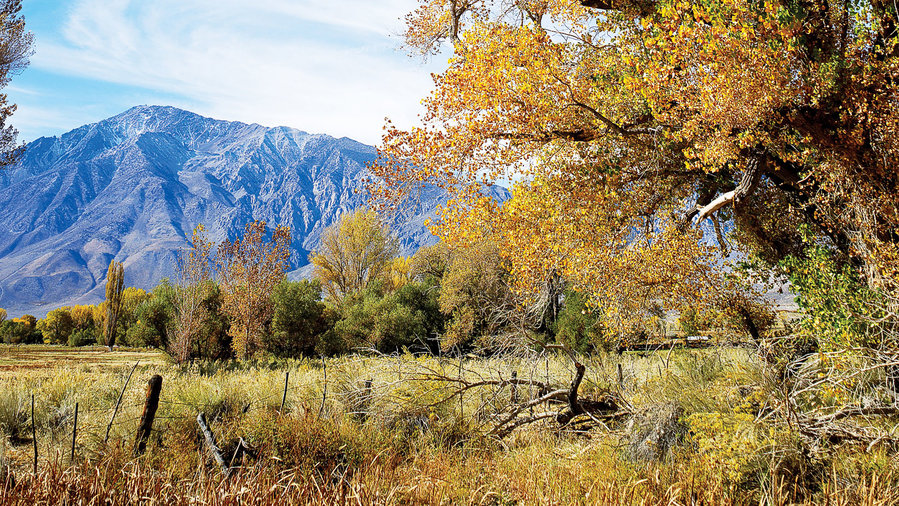 Autumn's a great time for a road trip to natural spring waters in California's Eastern Sierra
By Andy Isaacson
Jack Kerouac and his "dharma bums" once used Bridgeport as a base to explore the Eastern Sierra.
For me, though, it serves a slightly different purpose, as a gateway to a natural spa paradise: Hot waters gush to the surface in abnormally high concentration between the towns of Bridgeport and Mammoth Lakes, 60 miles south.
Between them, U.S. Highway 395 cuts a ribbon of pavement like a surfboard's path riding the Sierra crest. I've devised a therapeutic formula for a long weekend along this route: Drive, hike, see fall color, and do some soaking on the way to Mammoth Lakes.
If the hot springs of the West are thought of as sanctuaries of hedonistic worship, then Long Valley, a geothermally active depression just a little southeast of Mammoth Lakes, is hallowed ground.
But finding the hidden pools that are open to the public (and not scalding hot) requires local knowledge―or locals willing to share that knowledge.
Travertine Hot Springs, a pair of warm tubs near Bridgeport, isn't one of those places―it's popular.
When I arrive the next morning, however, after a night at Bridgeport Inn, Travertine's waters (which average 105°) and views of the Sawtooths are mine alone.
To an amateur balneologist―one who studies, with barely a nod to science, the therapeutic effects of thermal baths―this is like a ravenous man stumbling upon an all-you-can-eat buffet.
Eventually another wandering bather slips into the adjacent tub at Travertine. Our conversation immediately turns to which hot springs we like.
The retired gardener from Santa Rosa points across the valley to the foot of the Sawtooths. His favorite springs, he tells me, is Buckeye.
Next: Spring-fed pools 
With his directions, I get back in the car and drive about 10 minutes to the hot springs, nestled at the bottom of a ravine and sheltered by cottonwoods.
Rocks segregate spring-fed pools of warm waters from a cool mountain stream. After spending an indiscernible amount of time―it could have been minutes, or hours―cycling between hot and cold, I dry off and continue south on U.S. 395 toward Mammoth Lakes, climbing to 8,100 feet over Conway Summit, then descending toward Mono Lake Basin and on to Mammoth Lakes.
I arrive in time for a burrito dinner at Roberto's with my cousin Lori, a Los Angeles native who now lives here, and a few of her friends, all of them Mammoth Lakes natives.
To avoid getting lost in Long Valley's maze of unmarked dirt roads, I quiz them about their favorite hot springs. Someone recommends a tub known to locals as Crab Cooker. Another votes for Wild Willies. Alas, they point me toward the easiest one to locate―less whimsically named the Rock Tub.
The next morning, I follow the handwritten directions. The tub reveals itself only when you're upon it. I step into the pool.
A wind sweeps across the sagebrush plain, cooling my exposed shoulders. Sunlight sparkles off the surface of the water, into which I sink, my balneology retreat feeling complete.
Next: 48 hours on the Sierra's U.S. 395 
FRIDAY
Check in at the Bridgeport Inn (from $79;  thebridgeportinn.com), then start your amateur balneologist journey at Travertine Hot Springs (free; 760/872-5000).
From Bridgeport, take U.S. 395 a half-mile south, turning left onto Jack Sawyer Rd. Follow the graded road on the left about 1 mile to a parking area. Next stop: Buckeye hot springs (free; 760/932-7070).
From Bridgeport, go north on U.S. 395 and turn left onto Twin Lakes Rd. After 7 miles, turn right after Doc & Al's cabins. Cross a bridge, and pass Buckeye Campground.
A parking area is at the top of the hill. A route leads down to the creek. On the way back, stop in at Twin Lakes to see the fall colors.
SATURDAY
Take a drive to Mammoth Lakes, 60 miles south. En route is Tioga Toomey's Whoa Nellie Deli ($$; closed Nov–Apr; 22 Vista Point Dr.; 760/647-1088), inside a Mobil station.
White-coated chefs serve dishes like venison cutlets and ahi sashimi. Or hold out for a mahimahi burrito at Roberto's Cafe ($; 271 Old Mammoth Rd.; 760/934-3667) in Mammoth Lakes. Rent a cabin at Tamarack Lodge & Resort (from $119; two-night minimum;  tamaracklodge.com).
SUNDAY
Soak in the natural Rock Tub (free; 760/872-5000). From Mammoth Lakes, take U.S. 395 about 8 miles south to Benton Crossing Rd. (look for a green church).
Turn left at Whitmore Rd., and go for about a mile. As the road rises and bears right, take a sharp right onto an unmarked dirt track; it ends at the tub.
Keep Reading: