4 New Hotels in the West, Perfect for a Staycation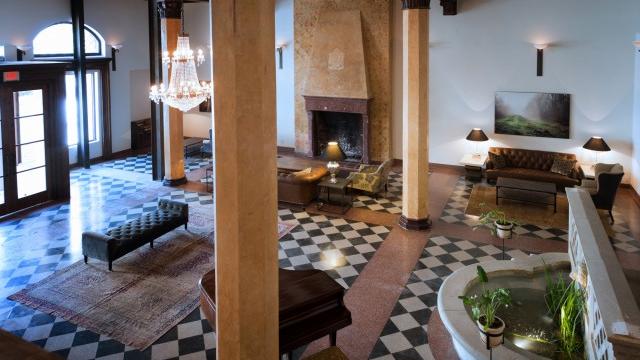 If your dream weekend consists of eating out, shopping, and doing a little urban exploration, check out these four new hotels around the West
1. Hotel Normandie, Los Angeles
In an item we did about the reopening of Cassell's Hamburgers ("the gold standard of post-war L.A. burgers") in the May issue of Sunset, we mentioned in passing that it's now housed in the Hotel Normandie (605 S. Normandie Ave.), in Koreatown. But we didn't have space to show the hotel itself, which is a shame, as it's an atmospheric slice of pre-war L.A. noir that's been updated skillfully enough that now you'd actually want to stay in one of its 91 rooms, not just peer in the windows. From $179. 
2. Hotel Eastlund, Portland
We've been fans of downtown Portland's Hotel Modera since it opened in 2008— the midcentury-mod decor, the courtyard's living wall of native plants, the gentle prices. Now the same people have brought their boutique sensibility to the other side of the Willamette River. Sure, most of the guests in the Hotel Eastlund's 168 rooms may be conventioneers attending trade shows across the street, but there's nothing stopping you from heading a few blocks south to the Central Eastside Industrial District, which we anointed the hottest artisanal-foods hood a few months back, or over the Broadway Bridge to the Pearl District. From 1021 N.E. Grand Ave.; from $189.   
Filling a hole in Denver's lodging landscape, the 165-room Art Hotel (1201 Broadway St.) opened this summer in the Museum District—aka the Golden Triangle, which is home to, yes, the Denver Art Museum (DAM), the Clyfford Still Museum, and the History Colorado Center but, until now, precious few hotel rooms. The Art has built up quite a little collection of its own, too, with the help of Dianne Perry Vanderlip, curator emeritus at the DAM.
Each of its guest-room floors will be dedicated to a different artist (Claes Oldenburg, say, or Tracey Emin), and Leo Villareal, who created the dancing lights on San Francisco's Bay Bridge, designed an LED installation for the hotel's entrance. From $239. 
4. The Downtown Clifton, Tucson
What happens when an L.A. rocker-turned-filmmaker returns to his hometown, Tucson, and rehabs a 1947 motel in its historic Five Points 'hood? "A dude ranch in the middle of the city," says Clif Taylor, with 10 retro-groovy rooms. 485 S. Stone Ave.; from $110.     
Keep Reading: