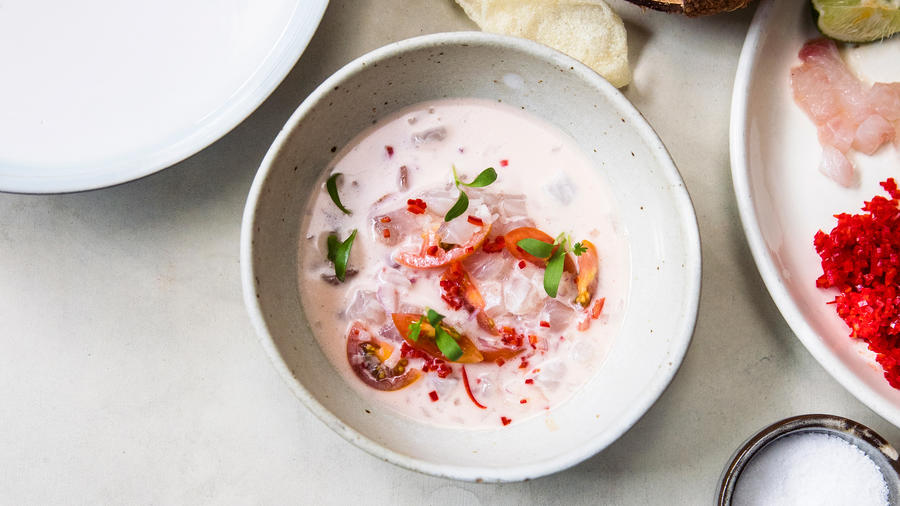 In Fiji, says chef Louis Tikaram of E.P. & L.P restaurant, in Los Angeles, kokoda is eaten as part of the main course, but because good fish is so pricey in America, he serves it as a starter. Tikaram likes mild yet buttery Baja kanpachi (farmed amberjack), but it's fine to use other, easier­-to-­find fish, like yellowtail, albacore tuna, mahimahi, or swordfish*.
How to Make It
Step 1
1
Prep the fish: Pull or cut out any bones* and, if you like, trim away bloodlines (the darker red, stronger-tasting portions). "The Japanese leave the bloodline in. They like the meaty flavor against the more subtle, mild flavor of the rest of the fish," says Tikaram. With a very sharp knife, slice the fish crosswise about 1/4 in. thick, then into 1/4-in. cubes. "I like to cut everything small. That way you get more of a flavor explosion of all the ingredients in every bite." Chill fish until ready to serve. 
Step 2
2
Cut tomatoes lengthwise into thin wedges. Stem chile, then cut in half. Remove seeds and whitish ribs. Finely dice chile, enough to yield 1 tbsp. Finely dice enough shallot to yield 1 tbsp. as well.
Step 3
3
In a bowl, mix fish with 1/2 tsp. salt and lime juice. "In Peruvian and Mexican ceviche, the fish is well cured in lime. Here, the lime is more of a seasoning, and the fish stays fresh and fragrant." Then stir in tomatoes, chile, shallot, and coconut milk. Season with more salt or lime juice if you like. 
Step 4
4
Divide between 2 small bowls and top with cilantro. Serve immediately, with rice crackers, cassava chips, or root-vegetable chips. 
5
*For swordfish that's sustainable, look for fish caught with harpoons, handlines, or line-and- pole rigs; see seafoodwatch.org (search by fish name) for more info on sustainable-catch methods. For canned coconut milk, choose one without preservatives, like Native Forest Organic Coconut Milk, and dilute with 2 to 3 tbsp. water; to make fresh coconut milk, see "How to Crack and Milk a Coconut." Find Asian-style rice crackers and cassava chips (such as Maxi), which need to be fried before eating, at Asian markets. For boning fish, the best tool is a pair of fish tweezers (Kotobuki Japanese Fish Bone Tweezers, $5.50; amazon.com).