Grilled Butterflied Turkey with Rosemary Garlic Gravy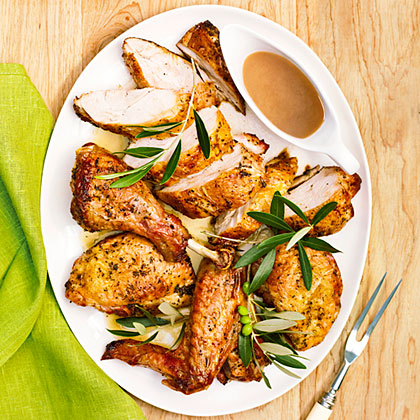 Photo: Thomas J. Story; Styling: Emma Star Jensen
Butterflying the turkey—removing the back so it lies flat—makes it cook faster.
How to Make It
Step 1
1
Make brine: Boil 1 1/2 qts. water with salt in a pot big enough to hold turkey, stirring until salt dissolves. Add rosemary, garlic, and 3 qts. cold water; let cool. Add turkey. Chill, covered, at least 12 hours or overnight; turn once.
Step 2
2
Make broth for gravy: In a large pot, bring to a boil all ingredients except mashed garlic, minced rosemary, and flour; simmer 1 hour, or until giblets are tender. Strain; discard solids. Chill.
Step 3
3
Thanksgiving Day: Put a rack in a large rimmed pan. Set turkey on rack and drain 30 minutes at room temperature. Pat dry and rub all over with oil.
Step 4
4
Meanwhile, prepare grill for indirect medium-high heat (400° to 450°). If using charcoal: Light 40 briquets on firegrate. When coals are covered with ash, in 20 minutes, bank evenly on opposite sides of firegrate and let burn to medium-high. Set a large metal or foil drip pan (about 9 by 12 in. and 2 1/2 in. deep) between coals and fill halfway with warm water. To each mound of coals, add 5 briquets now and every 30 minutes while cooking. Oil cooking grate and replace it. If using gas: Turn all burners to high, close lid, and heat 10 minutes. Turn off 1 burner and reduce heat for other(s) to medium-high. Set a large metal or foil drip pan on turned-off burner and fill halfway with warm water. Oil cooking grate; replace it.
Step 5
5
Set turkey, skin side up, on cooking grate over drip pan and cover grill. Cook until an instant-read thermometer inserted in thickest part of thigh registers 175°, about 1 1/2 hours. Transfer turkey to a cutting board. Tent loosely with foil and let rest in a warm place 15 to 30 minutes.
Step 6
6
Meanwhile, make gravy: Reheat turkey broth. In a 5- to 6-qt. pot, toast flour over medium heat, whisking, until deep golden brown, 7 to 10 minutes. Carefully pour in 3 cups broth and whisk into a smooth paste. Whisk in rest of broth, mashed garlic, and minced rosemary; bring to a boil, then simmer about 10 minutes, whisking often. Season with salt and pepper.
Step 7
7
*Ask your butcher to butterfly the turkey for you, or do it yourself: See the video demonstration How to Butterfly Poultry.
Step 8
8
Note: Nutritional analysis is per serving.
Search All of Sunset's Recipes