Black Garlic and Lentil Soup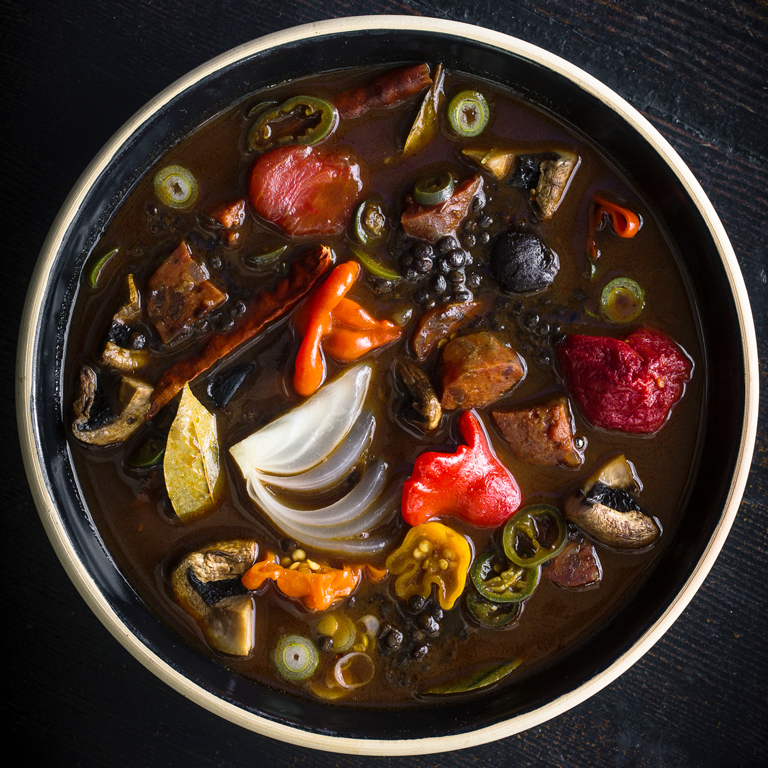 For Bar Tartine in San Francisco, chef Nick Balla created this smoky, earthy soup as a tribute to his Hungarian-America father. Dried chiles, paprika sausage, hot paprika, and black garlic--regular garlic roasted for days until it turns sweet and jet black, with a licorice-like flavor--give the soup a rounded spiciness.
How to Make It
Step 1
1
Heat a large cast-iron frying pan over medium-high heat until a drop of water flicked on the surface sizzles. Melt lard in pan and add onion, bell peppers, and serrano. Cook, stirring occasionally, until vegetables are well charred on the edges but not blackened, about 15 minutes. Let cool, then chop coarsely.
Step 2
2
In a blender, combine 2 cups broth, the black garlic, and arbol chiles. Purée until smooth.
Step 3
3
Cut sausage into quarters lengthwise, then thickly crosswise. Put in a large pot and add black garlic purée, remaining 4 cups broth, tomatoes, lentils, garlic, mushrooms, and bay leaves. Bring almost to a simmer over medium heat, covered (do not let boil). Add paprika, peppers, and charred vegetables and simmer gently, covered, until lentils begin to fall apart and thicken the soup, about 20 minutes more. Discard bay leaves. Stir in vinegar and salt, and season to taste with black pepper.
Step 4
4
Ladle soup into bowls and top each with sour cream, green onions, and cilantro.
Step 5
5
*Buy black garlic at blackgarlicna.com. Or, roast garlic: slice off tops of whole heads, drizzle with olive oil, and wrap in foil Roast at 400° until soft, about 1 hour. To use, squeeze pulp out of cloves. Find Hungarian gyulai at bende.com.
Step 6
6
Make ahead: Up to 4 days, chilled.
Search All of Sunset's Recipes