The Best One-Stop Shops for Back-to-School Deals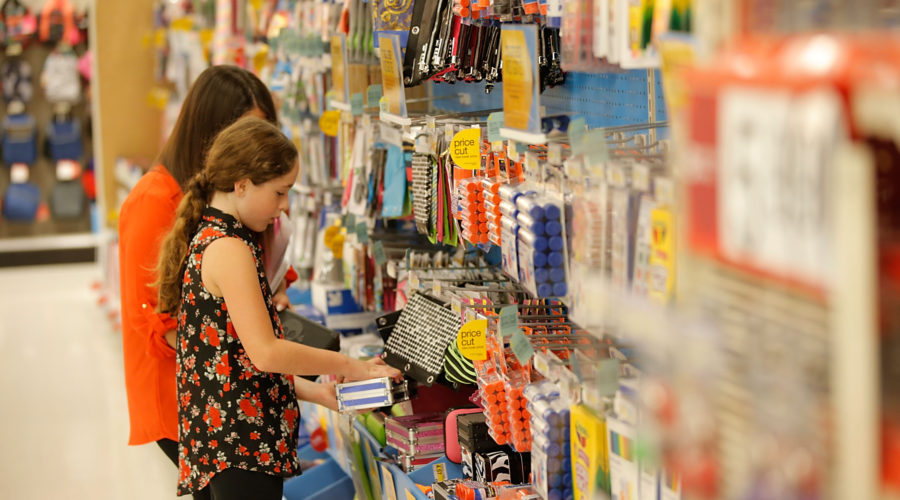 Joe Scarnici / Getty Images
In a crunch to get all your back-to-school shopping done? Hit up these retailers convenience and savings
We can hardly believe our calendars–it's mid-August, already? As summer comes to a close, all too soon, it's time to abandon our beach chairs and lemonade stands for school routines and packed lunches. And along with this transition comes the (often) dreaded back-to-school shopping, which can be an overwhelming (and expensive) task. Fear not: we've scoped out the best deals for all your scholarly necessities, from super-cute backpacks to perfectly-priced pencils. Here are our top three one-stop-shops to tackle your supplies lists and save some money along the way.
Target
As with all other categories in our lives, when it comes to back-to-school shopping, Target seems to have it all…and then some. For stylish upgrades on old-school classics, don't miss this season's selection of bedazzled backpacks, handy bento boxes for your packed lunch, and the coolest locker gear around. The megastore offers supplies for every age, from preschool to college-bound, and boasts more than 1,800 stores nationwide. When it comes to styling a dorm room, there's no better shopping destination. You can outfit your bed with cozy linens from Opalhouse, stock up the new mini-fridge, and even find affordable art to adorn those walls (one word: decals!). This year, Target is making college shopping even easier, with a new service that lets you shop online ahead of time and pick up your gear at a store near campus, with an extra 15% savings. Shopping for the younger set? Take advantage of their in-store School List Assist, and get special savings on gear from exclusive brands like C9 Champion and Cat & Jack, along with classics like Crayola pencils and Mead notebooks. We dare you not to get carried away!
Amazon
Let Amazon come to the rescue once again, with all of your back-to-school needs (and wants) just a few clicks away. Their curated Back-to-School digital storefront makes navigating the "aisles" a breeze, with limited-time deals offered in every category from pens and paper to fancy electronics. On top of exclusive offers like this colorful gear pack from Crayola, browse the e-commerce giant's slew of slashed prices on products from Keurig, Sharpie, Elmer's, and more. Whether you're looking for llama lunch boxes (it''s this year's "It" animal in kids' gear, by the way), sequined notebooks, emoji-emblazoned keychains, or the ever-popular slime-making kits, stocking up in time for picture day is possible from the comfort of your desk. For those heading off to college, the collections of dorm furniture, desk accessories, cozy bedding, and organization essentials are vast, and orders will arrive sooner than you can say, "See ya later, Mom & Dad," thanks to the Prime Student service, a half-price deal on the regular Prime membership.
Staples
Always a staple in the office supplies game, the superstore dedicated to year-round deals on everything from paper goods to work-friendly electronics is a must-visit for back-to-school gear at premium prices. From insanely cheap notebooks (as low as 25 cents for one-subject) to budget-friendly calculators from brands like Texas Instruments, the office supplies store is geared towards always giving you the best possible deals on basic supplies. Another win for your wallet? The superstore has a 110% price-matching policy that both honors the lower price and offers an extra 10% off the item. If the digital shopping experience is more your speed, Staples is currently offering back-to-school shoppers a 20% discount for online orders using code '29908' at checkout, as well as an in-store scholarship sweepstakes (presented by the lovely Jessica Alba) that could award up to $50,000 towards education if you spend over $25 at Staples.
Keep Reading: