Make Beautiful, Natural Wreaths from the Garden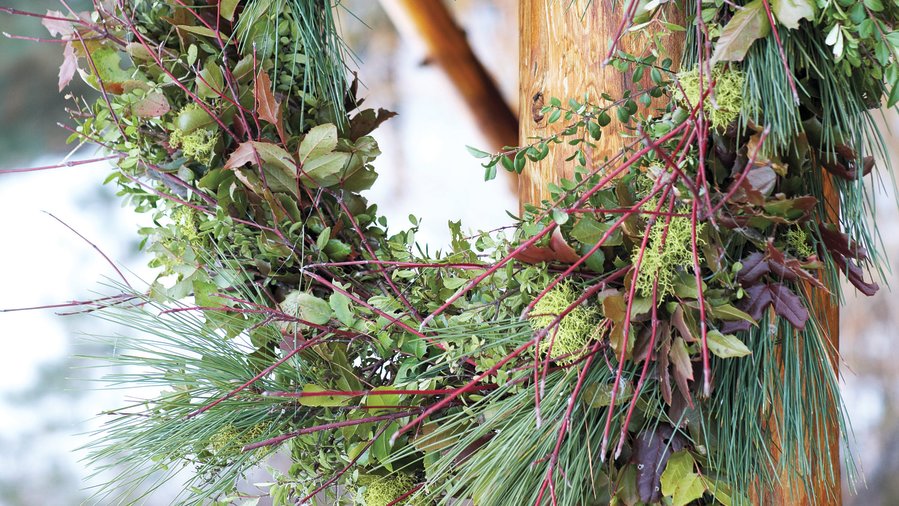 Here's how to decorate with the greens, twigs, and mosses that grow where you live
Snow blankets the ground, and it's so cold that Patti Bosket can see her breath in the frigid air. But she's on a pleasurable mission. Basket in hand, she treks across the meadow outside her home near Leavenworth, Washington, gathering greens and twigs for making her natural wreaths. Her dog, Jake, scampers along behind her.
Bosket has been designing wreaths for decades, first for her own home, and then for her floral and interior design business, Au Naturel. "I started my design career making wreaths from roadside plants," she admits.
Photo by Peter Cebera / Eye Em via Getty Images
It's not a bad place to begin. The land around her house yields plenty of material for making natural wreaths. "I'm so impressed by nature," Bosket says. "I love the look, feel, and texture of native plants. Nature inspires my designs."
Back at the house, on a front-porch table next to a freestanding fireplace, Bosket assembles a wire wreath frame and some prunings and starts her design. Fresh and welcoming, her creations will give her weeks of pleasure in exchange for a Saturday morning's work.
No matter where in the West you live, you can make beautiful, natural wreaths from the plants around you. Just purchase a wire wreath frame from a craft store, then begin gathering. Oregon boxwood, California eucalyptus, tropical palm fronds, and the desert's dried grasses and seedpods all make beautiful wreaths. For specific suggestions, see "Wreath-Making Tips" below.
Info: Au Naturel (509/433-1065)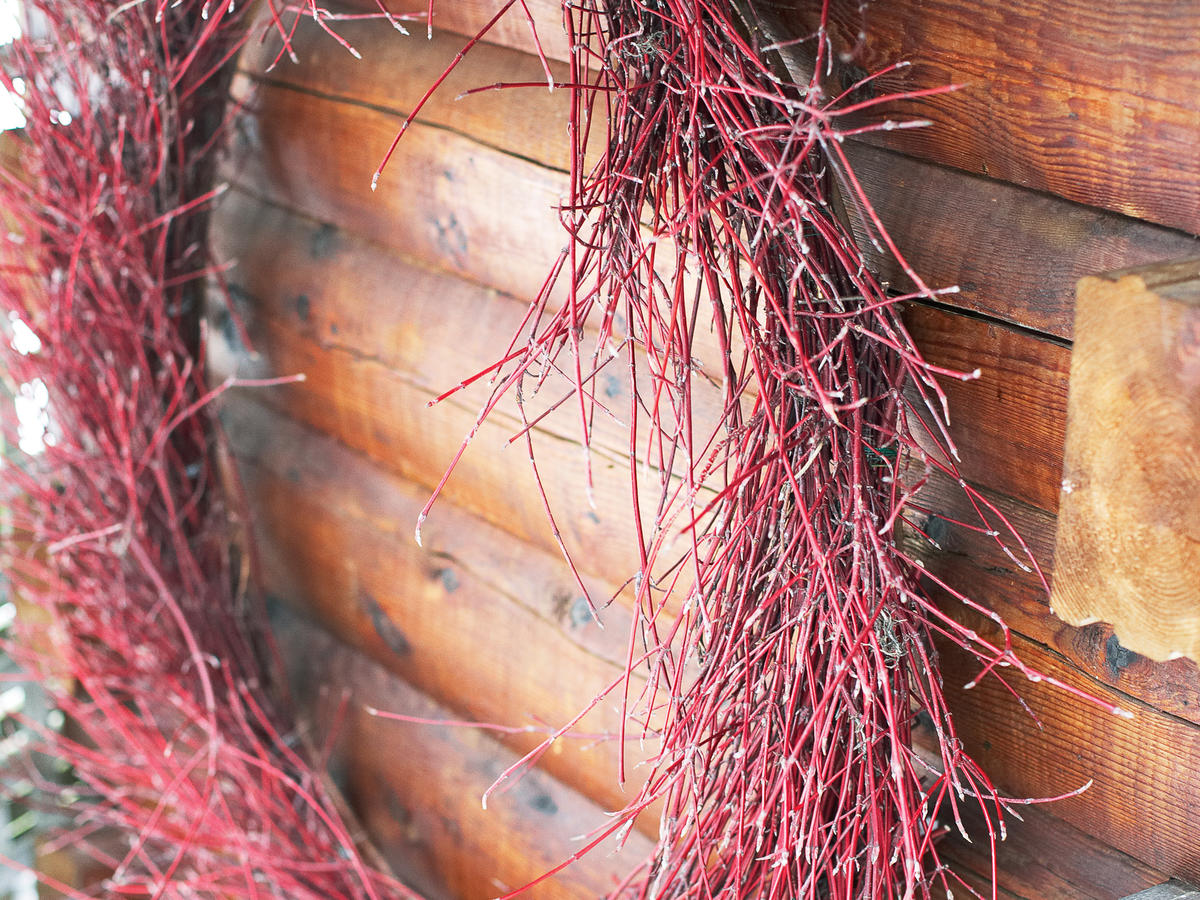 Build a twig wreath
1. Patti Bosket snips freshly pruned redtwig dogwood branches into 8- to 12-inch lengths-just the right size to cover her 16-inch (inside diameter) wire wreath frame. After assembling a bundle of 7 to 10 dogwood cuttings, Bosket binds it together with green floral wire, then makes other bundles.
2. Bosket binds the cut ends of the bundles to the wreath frame at 8- to 10-inch intervals, staggering cut ends (and covering them with uncut ends) so the wreath doesn't look too uniform; that gives it a more relaxed, natural aspect.
Wreath-making tips
Bring a few winter prunings from your garden indoors for several days to see how long they stay fresh. Then use the longest-lasting choices for wreath making (see below for some good choices). 
Hardware: Pick up green floral wire and wreath frames at a craft store. You'll also need pliers for bending wire over twig bundles.
Evergreen cuttings: Try boxwood, holly, Magnolia grandiflora, pine, purple hop bush, and rhododendron. Balsam fir, bay, eucalyptus, and rosemary add fragrance. Avoid hemlock, whose needles don't hold after cutting.
Accents: Fruit (especially apples, citrus, and pomegranates), holly berries, pine and fir cones, purple hop bush seed capsules, and screw bean mesquite pods all show well against evergreen wreaths.
Need more ideas for making natural wreaths at home? Check out this post for inspiration.
Keep Reading: