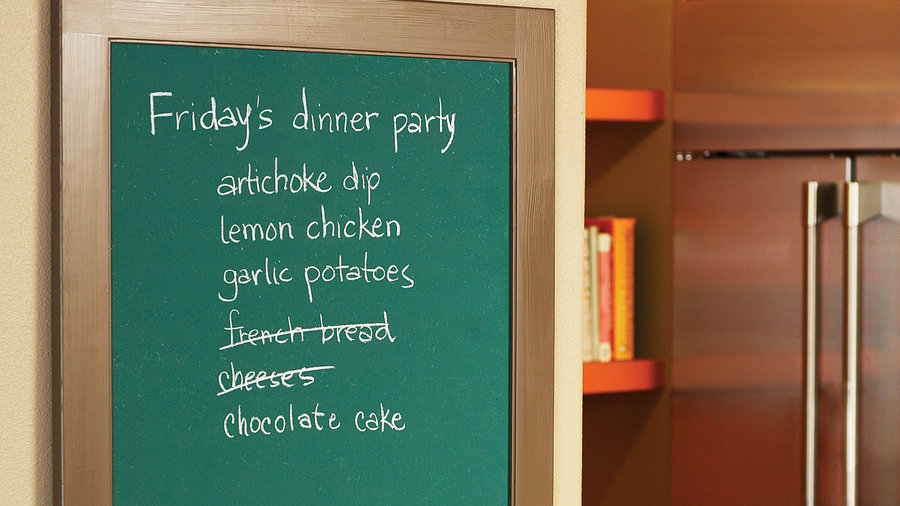 How to make a family message board with off-the-shelf products
Communicating with a busy household is much easier when your message center is tailor-made to fit your space and your needs.
Our customized message board combines three different surfaces ― chalkboard paint, magnetic paint, and cork ― with a frame that you paint to blend in with your kitchen decor.
First, identify and measure the best spot for your message board. Then determine how much surface area you need for pushpins, magnets, and chalk.
Pick a frame and design the layout (we made a simple grid). Finally, attach a small tray to keep accessories close at hand. It's a big payoff for minimal investment; our total project cost was $80.
Materials
These supplies and dimensions make the message board pictured; adjust sizes to fit your own design.
24- by 36-in. wood picture frame (frames with flat trim work best for attaching the supply tray)
Painter's tape
24- by 36-in. (custom-cut) piece of hardboard (1/8-in.-thick fiberboard)
Drop cloth
1 can of chalkboard spray paint
1 small can of magnetic paint
Small paint roller
Sandpaper
Divided drawer organizer tray
Tack cloth
Wood glue
Clamps (or large binder clips)
12- by 12-in. cork tiles (¼ in. thick)
Paintbrush
1 small can of paint for frame
Next: How to make this message board Directions

1: Dismantle the picture frame: Set the backing aside and discard glass, if any.
2: Use painter's tape to partition off a section of the hardboard for the chalkboard paint. (Adjust measurements to allow for tape width.)
Place hardboard on drop cloth and spray on chalkboard paint, applying at least three coats; let dry between coats.
When completely dry, adjust tape to partition off a section for magnetic paint. Apply at least three coats of magnetic paint with the paint roller; let dry between coats.
3: Lightly sand the frame and drawer organizer tray, using tack cloth to remove dust.
Use wood glue to secure the tray to the frame in its desired location.
Secure it with clamps until completely dry (according to glue instructions).
4: Once the paints on the hardboard are dry, secure the cork to the hardboard with wood glue. Clamp until dry.
5: Use the paintbrush to paint the frame and tray (apply two coats for best results, letting paint dry between coats). Once the frame is dry, insert your hardboard and secure it with the original frame backing. Mount to the wall using the frame-mounting hardware sold with the frame.
Keep Reading: