Sunset Makeover: 5 Stunning Ideas for Outdoor Rooms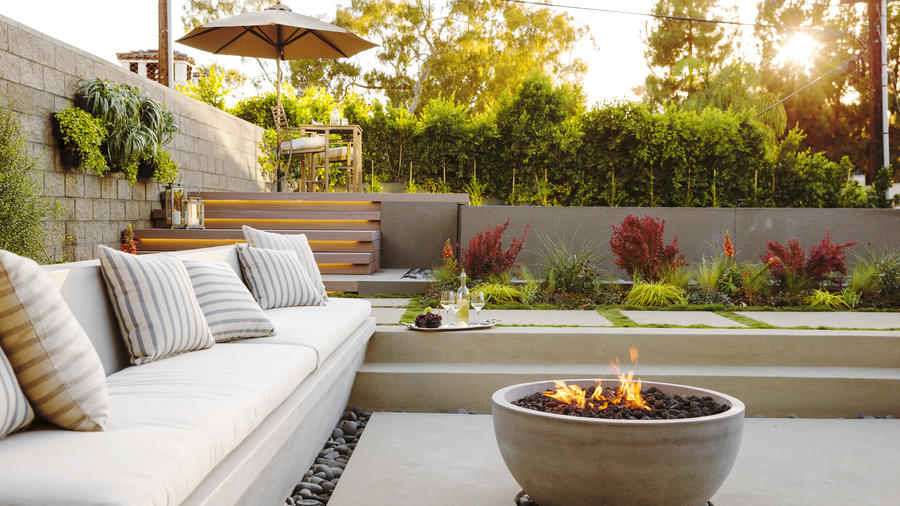 Five outdoor rooms that take a simple idea and celebrate it in their designs.
Summertime, and the living is easy…especially if you're lucky enough to have an outdoor room to call your own. The best ones, like the backyard lounge pictured here at Sunset's 2014 Idea House, take a simple, almost primal idea (warmth!) and make it an integral part of the design. Here, five commandments to consider for the outdoor living space of your dreams.
1. Blur the Lines 
Let's talk about that window wall, shall we? At the 2014 Sunset Idea House in Manhattan Beach, California, the design team of DISC Interiors created a cohesive flow between indoors and out with the use of neutral fabrics and woven materials. "Carrying the same tones in and out makes spaces feel more put together," says designer David John Dick. The strong geometry of the yard is broken up by plantings with height and by the wavy texture of the red fescue lawn (which only needs mowing once a year).
2. Decorate for Comfort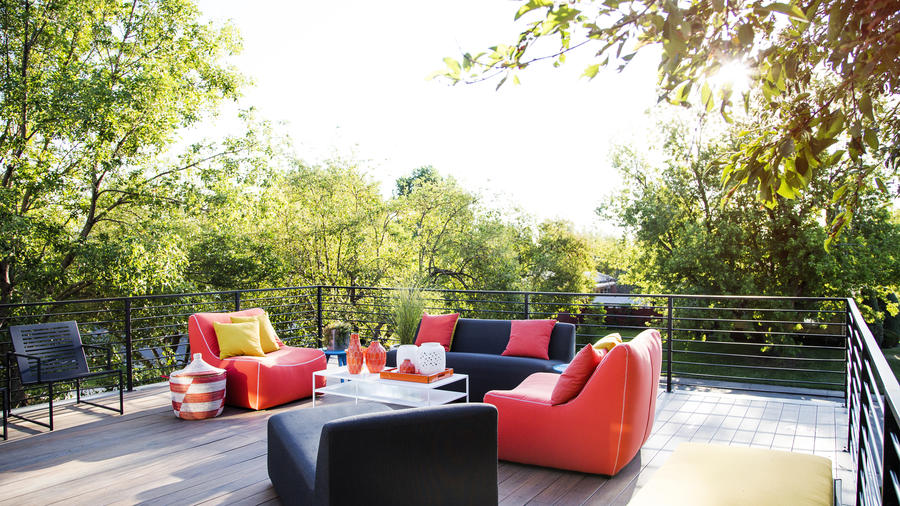 Landscape designer Jessica Lummus of Environmental Designs in Henderson, Colorado, turned the roof of the garage at Denver's 2015 Sunset Idea House into a colorful space for alfresco entertaining. What makes it work? The combination of hardy materials—composite wood decking that gives the garage roof extra protection from sun and moisture—with Sunbrella-upholstered outdoor furniture that practically beg you to kick back.
3. Provide Shade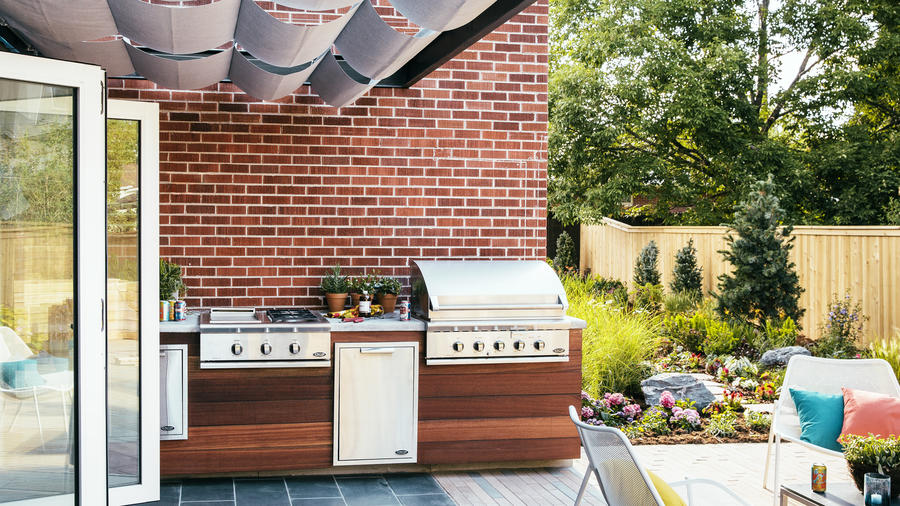 You're at the grill, nursing a cold one, cooking up a feast for your friends on a Sunday afternoon. Sure, you could bake in the sun or drag a patio umbrella over to keep you company—or you could invest in a retractable shade panel structure like the one pictured here at the Sunset's 2015 Idea House in Denver. The wavelike design of the awning echoes the staggered pattern of the patio doors underneath.
4. Create a Relaxation Retreat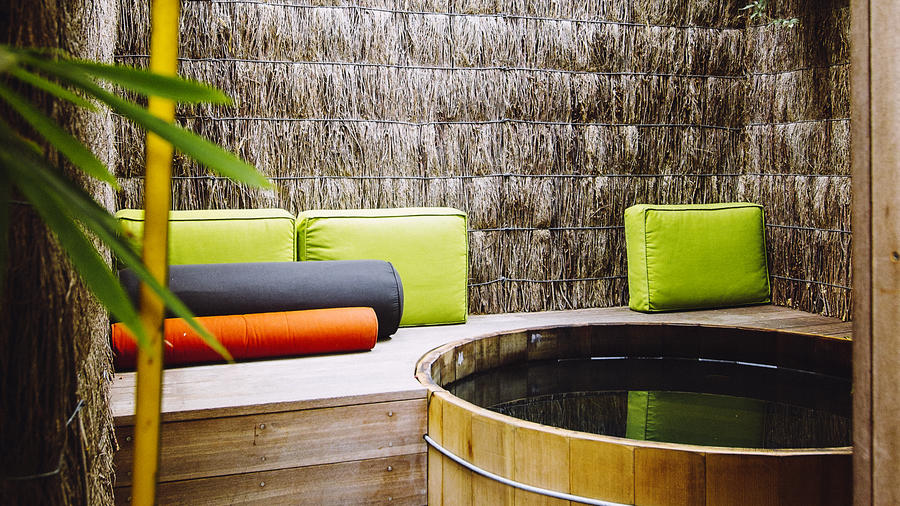 At his 750-square-foot home in Venice, architect Steven Shortridge turned a concrete patio into a front yard packed with small-space ideas—including this hot tub hidden in a corner behind Australian brushwood fencing. Landscape architects Jay Griffith and Russ Cletta filled the 320-square-foot yard with queen palms, clumping bamboo, ferns, and purple plum trees around the perimeter for privacy.  
5. Reuse and Recycle
The father-daughter duo behind McKenna Landscape, Eric and Leslie McKenna, are know for their ability to turn recycled materials into magical environments. Case in point: the shaded outdoor room they created in an 18-square-foot plot at Sunset's former Test Garden in Menlo Park, California. "There's something very appealing about materials that have already been well loved," says Leslie, in reference to the salvaged wood boards and windows that make up the structure. "Maturity feels comforting." Citrus, herbs, and golden grasses add lushness, as does the impromptu trellis for an akebia vine. Afternoon nap, anyone?
---
Read the 2021 Harvest Issue Right Here
Get one year of Sunset—and all kinds of bonuses—for just $24.95. Subscribe now!
Keep Reading: