Garden Cottage Greenhouse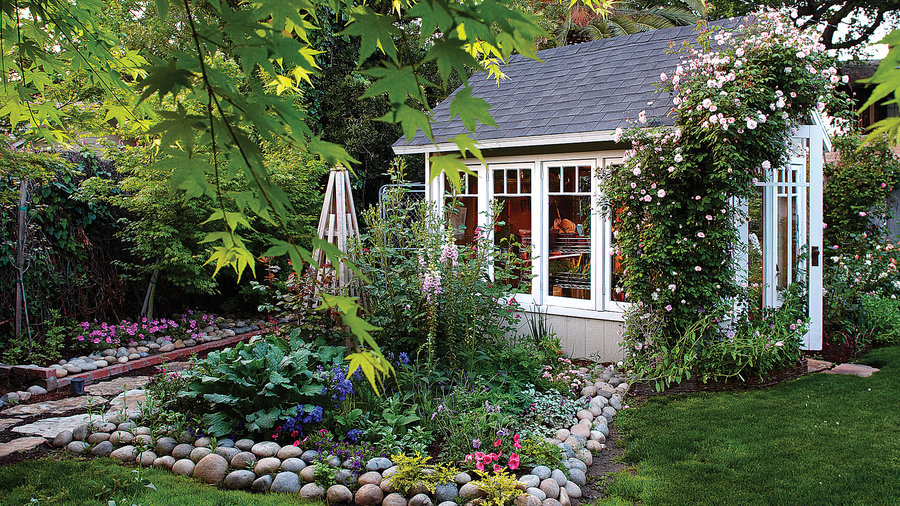 Bright and airy, this backyard shed and greenhouse is a space any gardener would love
Garden shed or greenhouse? The structure pictured here, a charming focal point in a backyard in Exeter, California, is both. But owner Connie Featherston prefers to call it her garden playhouse.
"I had to put a clock in there because I have so much fun, I literally lose track of time," she says.
Good times aside, the shed's genesis was also practical. "The real reason I decided to build it is because I used to grow all my seedlings in my kitchen window, and I got tired of cleaning potting soil out of the sink," Featherston says.
The 8- by 10-foot greenhouse/shed hybrid, which sits on cement footings, fits her needs perfectly. She loves raising her seedlings here (heirloom flowers and vegetables are a particular favorite), and overwintering her orchids.
Positioned so its door faces the back patio, the shed is also designed to let in plenty of daylight while minimizing prolonged exposure to direct sun during the Central Valley's very hot summers. Featherston oriented it slightly off a direct east-west axis and kept its most westerly wall solid.
Prefab siding covers the wood frame; asphalt tiles cloak the roof. ("A glass roof was out of the question in this climate," Featherston says.) The windows and door are all recycled; Featherston nabbed them from the main house, where she'd just had them removed to make way for new ones.
"The old windows are perfect for the shed," she says. "I told my carpenter friend who did most of the building, 'All windows have to open. I want as much ventilation as possible.' That's good for me and the plants."
What makes it work
Inside the shed, portable shelving and storage containers of moisture-resistant galvanized metal or stainless steel―wide enough to hold pots and flats of seedlings―are placed near windows. A potting table sits against the solid back wall; galvanized metal tubs on its bottom shelf hold bagged potting soil. The shed's horizontal framing doubles as additional shelving for storing vases and small pots. There's no floor―just a thick layer of gravel to absorb water spills.
Just outside the shed is a small plot edged with cobbles and ornamentals where Featherston raises many of the flowers and vegetables that she starts from seed. She experiments here with color themes.
"One year I filled in the area around the shed with chartreuse-flowered plants," she says. "Another time I went with plum purple. The unity of color brings the whole garden together."
Bright and airy, Featherston's garden cottage is a space any gardener would love. "The shed lets me grow everything I need, plus plenty of plants for my friends," she says. The best part? It took just five days and $2,000 to build.
Details
Durable furnishings and well-organized tools and materials are key to a small but efficient workspace. Here's what makes Connie Featherston's greenhouse/shed a pleasure to spend time in.
Fixtures: The table is from Costco and shelves (freestanding and hanging types) are from the Home Depot. The metal stool is an antique find. Galvanized metal trash cans hold long-handled tools, while trowels and other hand tools hang from metal hooks attached to the overhead shelf.
Temperature control: Good ventilation helps keep the greenhouse cooler in summer. Featherston uses an oscillating fan, and wets the gravel floor with a hose for evaporative cooling. When temperatures get too hot, she moves plants to her shaded patio; on cool winter nights, she uses a small heater.
Keep Reading: