7 Fresh Paint Ideas for the Front Door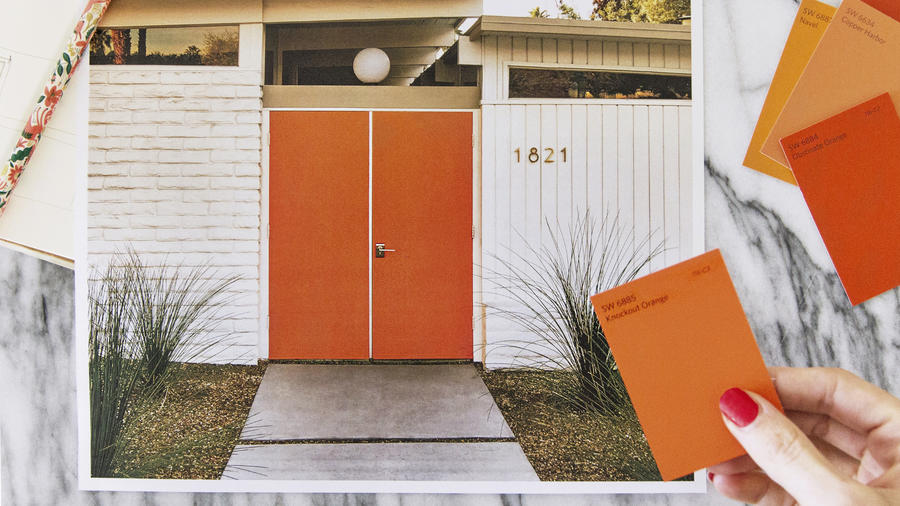 Looking to give your house's façade a facelift? Start with a fresh coat of paint on the door. Fives designers share their favorite hues for this spot.

1. Vibrant Red
Tracy Morris, of Tracy Morris Design in Washington, D.C., loves Benjamin Moore's Moroccan Red (1309). "This color gives the 'red door' new meaning. It is a bright splash of red without too much orange and looks amazing with gray shingles or hardi-plank."
2. Classic Neutral

Designer Nate Berkus suggests a contemporary, cool-gray color for the front door. Farrow & Ball's Elephant's Breath has a hint of magenta, so in West-facing spaces, it can transform into a soft lilac color. "I'm painting trim, doors, and cabinetry in shades of putty," he says. "It looks fresh and timeless at the same time, especially when paired with white walls and trim."
3. Bold Blue

Another favorite of Morris's is Benjamin Moore's Southern Belle (819). "This beautiful blue is a welcomed complement to any 'cottage style' house with white siding. It has a strength that can balance the starkness of the white, while providing a needed freshness."
4. Deep Black

Tobi Fairley, of Tobi Fairley Interior Design in Little Rock, Arkansas, opts for "crisp and classic exterior colors—especially a warm, white house color combined with a cool and deep black on the door." Her choice? C2's 981 Aperture in High Gloss. "It's a sophisticated and chic look that gives great curb appeal!"
5. Robin's Egg Blue

According to designer Elaine Griffin of Elaine Griffin Interior Design in New York City, robin's egg blue is the new black. "It goes with virtually any building material (your front door should complement your façade's finishes), with any architectural style, and looks fabulous in any landscape and climate." Griffin reminds us to consider these three things when choosing a door color. Griffin's favorite robin's egg blues include Benjamin Moore's Galt Blue (CW-560), Sherwin Williams' Copen Blue (SW-0068), Valspar's Lament Blue (5001-5A), and Valspar's High Noon (5001-5B).
6. Turquoise Blue
Whether your home is mid-century, Spanish, traditional, or a modern farmhouse, designers Maria von Hartz and Annie Fitzgerald of Von Fitz Design in Los Angeles, California, opt for Benjamin Moore's Mexicali Turquoise (662). "The color welcomes you in and says, 'Come in and stay awhile'—who doesn't want that in a front door?" If you want extra pizzazz, make it a statement door by adding some oil-rubbed brass or bronze hardware.
7. Unexpected Orange
If you're looking for something a bit unexpected, Morris also suggests Farrow & Ball's Charlotte's Locks (268). "This juicy, orange color is amazing on a front door in a modern application," she says. "It's beautiful paired with stainless cable rails and grey siding."
---
Read the 2021 Harvest Issue Right Here
Get one year of Sunset—and all kinds of bonuses—for just $24.95. Subscribe now!
Keep Reading: