11 Surprising Ways to Decorate with Green
Timeless, versatile, and rooted firmly in nature, it's never a bad idea to go with green.
Few colors wear as many hats, check as many boxes, or please a crowd the way that green can. It can transport you to the tropics or a misty forest, it can be safe or surprising, shocking or subtle as a whisper. "I think there is a timelessness about green, maybe because it reminds us of nature which is eternal," says Los Angeles-based interior designer Taylor Jacobson. "It's very soothing. And it pairs really well with the natural textures that I love to use in interiors, like wood, cane, rattan, and sisal." From grass to pine, teal to mint, here are some of our favorite ways to play with green.
Cover an Accent Wall with Cheery Flowers
Taylor Jacobson paired a floral wallpaper in a leafy colorway with a rattan chair and a gray painted day bed for this girl's bedroom.
Pair Grass Green Walls with Gold, Camel, and Berry Tones
Interior Design firm Nickey Kehoe chose a vivid green Portola paint, inspired by the forests of Oregon, as the backdrop of this eccentric library (furnished with classics like a Chesterfield sofa and plaid upholstery) near Santa Barbara.
Have Some Fun with Color and Pattern
Skip a remodel and freshen a powder room with statement wallpaper, like Miami from Cole & Sons. Interiors by Taylor Jacobson.
Let It Take Center Stage in a Neutral Room
Matching emerald velvet sofas from Lulu and Georgia make a big, clutter-free impact in a serene living room.
Try a Mix of Green Tiles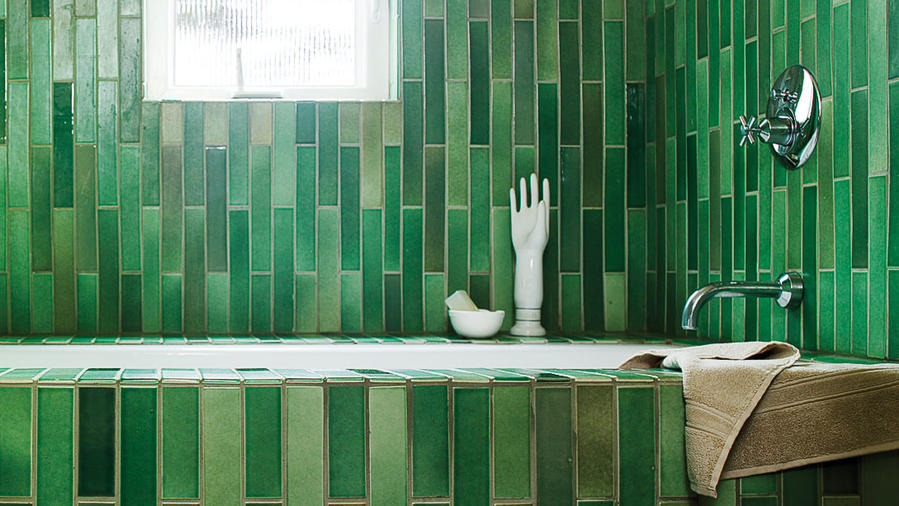 Heath tile, in two shades of glossy and matte sea green, has natural color variation that gives this bathroom textural depth.
Go High with a Grouping of Pendant Lamps
Ceramic pendant lights in shades of moss and teal add a pop of color in a neutral kitchen.
Upgrade Kitchen Cabinets with Earthy Moss-Colored Paint
Green kitchen cabinets are an eternally stylish choice—and look right in nearly every style of house. Take a page from DISC interiors and give it an old-world look with brass hardware and unpainted wood drawer pulls or open shelves.
Refresh an Heirloom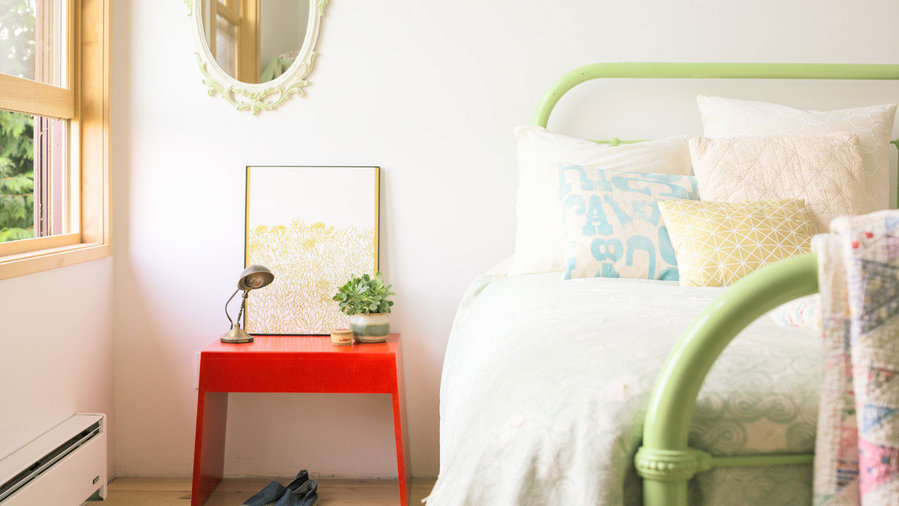 A second-hand bed gets a new attitude thanks to a few coats of grass green lacquer.
Take a Big Swing with Patterned Tile
San Francisco-based Clé Tile partnered with Eskayel, a textile and wallpaper company known for its beautiful abstract prints, to create a line of delicately patterned cement tile.
Play It Cool in a Small Sitting Area
Seattle-based interior designer Heidi Callier chose a pale sea-green for this clever seating area, with a built-in sofa and workspace. Callier tossed in throw pillows with deeper complementary colors, like indigo and plum.
---
Read the 2021 Harvest Issue Right Here
Get one year of Sunset—and all kinds of bonuses—for just $24.95. Subscribe now!
Keep Reading: