3 Brilliant New Cleaning Gadgets to Get on Your Radar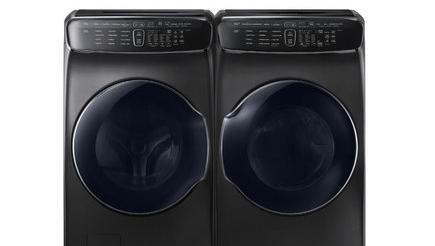 Doing household chores is about to get a lot easier—thanks to these inventions debuting right now at CES 2017
The 2017 Consumer Electronics Show is underway in Las Vegas, Nevada. For those of you who aren't quite sure what that means, it's a tradeshow where consumer technology businesses gather to announce their newest products and innovations for the coming year. While the show is only a few days long, there are so many new and exciting products that it can get overwhelming. Luckily for you, we've rounded up the coolest cleaning gadget launches that promise to make mundane tasks a little more fun. Check back throughout the week for updates from the show. For more innovation, take a look at our roundup of tech gadgets that will transform your home. 
Samsung FlexWash + FlexDry
Samsung's latest laundry tech combines two washers and two dryers into one machine. You can use the front-loader to wash bigger loads, and the top-loader to wash smaller loads separately and on a different setting. With the FlexDry, you can dry larger loads, while drying delicates on the Delicate Rack zone on the top, which has a heated airflow. Plus, you can control the whole system with a smartphone, using the Samsung Smart Home app. Price and release date TBD.
Related: 9 small cleaning resolutions you should make in 2017
LG Cordzero Stick
It's annoying having to unplug and re-plug as you maneuver your vacuum room to room. The CordZero Stick has a motor that spins 16 times faster than an airplane engine—so it will leave your floors spotless with its powerful suction. The vacuum also has an advanced filtration system to keep dust out of your house. It comes with a self-standing charger, but it's equipped with two removable batteries so you won't run out of charge, whether you're cleaning a studio apartment or two-story home. There's also a canister version that automatically follows you throughout the room, so you don't have to drag or pull on a cord. Price and release date TBD.
Related: How to clean 8 of the trickiest spots in your home
POWERbot VR7000 Vacuum Cleaner
This smart automated vacuum cleaner is super-slim—it's less than four inches tall—so it can fit easily under the bed or sofa. The device has a self-cleaning brush system so you won't have to worry about dust and other particles getting trapped. And did we mention it's extra smart, too? It will map the room for you and detect obstacles, plus it automatically adjusts suction power depending on the surface. You can program cleaning times and start the machine with your smartphone or through an Amazon Echo device. Price and release date TBD.
Keep Reading: