Fresh and Colorful Kitchen Redesign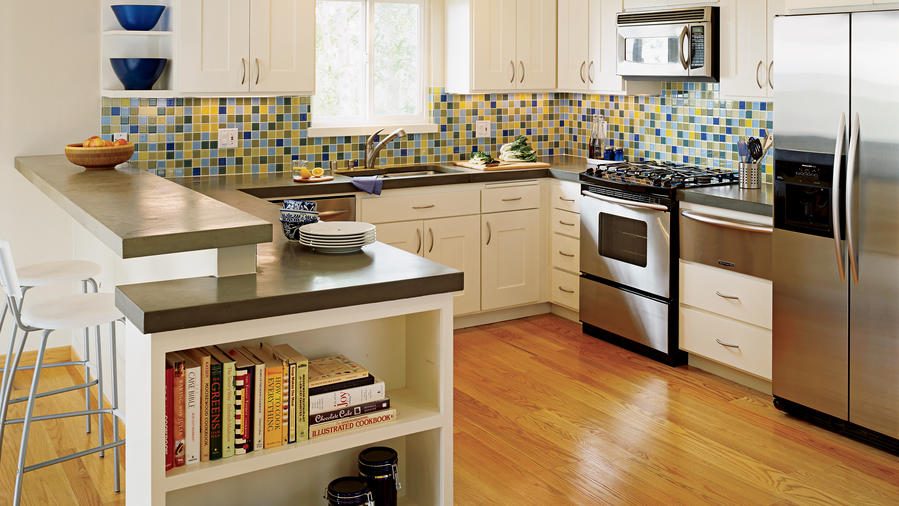 See how this new kitchen gains style and color, but still occupies its original footprint
What does a kitchen remodel cost these days?
In the case of Jean Ingram and her husband, Greg Cook, the goal was to transform their bland, Ushaped space into a brighter, more contemporary kitchen where the family could gather and entertain―without going beyond the room's footprint.
The cost of the makeover: about $30,000.
A major flaw in the old kitchen was the crowded, inconvenient configuration of the cooktop and double ovens―side by side with no counter space in between. By installing a range and a warming drawer, the couple gained extra counter space and another cabinet.
To revitalize the overall appearance of the room, they added Shaker-style cabinet fronts, which they painted white as a foil for a vibrant glass-tile backsplash. New niches display cobalt bowls.
"It's such a beige house, we wanted color," says Ingram. A two-toned, two-tiered concrete counter―pale green above and charcoal gray below―adds sleekness.
What it cost
Custom cabinetry $12,500
Custom concrete counters $5,500
Glass tile $1,200
Painting $1,500
Appliances $6,800
Floor refinishing $1,300
Sink, fixtures, hardware $1,300
Design Stephen Swearengen, architect, Oakland, CA (510/410-7371). Color consultant: Jon Schmidt Interior Design, Piedmont, CA (510/451-8605)
Related:  More amazing home makeovers
Keep Reading: