S'mores Without the Smoke: Our Favorite Smokeless Fire Pits
Get the cozy/chill vibes of a beautiful campfire without the pollution, and danger, of smoke, thanks to these efficient combustion stoves and fire pits.
I've been around long enough to understand that a certain amount of self-awareness (and acceptance) is critical to my enjoyment of the "great" outdoors. I will not sleep on the ground, for one, even on a 1/2-inch thick inflatable "comfort" pad. I would rather not "just dig a hole," as my husband and children suggest when bathroom facilities are not available. Flying insect repellant is as necessary as oxygen to me. And campfires, however much I love to be warm and bathed in flickering, flattering light, are not always what they're cracked up to be. The sparks, for one, give me a heart attack. At no point do I want an arson investigator following a trail of clues (gummy s'mores sticks, graham cracker crumbs, and Hershey Bar wrappers?) to my campsite, or front door.
And the smoke. No matter how many times I musical-chairs myself around a fire pit, I am eternally downwind. (Note to self: Eternally Downwind = potential title of airport romance novel I will one day write.) I also get to re-live the eye-burning, smelly magic until I can get back to civilization and wash my hair. But my family loves spending days in the wild and long nights under the stars.
This may be why, when my friends were getting massages and flowers for Mother's Day, I got a smokeless Solo Stove fire pit. It's a super efficient stove that lights easily, burns any fuel you toss in it, and circulates the smoke through a patented airflow system. It's light and portable enough to take with you on an adventure. And it generates an impressive amount of heat.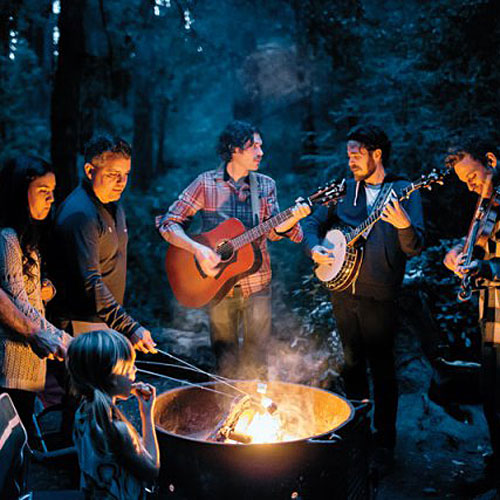 I may never learn to play the banjo, or be as carefree about inhaling campfire smoke as these cool people are.
Smokeless fire pits from brands like Solo, Tiki, and Breeo have a double-walled construction that allows for a unique air flow system. The best way to describe what's happening is that the fire burns its own smoke, more specifically the particulate matter that creates smoke. It's called "secondary combustion design." Oxygen comes in through bottom vents, hot air rises, a kind of pressurized system is created, and the smoke is re-absorbed into the flames until it burns clean.
A quick word for the skeptics out there: You're right, these stoves and fire bowls are not entirely smokeless. For the first 10 to 20 minutes, you'll catch a whiff. The Breeo site explains that it takes a minute for the fire to generate enough heat for the system to work. 
"You might also experience smoke if you're either working with fuel that's not dry enough or pieces that are too big," the site cautions. "Anything larger than 4 inches in diameter is not recommended. It's also important to focus on maintaining airflow as you lay fuel into the pit. Log cabin or teepee styling your fuel is the best way to ensure enough airflow. The first couple of tries might take some fine tuning, but with practice and the proper steps, you'll be getting a smokeless fire every time."
I stay warm. Bourbon is poured into an enameled cup. The night gets festive. And the air stays clean. It's a win-win-win-win situation, and everyone's happy. Until the wild animals show up. But that's a story for another time.
More Smokeless Fire Pits to Explore 
We only recommend things that we love. If you buy something from our site, we may earn a commission.
---
Read Our 2021 Harvest Issue Right Here!
Keep Reading: