12 Essential Reusable Products for the Home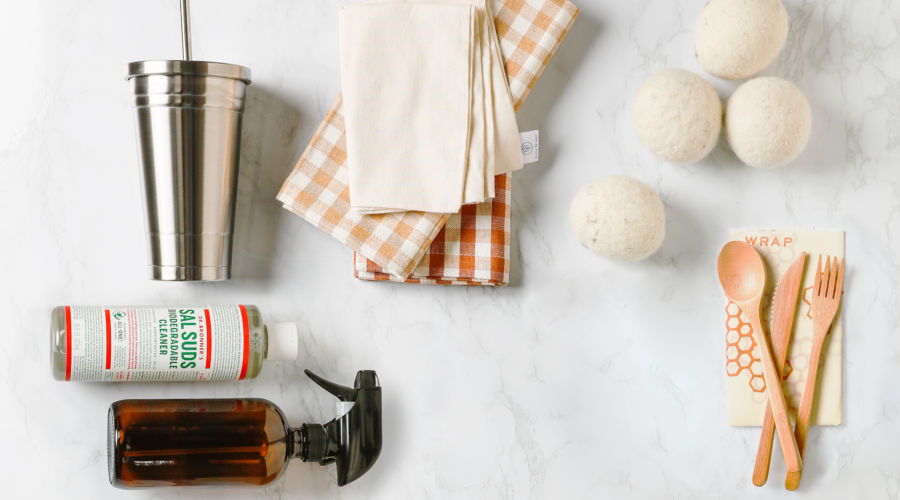 Here's our guide to kick-starting a nondisposable lifestyle
You bring a reusable bag to the grocery store and you ditched plastic bottles for a reusable water canteen years ago. But there are plenty more ways to curb waste across your home, from the laundry room to the shower.
1. Enjoy iced coffee guilt-free with a stainless steel tumbler. $24
2. Load up in the produce or bulk-bin aisle with all-cotton bags. $15.50/2 ­
3. Swap dryer sheets for natural-wool dryer balls, hand-felted in Sonoma County. $35/set of 5
4. Many cities and counties do not accept plastic utensils in the recycling bin. This bamboo variation is reusable and light for on-the-go use. Totally Bamboo 3-Piece Bamboo Flatware Set, $5.95
5. Trade plastic wrap and baggies for beeswax wrap, crafted from beeswax, organic cotton, organic jojoba oil, and tree resin. $18/assorted set of 3
6. Replace plastic bottles with shampoo bars. Syrian soap-maker Hassan Harastani uses a 3,000-year-old laurel berry oil recipe, effective for everything from hair to dish washing. From $6
7. Don't toss it, repair it. In her new book, Mending Matters ($17.82, Abrams), Katrina Rodabaugh shares her slow-fashion techniques for artfully restoring denim—and more.
8. Wool sponges are naturally antimicrobial and antifungal. Full Circle Wool Sponges, $8.50
9. Stainless steel containers are the new brown-bag lunch. $10
10. Many natural-foods stores offer refills of nut butters, olive oil, honey, and agave. BYO glass jar when you go shopping. Weck Sturz Canning Jars, from $4
11. Mix, label, and store natural cleaners in amber spray bottles. Sixteen-ounce bottle, $9
12. Cut down on clutter with Sal Suds. The all-in-one biodegradable product multitasks on dozens of household cleaning duties. From $9
Keep Reading: