Get the Look: The 10 Most Beautiful Farmhouses of 2019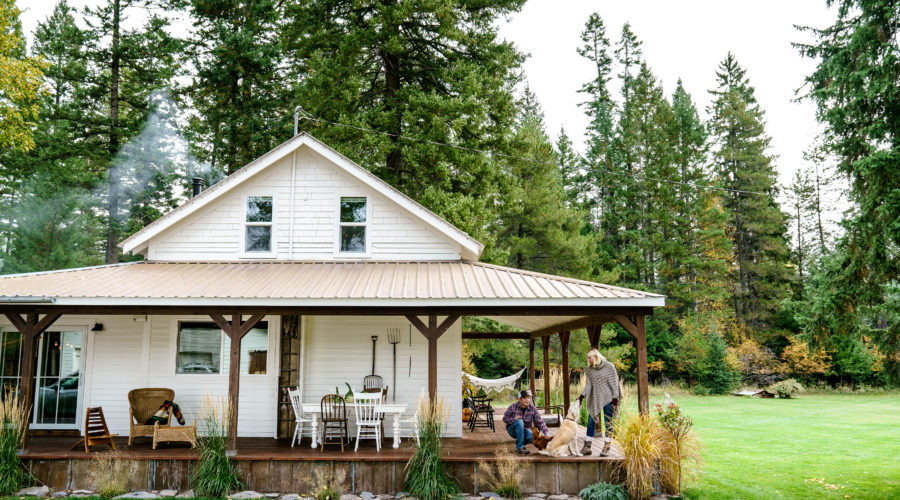 It's easy to see why this home style is one of the most searched for this year
Are you still loving your shiplap boards, clapboard siding, hefty reclaimed wood dining tables, Shaker chairs, apron sinks and farmer's market signs? Well, you're in good company then, because Google Data's Top Charts has turned up "farmhouse style" as the top trending home search for 2019. The long-lasting trend has made it to the edge of 2020, sustained by HGTV shows like Chip and Joanna Gaines' "Fixer Upper."
The new farmhouse style, however, has a few updates. You can still dig the design, while updating it to a very contemporary style that incorporates playful, minimalist, industrial or stylishly vintage elements. Here are a few of our favorites from this year.
Simple Contrasts
The wood frame on the porch of this Bainbridge home lends color and contrast to a black-and-white color scheme.
A Tall Order
This fresh perspective defies traditional farmhouse style, bringing unconventional height and a second gabled roof like a shadow just behind the first.
Gentle Uniformity
The dainty multiple columns and repetition of same-sized windows lend a reliable, reassuring feeling to the facade.
The Barn as the Main House
This two-story barn fills the order when it comes to a gracious main home.
A Welcoming Vista and A Red Barn
https://www.instagram.com/p/Bp4cKV2FYRm/
Colorado-based Gowler Homes created this welcoming home with a large porch and a connected red barn. Can't you just see yourself farming a small garden patch out back? 
Minimalism With Warmth
Felesha and Jerimiah McAfee's Montana farmhouse features a living room with few items that's still warm and welcoming.
Bring the Outside In
Celine's farmhouse vacation home is built around external elements. Exposed beams, an imperfectly-washed ceiling and a stone hearth lend just enough rustic casual to this home.
Rock and Talk
The rocking chairs at this Oregon farmhouse are the perfect excuse to while the afternoon away. The old-fashioned tub is a great second choice.
Make New Friends, But Keep the Old
Ron Bird, Courtesy of Compass
The Carmel Valley Egg Farm has a shiny new stove, but its breakfast table and wood stove pay homage to its farmhouse past.
Feeling Blue
Update an old farmhouse, like our Garden Editor Heather Arndt Anderson did with her 1892 beauty, with a brand new coat of blue and a contrasting trim.
Farmhouse Glamour
Paul Rollins Photography, courtesy of Compass
Owning a farmhouse doesn't mean leaving modern comforts behind — especially if you own this Napa homestead with a pool, bocce court, art studio, and luxurious patio. Our favorite feature is the modern white living room next to the kitchen, with its fireplace and wet bar.
Keep Reading: