Last-Minute Christmas Tree Rentals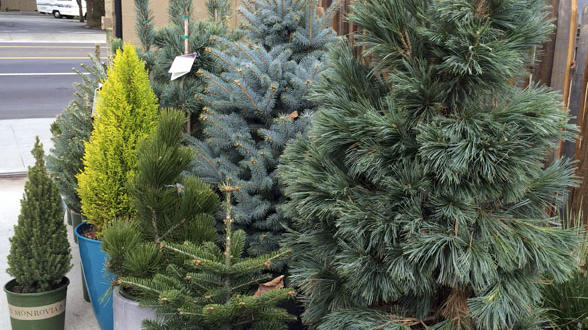 Live potted Christmas trees have a lot going for them. They're beautiful, fresh, and they're keepers, which is why we often bring a f…
Live potted Christmas trees have a lot going for them. They're beautiful, fresh, and they're keepers, which is why we often bring a few into Sunset's garden to trial.
Trouble is, they'll grow. Big. I know; I once took home a cute little potted Douglas fir to decorate the front entry. After the holidays, I set the pot on bare soil in the back yard. The tree rooted through the pot's drain hole, and is now more than 16 ft. tall. I'll probably need a burly tree mover to dig and move it to a roomier spot. Maybe I should have rented a live tree instead, from an equally burly tree- mover, like Scotty Claus.
[CALIFORNIA]
Landscape architect Scott "Scotty Claus" Martin founded his tree rental business, The Living Christmas Company in Redondo Beach, California, because he wanted to curb the flow of cut Christmas trees that get sent out with the trash every year. For a fee (varies by tree size), Scotty's elves (including volunteers from Tree Musketeers and Boy Scouts), will deliver the 7-to 10 foot tree to your door and return after the holidays to pick it up and keep it growing until next year. Blue spruce is the most popular tree, but Scotty also rents cypress, Deodar cedar, Aleppo and Monterey pines, and white spruce, with discounts for "misfit trees" that have slight leans or bald spots. To order his live potted trees online, choose the type and size you want, and schedule pick up and delivery times.
Also check out:
The Original Living Christmas Tree Company (TOLCTC}, Portland. Owner John Fogel has been renting live, potted trees since 1992, then donating some trees to parks, schools, after the holidays, re-renting others until they grow big enough to sell as mature landscape trees. Choose from spruce, fir, pine, cedar, and redwood, in sizes ranging from 4 ½ to 7 ½ ft. tall. "The shape of our trees is half way between a natural sparse tree that grows in the forest and a sheared cone shape," he says.
Keep Reading: