How to Keep Your Garden Thriving All Summer Long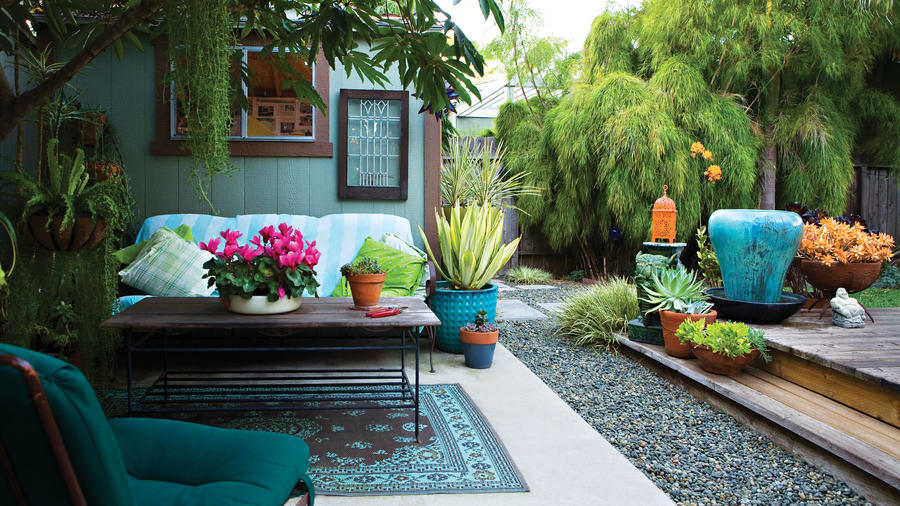 Beat the heat and keep your garden in tip-top shape this season
Summer can be an exciting month for gardening when you think about everything that's in season (dahlias, tomatoes, and so much more), but with rising temperatures, scorching sun, and unwelcome pests taking over, your garden may need a little bit more TLC during this time of year. "Dry soil, wilted plants, overgown weeds, and brown grass are common signs of an unhealthy garden," Danny Watson, a Home Depot garden center associate, says. "Thankfully there are easy ways to combat these problems." But where do you even start? Watson shared his best advice for summer gardening with us. If you follow these care tips your garden will look lush and vibrant all summer long, which is ideal if you're planning on hosting a lot of backyard gatherings this year. Don't worry, it won't take up too much of your time (or cost too much money), so you can prep and care for your garden and still be able to hit the beach, head out on your road trip, or just enjoy a lazy summer afternoon at home.
1. Be Smart About Watering
While the temperature may be warmer and drier, you don't have to spend every moment of your free time watering your plants. Watson says it's all about being smarter about watering. "The typical rule of thumb is to water flowerbeds twice a week with plenty of water," he says. "This will be more effective than watering the flowerbeds more frequently, with less water."
2. Don't Water at Night
It might seem like a good idea to do this task when you get home from work, but think again. "Try avoid watering plants in the evening—the warmth and moisture encourages fungus growth," he says. "As we head into the hottest part of the summer, try to do your heaviest watering in the morning. Only water in the evening if the plant really needs it." He also advises against watering in the middle of the day when it's the hottest as the soil will soak up the water faster, leaving less for the plants to use.
3. Feed Your Plants
"Plants need more than just extra water to endure increasing temperatures and strong sun exposure during the summer months," Watson says. "Place a 3-inch layer of Earthgro® by Scotts® Mulch in beds and around plantings to help the soil retain moisture and keep plants insulated from high temperatures. It is also important to feed plants throughout the summer season. The LiquaFeed® Universal Feeder from Miracle-Gro attaches directly to your hose and automatically delivers the right amount of food so you do not have to worry about burning your plants."
4. Prune Away
Keep an eye on your garden and remove any diseased, damaged, or dead debris as they block airflow and growth. "If you notice a plant with dead blooms, cut them back now to ensure it grows healthier next season," he says. "Light pruning all year encourages steady growth and builds a healthy plant." You'll also want to be vigilant about dealing with any weeds, too. Weeds thrive off summer heat and steal nutrients and water from other plants, so catch them before they grow and spread.
5. Combat Pests
Bugs can be abundant in the summer months, so much so that it can be overwhelming. "It is important to know which types of insects you are dealing with and which products to use," he says. "I recommend Ortho Bug B Gon Insect Killer Granules to rid your lawn of pesky ants, ticks, and spiders. A single application, with thorough watering, helps keep pests from crashing your summer fun for up to three months. For flying insects, such as yellow jackets, Japanese beetles, and wasps, try placing traps, like the RESCUE Reusable Yellow Jacket Trap around your yard, making sure to avoid doors and high traffic areas."
6. Add Some Shade
"If an area of your yard or garden is exposed to strong sunlight for the majority of the day, find a way to create shade," Watson says. "You can use a stunt plant, such as a tree or cluster of bamboo to provide shade for your flowerbeds."
Keep Reading: