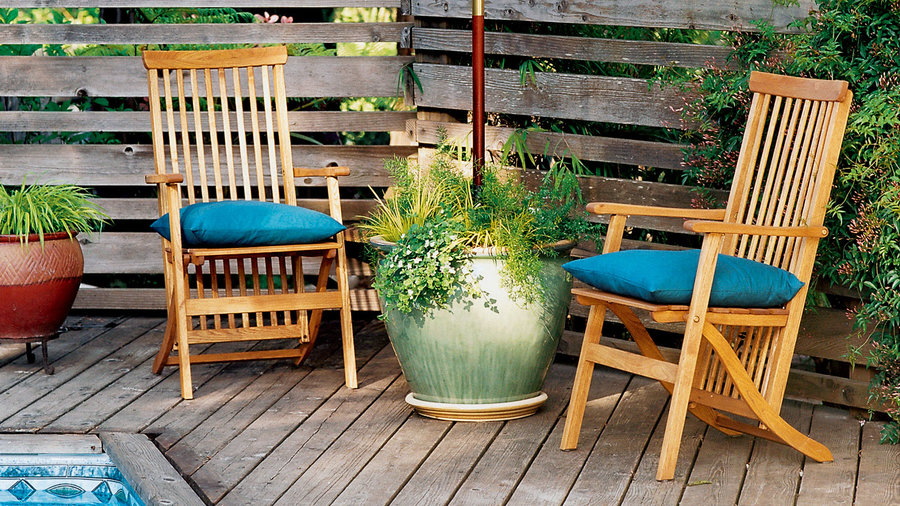 Plant an umbrella in a pot full of greens
Strong wind is no friend to most patio umbrellas, but it would take a hurricane to budge this setup.
The umbrella rises from a sleeve centered in a flowerpot that's filled with three layers of material: a bottom layer of lava rock to hold the sleeve in place, a center layer of concrete for extra rigidity, and a top layer of planting mix. When there's no need for shade, just lift out the umbrella — the plants should mask the sleeve.
Choose any large pot and umbrella that match your garden decor and coordinate with each other.
The container should be broad-based for stability and at least 15 inches tall (ours is 24 inches) and 20 inches in diameter so there's room for the three layers.
Use 1½-inch ABS (a black plastic vent) pipe from a home improvement store for the sleeve; make sure the umbrella pole will slip inside it easily.
The cost will vary depending on the umbrella, pot, and plants you choose, but it shouldn't exceed $200.
Tools
Measuring tape
Saw
Shovel and hoe
Garden hose
Wheelbarrow
2 levels
Dolly
Materials
Flowerpot (at least 15 in. tall, with drainage)
3-ft. length 1 1/2-in. ABS pipe
1 square ft. nylon or aluminum screen
1 cubic ft. crushed lava stone
1 50-lb. bag fence-post concrete
3-ft. length 3/4-in. dowel
Planting mix and plants
Patio umbrella
How to build your umbrella stand
Measure depth of pot, and cut pipe to extend 8 inches above top.
Cover drainage holes in pot with screening. Pour in about 1 inch of lava stone and work one end of the pipe into it, centering pipe vertically in the pot. Pour or shovel in remaining lava stone around pipe to hold it in place.
Use water from hose to mix concrete in wheelbarrow according to directions on the bag. Shovel 2 to 3 inches of concrete in over lava stone, using hoe to create a slight slope away from pipe.
While concrete is still wet, use levels to check that pot is horizontal and pipe is vertical; also hose out wheelbarrow.
Cut dowel to six 6-inch lengths and push them vertically into wet concrete at equally spaced intervals around pipe to create drainage holes. Note: Be sure to wiggle the dowels around when the concrete is wet so they'll be easier to remove when it hardens.
Let dry overnight; pull dowels out. Use a dolly to move pot to final location before filling with potting mix, adding plants, and sliding in umbrella. If it is loose, add wood shims around pole to keep it vertical.
Keep Reading: