How to Make a Flagstone Path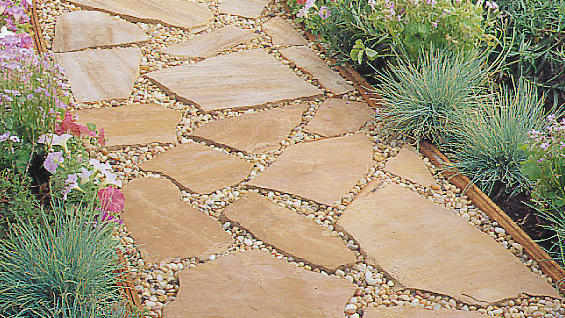 A pretty path is an invitation to explore your garden. Here's how to make your own in 6 steps
A good path welcomes you to your garden and invites you to slow down and see what's happening there. 
You can use it to add curves and angles to your landscape. A path can define a new planting area or the perfect spot for a fountain, arbor, or bench.
The first step in any path is to prepare your site. Smooth your surface, remove weeds, and outline the edges.
Step-by-step: How to make a flagstone path
Concrete, aggregate, bark, gravel, and stones can be set directly on stable soil; paths made of of other materials need a base.
Sand is a good choice, but it can wash out from under pavers and bricks, making them settle unevenly. To prevent washout in rainy areas, layer sand over a 2-inch gravel base.
Many people also put landscaping fabric under any loose-laid material (like gravel) to keep it from mixing with the sand or soil below. Keep the fabric down by stuffing its edges under the benderboards.
You can make grade changes either with steps or simply by sloping the path.
Next: Step 1
Get inspired: 38 great garden paths
Keep Reading: