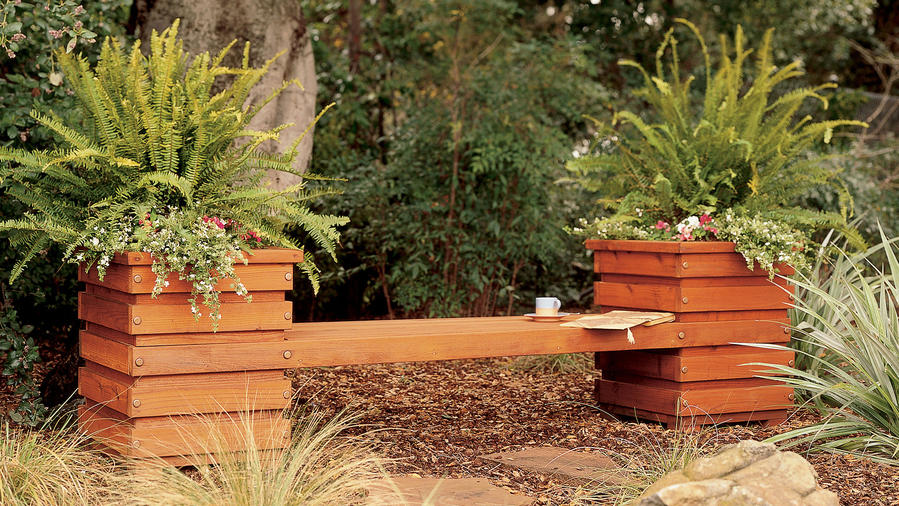 Order or download the plans and build it in a weekend
Alternating thicknesses of lumber give this planter-bench its distinctive linear rhythm. Interlocked with the planters, the bench seat repeats the strong horizontal lines.
A handsome detail at each corner of the planters–butted joints with countersunk copper-pipe end caps that mask long deck screws–hints that the project is easy to build.
The dimensions of a standard 2-by-4–31/2 inches wide and 1 1/2 inches thick–establish the pattern for the project. The thinner strips on the planter are made of rough-sawn 1-by-8s ripped to match the 1 1/2-inch thickness (you could substitute 1-by-2s). The planters' inner shells are made of plywood. (It takes one sheet of 3/4-inch exterior plywood to make both shells.) The planter-bench is 3 1/2 feet high, 12 feet long, and 3 feet wide.
TOOLS AND MATERIALS: Designed for an intermediate woodworker, the project takes about two days to build. It requires a circular saw, electric drill, 1-inch paddle bit, sander, hammer, nail set, tape measure, and combination square. A table saw is optional.
The bench shown here is made of "Heart B" redwood decking and rough-sawn redwood fence boards. The wood has been protected and stained with a linseed oil?based deck stain. You can substitute other wood suitable for exterior use (cedar, mahogany, or pressure-treated lumbers) and use semitransparent or solid-body stains.
COST: About $300
TO OBTAIN PLANS: The plans are available online in pdf format. You will need to have the Adobe Acrobat Reader installed on your computer in order to access this file. If you have the Acrobat Reader installed, it will launch automatically once the file is downloaded. Click here to download the plans.
If you do not have the Acrobat Reader, you may click here to download it.
Keep Reading: